Introduction
Hello, friends, and welcome to another money-making process. Today we are talking about an online earning website, GPT Planet, and finding out what it is Planetoids the GTPlanet website Real or fake? How does GPTPlanet Works? and many more others. So let's get started.
What is GPT Planet?
GPT Planet is a Get-Paid-To (GPT) site that offers its members a way to make money online by completing simple tasks such as clicking on Ads, watching videos, and many other simple tasks. GPT Planet was launched in 2010, and it is free to join. GPT Planet is an easy website where you can make passive income.
How to Get Started GPT Planet.
First, you have to go to the official website of GPTPlanet. To join the site, fill out the registration form available. It also requested you to choose your payment process.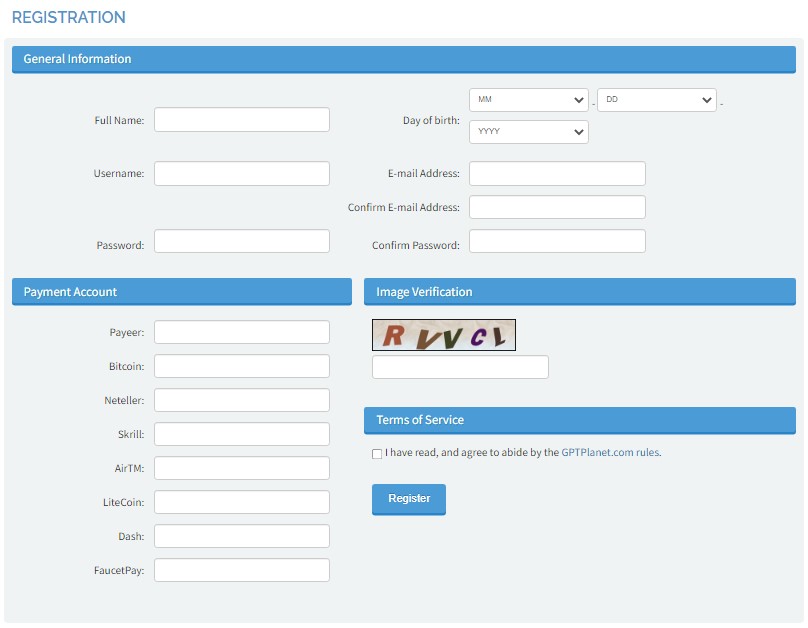 Then you have to accomplish their terms and conditions to submit the form. So, agree to the terms and conditions and submit it. After a while, you will get a confirmation email to confirm your email address.
It may take some time or some hours to get the email. If you do not receive it, try filling out your registration form and submitting it again.
Finally, to complete your registration process, you must open the link you're sent in the confirmation email. After completion of registration, you get to select the membership package.
Membership levels in GPTPlanet content from the Standard membership to a Yearly Gold Plus membership. The standard membership is free, and you have to pay for each membership level.
1. Make money by Click ads from GPT Planet.
Clicking ads is the easiest way to make money on GPT Planet.

The platform offers three types of ads for free members, which include fixed ads, nano ads, and tiny ads. Free members can make between $0.0002 and $0.001 by clicking on ads. Premium members can access 6 Premium Plus ads and makeup up to $0.01 per ad.
2. Make money with the GPTGrid lottery from GPT Planet.
GPTPlanet has a section called GPTGrid. It is an image with a grid, where you can click a square in the picture and get a chance to win.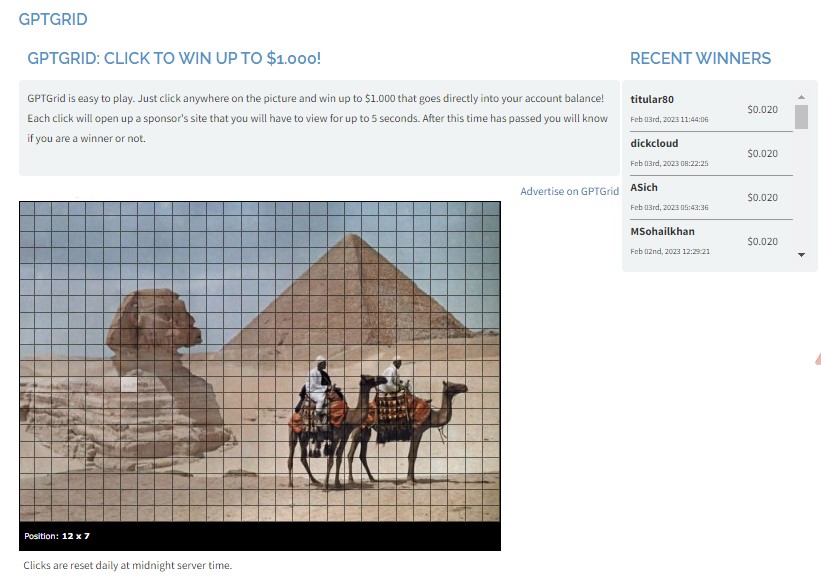 When you click a square, a website will open, and you have to oversee it for 5–10 seconds, and then you will be notified if you have won. So, it is just a matter of luck. You can win between $0.02 and $1.00. You will have 10 opportunities to win a reward as a free member, while premium members can view 20 ads.
3. Make money with Paid offers from GPT Planet.
You can also discover a couple of paid offer sections on GPTPlanet. There are a few offer walls where you can find paid offers, but most are just additional PTC options. But some offers are roughly signing up for free trials, downloading apps, and more.
4. Make money through Surveys from GPT Planet.
Last, you can also earn by GPTplanet surveys. You can also earn more money by completing surveys like on GPT websites. You can fill out surveys in your account and get paid for them. You must be careful as many surveys invite you about your details. But you must be qualified and complete the survey before you get paid.
5. Make money by using the Referrals program from GPT Planet.
The other feature of GPTPlanet is its referrals. You can also make money by referring GPTplanet to different users. If any individual joins the site as a member through your link, you will get the payment. Depending on your membership level, you earn different commissions on your referrals' clicks ranging from 10% as a standard member to 100% as a premium member.
GPT Planet Payment Method.
There are multiple income methods that the company uses to pay their staff. Payoneer, Payeer, Skrill, AirTM, SolidTrustPay, Neteller, Perfect Mondy, LiteCoin, Bitcoin, and Dash.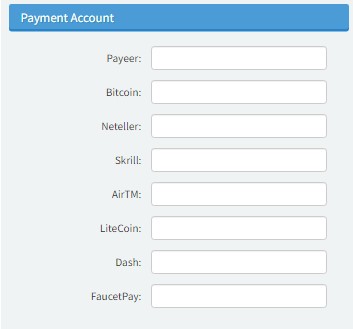 At first, you must have $1 in your account to redeem your cash, but after that, the lowest payout will increase to $2.
FAQs
Is GPT Planet free to join?

Yes, you can join GPT Planet without paying a dime. You can be a free platform member and upgrade to premium membership to enjoy more benefits and features.

Who can join GPTPlanet?

One good thing about GPTPlanet is that you can join anywhere, and most earning procedures are available worldwide.

Is GPT Planet a scam?

GPT Planet is not a scam. The site has been operating since 2010. It will not be roughly for that long if it desires to scam people.

How do I get paid on GPT Planet?

You can request your earnings through Neteller, Skrill, Dash, AirTM, Payeer, LiteCoin, and Bitcoin, amongst others.
See More:
Big Time Cash – Make Money by Playing Games & 3 More Easy Tasks.
GCLoot Review – Earn by Watching Videos, Playing Games With 2 Easy Tasks
GamerMine – Make Money by Watching Videos, Playing Games, & 3 more Easy tasks
FingersClix Review – Earn money with 7 Easy Tasks Jobs and more