Introduction
If you're looking for one of the easiest and more entertaining ways to earn income from your smartphone, Giftloop is one of the best apps. It will pay you for tasks that you already do daily, including charging your phone and watching gifs. You can easily earn on the go just by spending a few extra daily minutes on your smartphone. This app is 100% FREE to use.
What is Giftloop?
Giftloop is a GPT (Get-Paid-To) app that will allow you to earn rewards in multiple ways. It is a legit app since you will be rewarded if you work on the earning opportunities it offers. To figure out if the app is worth using, you must first understand how to earn from it, and the only way to do that is to examine the earning opportunities it offers.
How to join Giftloop?
You must first download and install the app to sign up as a member.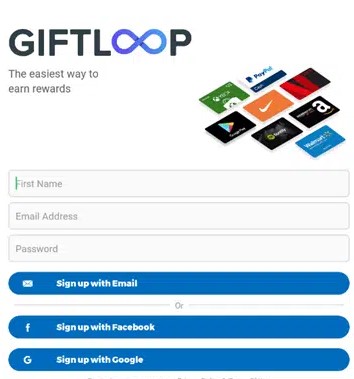 Then, you'll have to go through the registration form. You can sign up using your Facebook or Google account. You can also provide your login details instead.
After you've completed the registration form, check your email inbox for the confirmation link. Click the link to complete the sign-up process. Once you've done that, you can log in to the app and start earning.
How to Make Money From Giftloop?
So, here's how to earn from Giftloop.
1. Make Money with Paid offers From Giftloop.
One way to earn from Giftloop is to work on paid offers. This earning opportunity is a familiar member of other GPT apps and sites.
When you log in to the app, press the "Earn" option in the lower portion of the screen and hit "Earn by Completing Offers.
You will find a decent number of offers to choose from. If you see a bid you are interested in, press it, and you will see the instructions you need to follow to complete the offer.
Most paid offers will ask you to play a game, sign up for a website or app, or answer quizzes.
2. Make Money by Playing Mobile Games From Giftloop.
Another way to make money from Giftloop is to play mobile games. Press the "Earn" option again and then hit "Games" this time. Then, you'll see all the games. Select the game you like, which will bring you to the app page.
All you have to do is download and install it. Once it is installed, put your mobile device to track the usage of apps.
When this is done, go back to the app and the Games section again. You will now see the game you've installed on the list. To make money from the featured games, access them through the Giftloop app. That way, the app will follow your improvement and reward you accordingly. This means you will get paid as you go through the game.
3. Make money by Paid surveys From Giftloop.
Giftloop also presents paid surveys so you can make more rewards. However, the surveys you will see will come from TapResearch. They are acting as just survey routers.
It matters short, though, since you will still be able to earn rewards, and if you've been a member of survey sites and apps before, answering a survey on Giftloop is the same. If a survey is available, press it, and you will be taken to the qualifying section.
Answer the qualifying questions, and if you qualify, you get to answer the actual survey. When you complete the survey, you will earn a certain number of coins.
4. Make money by charging your phone From Giftloop.
The idea behind this option is straightforward. Allow this feature in your account settings. Default already enabled it, so you don't have to do anything.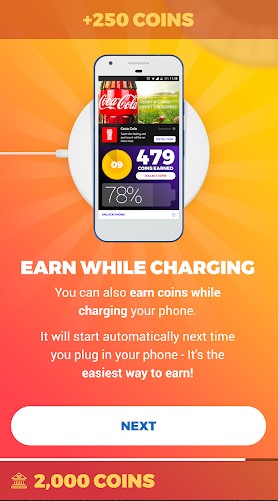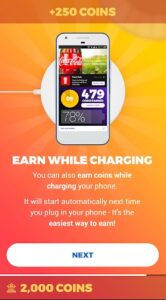 When this is enabled, if you plug your charger into your mobile phone, the Giftloop charging screen will allow you to make a few coins for every minute your phone charges.
5. Make money by Referral Program From Giftloop.
Last, you'll be able to make more rewards through a referral program. All you have to do is invite people to use the app with your Referral Program.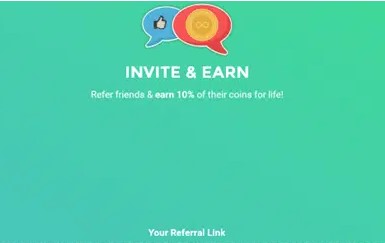 Once someone clicks your links and installs the app, they will become your referral. You will then make it passively because every time your referral makes coins from the app, you'll get a 10% commission.
How do you get paid From Giftloop?
You will make coins from all the earning opportunities given by the app.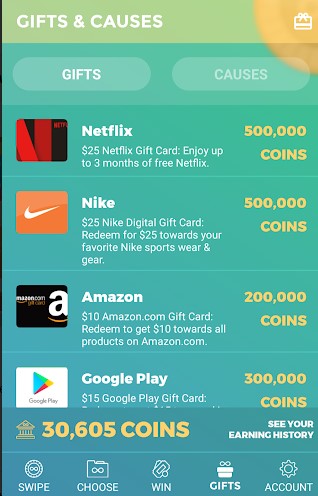 You can convert your coins to gift cards like Amazon, Sephora, Walmart, Target, and more. The little gift card you can withdraw is $0.75 from Amazon. You can also exchange your coins for cash via PayPal. You'll need to make a $6 PayPal withdrawal. The same is true for prepaid Visa cards. The threshold will also be $6 and instruct the exact number of coins.
FAQs
Is Giftloop a legit app?

Giftloop is a legit app that will allow you to earn rewards in many ways.

How much minimum cash out for PayPal?

Minimum 300,000 coins worth $15 for PayPal cash-out. You can also choose to donate your earned cash if you like.

Is Giftloop FREE to use?

Giftloop is FREE to download and is always FREE to use.
See More:
InstantRewards – Earn Money With 5 Easy Ways in 2023
VeryDice App – Make Money by Playing Games With 3 Easy Tasks
ZikTalk App – Earn by Watching & Uploading Videos 100% Easy