Introduction
Welcome to the world of Cashew App, a survey app that allows you to earn rewards by sharing your opinions. In this dynamic app, you can access a range of surveys from partner providers, unlock mission-based rewards, and even boost your earnings through a referral program. But is it worth your time and effort? Let's dive deeper into Cashew's offerings and discover how to make the most of this platform.
What is the Cashew App?
Cashew is a legitimate survey app that rewards users for participating in surveys. While the opportunity to earn money is real, evaluating whether the app is worth your time and consideration is essential. To determine this, delve into the app's functioning and assess the potential for earnings it provides. This examination will give you insights into the time and effort required to generate income through the app.
So here's how to earn from Cashew App.
1. Make money with Paid Surveys Cashew App.
The primary method of earning through Cashews involves participating in surveys. You will find a list of available surveys upon logging into the app. It's important to note that these surveys are sourced from Cashew's partner survey providers, as the app does not create its surveys.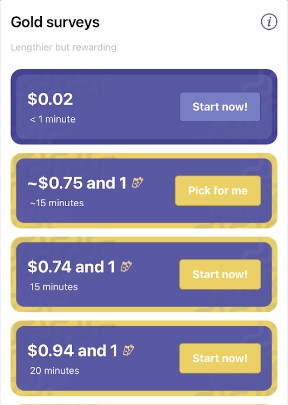 To commence earning, select a survey that interests you and click on it. This action will lead you to the qualification stage, where you must answer qualifying questions. This process is common among survey platforms to ensure that the responses they collect are relevant to the survey's objectives.
If you successfully meet the qualifications, you will answer the survey questions. You can move on to the next available survey opportunity if you do not qualify. Upon completing a survey, you will receive the promised reward, typically a specific monetary amount, credited to your Cashew account balance.
2. Make money by Completing Missions From Cashew App.
Cashew offers an additional method of earning through the completion of missions. These missions are divided into Daily, Weekly, Monthly, and Lifetime categories.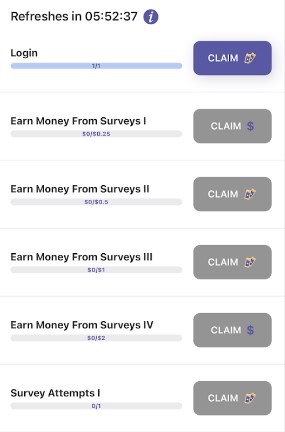 In most cases, these missions will require you to complete a specific number of surveys. Since participating in surveys is the primary activity within the app, there's nothing extraordinary you need to do to capitalize on this opportunity. Being an active member who regularly participates in surveys aligns with the mission requirements.
Consider the rewards from completing these missions as a bonus on top of your regular survey earnings. It's a way to incentivize continued engagement and activity within the app.
3. Make money by Referral Program From Cashew App.
Cashew offers yet another way to earn rewards through its referral program. To take advantage of this opportunity, all you need to do is invite others to become members of the app.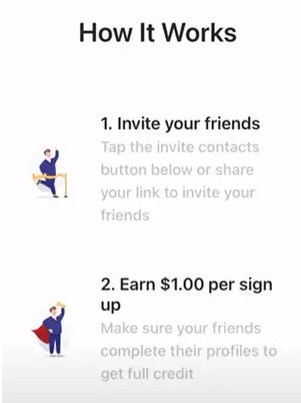 To do this, share your unique invite link with the individuals you wish to invite. They will become your referrals when they click on the link, install the app, and successfully register as members. However, it's important to note that they must complete their profiles for you to receive the reward, which amounts to $1.
Meeting this requirement is straightforward, making it easy for you to earn through the referral program. Additionally, you can help boost your referrals' earnings, as the program includes a feature designed for this purpose. This way, you benefit from referrals and support them in maximizing their earnings within the app.
How do you get paid From Cashew App?
Once you've accumulated earnings through the various opportunities provided by Cashew, you may wonder how to withdraw these funds. Here's a breakdown of the withdrawal process:
Minimum Earnings: You can initiate a withdrawal once your earnings reach at least $5.
Payment Options: Cashew offers multiple payment options for withdrawals. You can receive your earnings via PayPal, Venmo, or Cash App.
PayPal Withdrawals: If you opt for PayPal, you can expect a swift turnaround time. Typically, you will receive your earnings within 5 to 10 minutes.
Venmo and Cash App Withdrawals: For withdrawals made through Venmo or Cash App, the funds will take approximately one to three business days to reach your account.
Overall, Cashew's payment system is relatively straightforward and convenient, particularly with the inclusion of popular payment methods like PayPal. This ease of access and prompt processing can be appealing to users looking to convert their earnings into usable funds.
How much money can you make From Cashew App?
The potential earnings from Cashew App primarily depend on your ability to complete surveys. As mentioned, Cashew typically offers a reasonable number of surveys at any given time. However, it's crucial to acknowledge that not every survey attempt will lead to qualification.
Moreover, the compensation for completing surveys on Cashew tends to be relatively low, usually ranging from $0.20 to $0.50 per survey. Many users consider This compensation rate low, making it necessary to complete a substantial number of surveys to reach the minimum withdrawal threshold.
Regarding the referral program, while the rewards may be considered generous, it may be something other than an app you'd readily recommend to your friends due to its overall low earning potential. Investing a significant amount of time in Cashew might yield little returns compared to other apps or websites that offer more efficient ways to earn money. It's essential to assess whether the time and effort you put into the app align with your financial goals and expectations.
Who can join Cashew App?
Cashew App is limited to users in the United States, so if you reside outside, this app is not accessible to you. Additionally, individuals must be at least 13 years old to join.
To become a member of Cashew, you should follow these steps:
Installation: Start by installing the Cashew app on your device.
Registration: Upon opening the app for the first time, you will be guided through the registration process. Follow the provided instructions to sign up and create your account.
Profile Completion: After registering, log in to the app and complete your user profile. This typically involves filling out a survey, which, while providing a small reward, helps set up your profile within the app.
Start Earning: Once your profile is complete, you can participate in surveys to earn money through the app.
It's important to note that Cashew's availability is geographically restricted, and its eligibility criteria are age-specific, so ensure that you meet these requirements before attempting to join the platform.
FAQs
What is the minimum age to join Cashew?

To become a member of Cashew, you must be at least 13 years old.

Can I boost my earnings through the referral program?

Yes, Cashew offers a referral program that allows you to earn rewards by inviting friends to join the app. You can also help boost your referrals' earnings through this program.

Is Cashew worth my time?

The worthiness of Cashews depends on your personal preferences and earnings goals. While it offers earning opportunities, the survey compensation is relatively low, so it may require a significant time investment to reach substantial earnings. Evaluate whether it aligns with your expectations and financial objectives.

What is the minimum age to join Cashew?

To become a member of Cashew, you must be at least 13 years old.
See More:
GrindBux – Make Money by Completing 3 Easy Tasks
Viewfruit – Earn By Message Members With 5 Easy Ways
Lucky Day Review – 6 Easy Ways You Can Make Money