Introduction
In today's digital age, earning money online has become increasingly crucial. It offers the opportunity to supplement your income and provides the flexibility to work on your terms.
One particularly engaging and enjoyable method of generating income online is participating in surveys and sharing your opinions.
Surveys often stand out as lucrative and engaging opportunities on these platforms. Today, I'm introducing you to an exciting new survey website called Inspired Opinions.
Within this Inspired Opinions Review, we will explore joining the site and how you can earn money through it.
Furthermore, we'll address a crucial question: Is Inspired Opinions a legitimate platform or a potential scam? Let's dive in and find out.
What is Inspired Opinions?
Inspired Opinions is an online platform specializing in data collection and surveys. It rewards users for providing authentic feedback and information.
These data points are gathered through surveys and personal details shared by participants. Inspired Opinions is operated by the Schlesinger Group, a company based in the United States.
Like any other survey platform, the primary way to earn on this site is by sharing your opinions and feedback. While there are additional earning opportunities, they are limited in scope.
Now, let's explore the process of joining this platform.
How to join Inspired Opinions?
The eligibility criteria for joining Inspired Opinions can be perplexing to discern. While their website states that anyone can join their panel, the availability is limited, primarily to residents of the UK. This is evident from the website's domain, which is inspiredopinions.co.uk.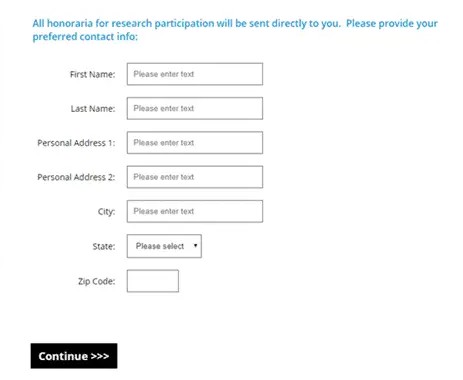 It's worth mentioning that there used to be a separate site, inspiredopinions.com, intended for individuals residing in the US. However, at the time of this review update, the .com site is not operational. It remains to be determined whether it will be reinstated in the future. As a result, membership is only open to those in the UK.
Another notable aspect of their registration process is submitting a photo of your ID to validate your membership. While this is not a common practice on most survey sites, it's a step you'll need to complete to become a panel member with Inspired Opinions. It's important to remember this if you decide to pursue membership with them.
How To Make Money from Inspired Opinions?
Inspired Opinions offers several ways to earn money on their platform. Here are the tasks you can undertake to boost your earnings:
1. Make money by doing surveys from Inspired Opinions.
Surveys are the primary task on Inspired Opinions, and you can easily access them on your dashboard. There are two types of surveys available: Profile Surveys and Rewards Surveys.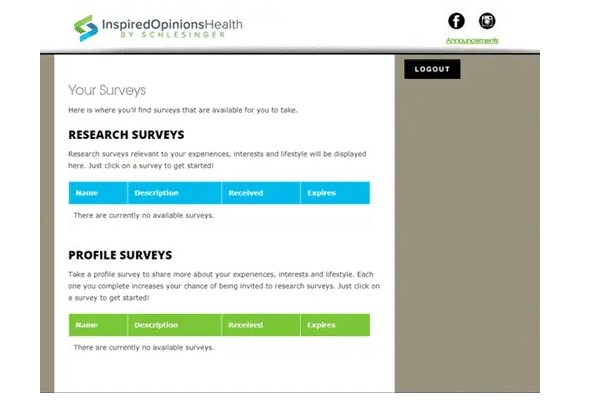 Profile Surveys are unpaid but serve a crucial purpose. They help determine your demographics, interests, and knowledge of various topics. Completing these surveys is essential as they enhance your chances of receiving more relevant survey opportunities, ultimately increasing your earning potential. So, even though they are unpaid, take them when available.
Rewards Surveys are paid surveys that provide earnings or rewards. To participate, you must first qualify by answering qualifying questions. You must qualify to receive compensation, so exploring other available surveys is important.
2. Make money by Research Tasks from Inspired Opinions.
Research tasks and activities are another way to earn rewards on the platform. These tasks often involve different forms of research, including online research, location-based research, or in-person research.

According to feedback from earners, these tasks have the potential for higher earnings, but they tend to be limited. Keep an eye out for invitations from the site regarding research activities.
3. Make money by Referrals from Inspired Opinions.
You can also earn from Inspired Opinions by referring the site to your friends or family. However, the platform doesn't provide specific information about the rewards you'll receive for referrals. You'll discover the exact rewards when your referrals join the site using your referral links.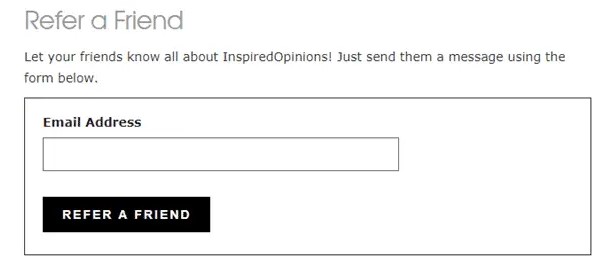 These various tasks provide opportunities to earn money and rewards for Inspired Opinions. You can accumulate earnings and benefit from the referral program depending on your participation and qualifications.
Inspired Opinions Payout Method.
One notable advantage of Inspired Opinions is that there is no minimum payout threshold. You will receive the exact amount you've earned as soon as you earn rewards.
However, it's important to be aware of a limitation on the platform: your earnings will only be provided in the form of gift cards. Unfortunately, cash or alternative payment methods are not available. The site typically delivers these gift cards via postal mail to your registered address, a process that can take anywhere from 6 to 8 weeks after you've accumulated your earnings.
FAQs
Is Inspired Opinions available to users outside the United States?

Currently, Inspired Opinions is primarily available to individuals residing in the United States. Membership eligibility may be limited to this geographic location.

Are Profile Surveys on Inspired Opinions Important?

Yes, Profile Surveys on Inspired Opinions are crucial. While they are unpaid, they help determine your demographics and interests, which can lead to more relevant and higher-paying survey opportunities.

How do Rewards Surveys work on Inspired Opinions?

Rewards Surveys on Inspired Opinions are paid surveys that offer earnings or rewards. To participate, you must qualify by answering qualifying questions. You must qualify to receive compensation for that particular survey.

Is there a minimum payout threshold for Inspired Opinions?

No, there is no minimum payout threshold on Inspired Opinions. You will receive your earnings as gift cards when you accumulate rewards.
See More:
Yatzy Cash – Earn By Playing Classic Dice Games With 3 Easy Ways
Search for a Cause – Earn 100% Easy From Browser Extension
RadioEarn – Make 100% Easy Money By Listening To Radio