Introduction
Ipsos iSay represents an online survey platform and a rewards community that allows individuals to earn rewards by sharing their opinions. This platform is affiliated with Ipsos, one of the largest and most prominent market research companies globally. Ipsos conducts a staggering 70 million interviews annually for 5,000 clients spanning more than 100 countries. For those seeking to begin their journey of taking surveys to supplement their income, Ipsos i-Say could be an excellent starting point.
What Is Ipsos iSay?
Ipsos iSay is an online survey platform under the ownership and operation of Ipsos, a prominent player in market research.
Having its roots in Paris, France, Ipsos was founded in 1975 and has since established partnerships with more than 5,000 clients. The company conducts a staggering 70 million surveys annually, spanning participants in over 100 countries.
The core concept of iSay is straightforward: users participate in surveys and engage in various activities to assist Ipsos in gaining a deeper understanding of consumer preferences. In return for their valuable insights, participants receive compensation through points, which can be redeemed for gift cards or cash.
How to join Ipsos iSay?
Ipsos iSay is an online survey panel that allows you to engage in surveys and various market research activities for points. We can redeem these points for cash transfers, gift cards, and other rewards.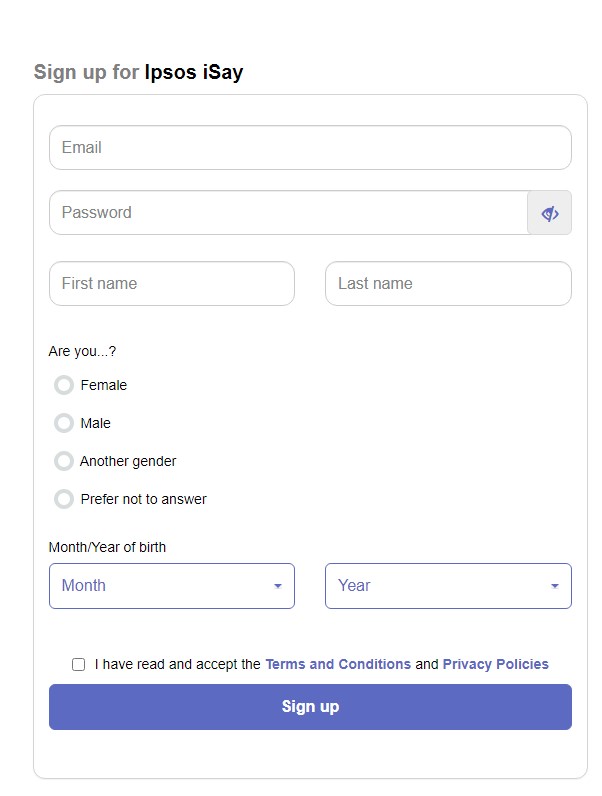 The registration process is relatively swift and uncomplicated. To get started, click the 'Join Now' button, provide your email address, select a password, and share your name, gender, and date of birth. Confirming your email address and providing your phone number will be necessary to finalize your registration. Membership is free and accessible to adults in the majority of major countries.
1. Make money by Ipsos iSay Paid surveys.
method of earning rewards is by participating in paid surveys. Following a significant update to the site, this has become the primary means of accumulating rewards.
On Ipsos iSay, the primary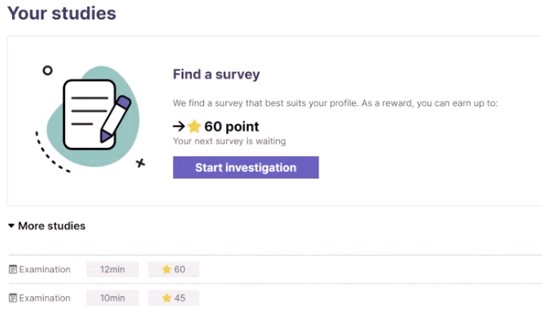 While a reasonable number of surveys are available, it may require some patience to find those you qualify for. Ipsos iSay offers fewer survey opportunities than some other platforms, and the number of opportunities can vary significantly from one country to another. Some countries may provide multiple survey opportunities daily, while others may have fewer.
The surveys cover various topics, including politics, lifestyle, entertainment, music, household products, and more. This variety ensures that you'll come across exciting subjects, allowing you to share your opinions and insights.
2. Make money by Ipsos i-say surveys.
Ipsos iSay offers surveys on interesting and pertinent topics. You will receive email notifications when a new survey becomes available for you. To increase your chances of receiving more survey opportunities, completing your profile information after joining is advisable.
You won't earn compensation for filling out your profile, but it's a crucial step once you decide to become a member.
Regarding rewards relative to the time invested, Ipsos iSay provides decent compensation compared to other survey websites. Getting started with the surveys on Ipsos iSay is straightforward and user-friendly, making it a convenient platform for those looking to engage in online surveys.
3. Make money by Ipsos iSay Loyalty programs, contests, and polls.
Ipsos iSay has undergone significant changes and no longer offers the previously mentioned earning methods. While these methods are no longer available, it's worth noting that Ipsos iSay is committed to improving its website continuously. As a result, new features and options may be introduced in the future. I will strive to update this Ipsos iSay review with any relevant changes or additions to the platform. Thank you for providing this information.
4. Make money by Refer your Friends From Ipsos iSay.
earning rewards by participating in surveys.
Ipsos iSay offers a refer-a-friend program that allows you to refer your family, friends, or anyone you believe would be interested in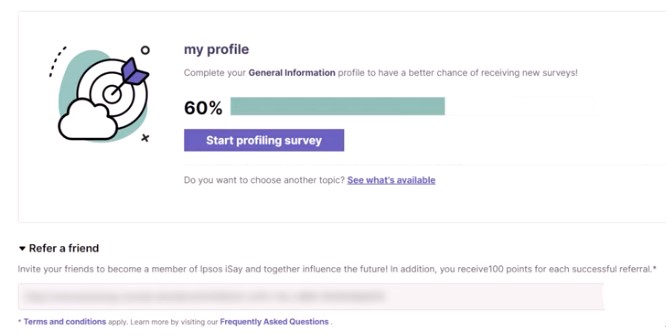 When you successfully refer someone, and they sign up and complete their first survey, you'll receive a bonus of 100 i-Say points. It's important to note that from time to time, Ipsos iSay may run promotions that offer even more points for referring new panel members, so it's a good idea to check in regularly to take advantage of such opportunities.
How do you get paid From Ipsos iSay?
Once you've accumulated enough points for redemption, you can choose the reward option that best suits your preferences. As a general guideline, 100 points are typically equivalent to approximately $1.

To redeem your points, navigate to the rewards page on the Ipsos iSay website. Here, you will find a variety of options for redeeming your points.
One of the available options for redeeming your points is a PayPal transfer. To utilize this option, you'll typically need a minimum of 510 points in your account, corresponding to $5. The transfer to your PayPal account might take around 1-3 weeks.
With just 500 points, you can opt for a free gift card. Ipsos i-Say provides a wide selection of vouchers for Starbucks, Target, Amazon, and more. Usually, 500 points translate to $5, and if you choose the digital voucher option, it will be delivered to your email inbox within minutes. Alternatively, you can select a $10 Virtual Visa Prepaid Card for 1,000 points.
For those who value influencing the market and being heard through surveys, this can be a rewarding choice that offers multiple benefits.
In addition to cash or gift card redemptions, you can make charitable donations. Ipsos iSay's list of organizations includes prominent names like the American Heart Association, Doctors Without Borders, and the American Red Cross.
See More:
Branded Surveys Review – 5 Easy Ways to Earn Money
Macadam App Review – Walk & Earn With 5 Easy Ways
Color Ball Master Review – Earn By Playing 100% Joyful game