Introduction
Engaging in online survey sites can be a reliable method to earn money during your free hours. Nonetheless, the vast array of paid survey platforms can make it challenging to discern which ones are a worthwhile investment of your time, leading many to scour multiple survey site reviews for guidance.
OnePoll stands as a less prominent player in the field of survey sites, and it's natural to approach it with caution, mainly if you are new to the concept of making money online. To ease your concerns and assist you in determining the legitimacy of OnePoll, we present our comprehensive review of this platform.
What is OnePoll?
OnePoll operates as the online platform of a UK-based market research company, offering incentives to individuals willing to share their opinions. Signing up for a free account is a straightforward process involving completing a few forms.
Upon registration, your account becomes active, enabling you to begin accumulating various types of rewards. Notably, OnePoll does not send email invitations for survey participation; instead, you must log in to their website to access available surveys.
Members can earn money through various means, including engaging in standard surveys, participating in sweepstakes, and using referral programs. When your account balance nears the $65 threshold, you can request your reward, with payments delivered directly to your bank account via PayPal.
How Does OnePoll Work?
OnePoll primarily operates as a market research company that partners with various corporations and organizations to conduct surveys and poll panels on its website. Individuals interested in participating can sign up on OnePoll and complete surveys through the website or mobile app.
Upon completing a survey, OnePoll members receive a modest reward, while most of the commission goes to the company. Over time, as members accumulate sufficient rewards, they can request their payouts online.
OnePoll exclusively focuses on surveys to earn extra money; no paid videos or games are available, unlike some other survey sites. However, OnePoll does offer a welcoming signup bonus of £5 for new members.
Members can engage in survey activities on the One Poll website or mobile app. One Poll occasionally sends survey invitations via email, but members can also proactively search for available surveys on the site.
Besides surveys, the only other avenues for earning money through One Poll are their social media initiatives and referral programs. One Poll often shares information about sweepstakes opportunities on their social media accounts, and members can invite friends to join using a unique link that also provides a commission.
Signing Up for OnePoll.
Registering for an account with OnePoll is a quick and straightforward process. You'll be required to provide some fundamental information, including your name and email address. Additionally, you'll need to create a password to log in to your account in the future.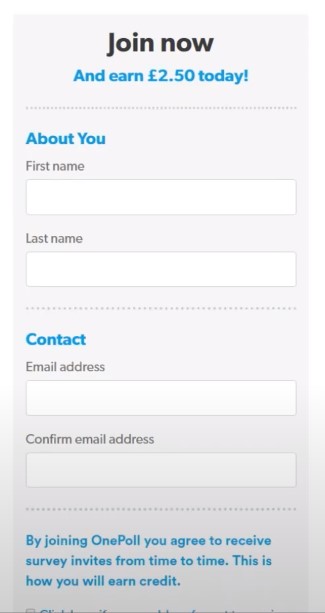 The entire signup procedure typically takes no more than a minute, and upon completion, you'll gain immediate access to your dashboard, where you can commence participating in surveys.
1. Make money by OnePoll surveys.
The primary method of earning on OnePoll is by participating in surveys. After logging into the website, you'll promptly discover a list of available surveys you can engage with.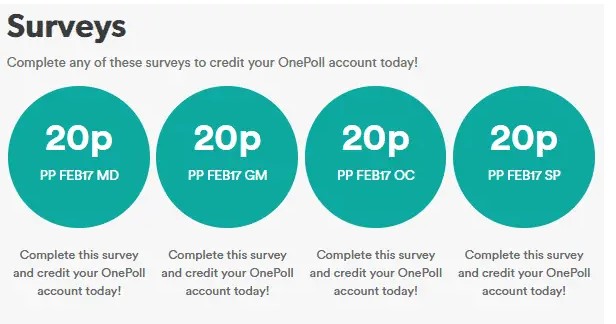 These surveys typically offer rewards, although it's worth noting that, in general, the tips on One Poll are lower when compared to many other survey sites. Furthermore, some surveys might be relatively time-consuming to complete. Therefore, while it's a legitimate way to earn on One Poll, it often requires patience and time investment.
It's essential to keep in mind that even when a survey is available, there's no guarantee that you'll qualify for it. This is a common characteristic of all paid survey sites, where your eligibility is determined by specific criteria set by the survey sponsor.
2. Make Money by OnePoll Prize draws.
The limited information about the prize draws on OnePoll is a notable aspect to consider. According to their terms and conditions, specific surveys may allow participants to enter prize draws, providing an additional opportunity to earn rewards through luck rather than survey completion.
The lack of detailed information about this feature and the rewards you can expect from surveys can perplex users. One Poll focuses on informing potential partners about the benefits of collaboration, rather than offering clear insights into what members of their research panel can expect to gain.
While this approach is somewhat unconventional for a survey panel, it doesn't necessarily mean that One Poll is not worth considering. It makes the initial experience more confusing compared to other paid survey sites, where information for panel members is typically more readily available and transparent. Users might need to explore the platform and discover the specifics as they engage with the surveys and the website.
3. Make money through OnePoll Referral program.
The referral program on OnePoll is no longer available. This program allowed users to earn money by inviting others to join One Poll.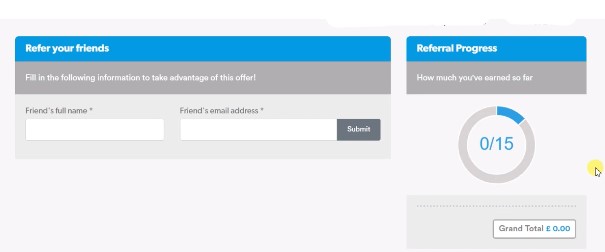 Since this feature has been discontinued, it's essential to clarify that you can no longer receive compensation for referring people to join One Poll. This update helps ensure clarity and information regarding the current earning opportunities on the platform.
How to Redeem Points With OnePoll?
To redeem your earnings on OnePoll, you need to accumulate at least $40 in your account. The most commonly used payment method is PayPal. However, it's important to note that after requesting a withdrawal, your payment can take a couple of weeks to process. Per comments in One Poll reviews, you may need to wait 28 days to receive your payment.
For UK residents, there is also an option to claim your earnings via a check. However, this payment method is exclusively available to UK residents, and you'll need to have a minimum of £40 in your account to request a check payment.
See More:
Ipsos iSay Review – Earn By Surveys With 4 Easy Ways
Branded Surveys Review – 5 Easy Ways to Earn Money
Macadam App Review – Walk & Earn With 5 Easy Ways