Introduction
Macadam App is an innovative pedometer app that transforms your daily steps into real cash rewards and exciting incentives. With over 100,000 installations on the Play Store, Macadam is not just your fitness app; it's a rewarding opportunity to lead a more active lifestyle while earning real money. Whether you're interested in tracking your steps, participating in surveys, playing mobile games, or referring friends, Macadam offers various engaging ways to accumulate Coins and unlock impressive rewards, including cash payouts and even eco-conscious options. Discover how Macadam is reshaping the world of fitness apps and making every step count towards a healthier and more prosperous you.
What is Macadam?
Macadam is an innovative pedometer app that motivates you to walk more and rewards you with real cash incentives for your steps.
The concept is elegantly simple yet incredibly enticing: as you walk, the app diligently keeps track of your steps and converts them into valuable "Coins."
We can effortlessly exchange these Coins for cash, conveniently deposited directly into your bank account.
But that's not all – Macadam App offers various other avenues for accumulating more Coins. You can opt to watch short advertisements, engage in partner games, share your opinions through surveys, and conquer easy challenges, all of which contribute to boosting your Coin balance.
With an impressive track record of over 100,000 installations on the Play Store, Macadam presents an enticing opportunity to embrace a more active lifestyle and reap the rewards that come with it.
How to join Macadam App?
Macadam has expanded its reach to a remarkable 27 countries, making it widely accessible to users worldwide. To check if the app is available in your country, you can efficiently perform a quick search on your app store. If Macadam appears among the search results, it indicates that the app is accessible in your region.
Signing up for Macadam is a straightforward process. Begin by installing the app on your device. Upon opening the app for the first time, you will be guided through the registration steps. Follow these instructions diligently to complete the registration successfully.
As previously mentioned, the next crucial step after signing up is to link your Macadam account with a fitness app. This linkage allows Macadam to accurately record and tally your actions on your journey towards a more active lifestyle.
How do you make money on Macadam?
Macadam App provides several ways to maximize your Coin earnings beyond just walking:
1. Make money by walking and tracking your steps From Macadam App.
earning rewards through Macadam is simply walking and tracking your steps. To achieve this, you'll need to connect the app to your preferred fitness app, such as Google Fit or any other fitness-tracking application you use. This connection enables Macadam to accurately count the steps you've taken.
As previously mentioned, the primary method for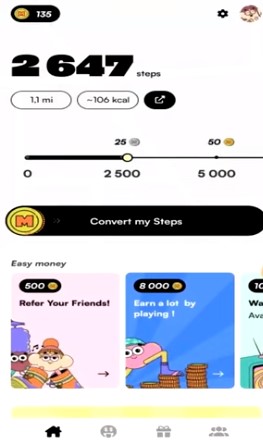 Upon reaching specific step milestones, like the initial 2,500 steps, you can claim your first reward of 25 coins, as illustrated in the provided image. You'll need to click the "Convert My Steps" button to collect these rewards. This action initiates a step validation process involving watching a short video advertisement. Once the ad finishes, your steps for the day are validated, and you progress towards earning your rewards.
It's crucial to remember that you must complete this step validation process before midnight each day. You must do so to ensure that the steps you've taken for that day will be counted in Macadam's step counter, and consequently, you won't progress towards collecting rewards.
This validation process might seem straightforward, but it comes with a small catch: you must validate your steps daily to earn rewards through Macadam consistently. This requirement is somewhat unique and may differ from what you've experienced with similar apps, but it's a pivotal aspect to keep in mind to maximize your earnings.
2. Make money by participating in survey tasks From Macadam App.
Macadam has established valuable partnerships with reputable market research firms, including CPX Research, to provide users with opportunities to participate in surveys and earn rewards.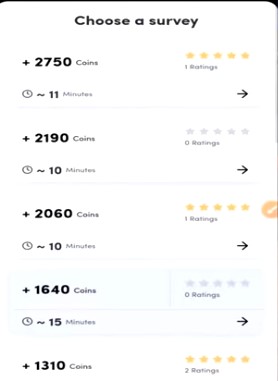 Each survey presented to users may have distinct criteria and requirements. Advertisers and researchers often seek participants with specific attributes such as skills, age, gender, and disposable income. If you align with the criteria these advertisers or researchers seek, you will receive invitations to participate in surveys relevant to your profile.
The key to success in earning rewards through survey tasks is relevance. Your suitability for a particular survey task depends on your profile, and to determine this, you may need to undergo a prerequisite evaluation or profiling. This process collects essential data to assess whether you are a good fit for a particular survey.
The app also provides valuable information to users. It will indicate the estimated time required to complete a specific survey for which you are qualified. Additionally, it will display the potential rewards in terms of coins that you can earn by participating in that survey. This transparency helps users decide which surveys to engage with, maximizing their earning potential.
3. Make money by Playing Mobile Games From Macadam App.
Another avenue to earn rewards through Macadam is by downloading and engaging with the mobile games it showcases. This option is relatively straightforward and involves the following steps: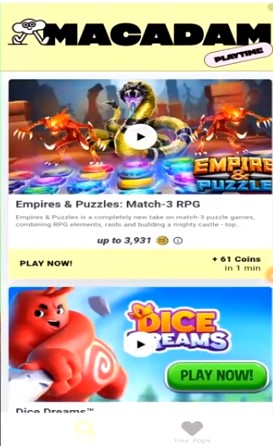 Please choose any of the featured games available within the Macadam app and proceed to install it on your device.
Open the game directly from the Macadam app. This step allows Macadam App to track and determine your gameplay's duration accurately.
It's important to note that the reward system for playing featured mobile games in Macadam operates on a diminishing returns model. In other words, the longer you play a particular featured game, the fewer coins you earn. This design encourages users to explore and try different games, ultimately benefiting Macadam as it diversifies user engagement.
However, it's worth mentioning that the rewards offered for playing featured games within Macadam are relatively lower than other apps offering similar earning opportunities. While there is a decent selection of featured games, the earning efficiency may be lower than in different platforms with more lucrative rewards for gameplay.
4. Make money by watching video ads From Macadam App.
Unlike many rewarding game developers who often inundate users with mandatory video ads, Macadam takes a different, more user-friendly approach.
whether or not you want to engage with them Macadam respects your choice and doesn't impose video ads on you. Instead, it presents video ads as optional tasks. This means you have the freedom to decide whether you want to engage with them or not.
Typically, the video ads you'll encounter within Macadam App fall within the "make money online" category. This approach gives users more control over their experience, as they can participate in these video ads as they see fit without feeling pressured or inundated with ads.
5. Make money with a Referral Program From Macadam App.
Macadam offers users an additional avenue for earning rewards through its referral program. While the app may not provide specific details about how the referral program operates upfront, you can typically expect referral programs to function as follows.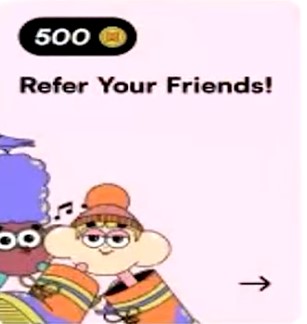 After installing the Macadam app, you'll likely receive instructions on accessing and sharing your unique referral link or code. You can then share this link or code with individuals you want to invite to join the app.
When someone clicks on your referral link or enters your referral code during their sign-up process and installs the app, they become your referral.
In most cases, your referred user may need to fulfil specific requirements or criteria set by the app. This could involve earning a specific number of coins or achieving certain milestones within the app.
Once your referred user successfully meets the requirements, you, as the referrer, typically receive a referral reward. In this case, it appears to be 500 coins as a reward.
This referral program offers a straightforward way to earn additional rewards by inviting others to join Macadam and encouraging them to engage with the app actively. Referral programs can be mutually beneficial to grow the user base while rewarding existing users for their efforts in bringing in new participants.
How do you get paid From Macadam App?
To redeem your earnings from Macadam App, you must reach a minimum threshold of 30,000 Coins, equivalent to €15. However, you can choose more significant withdrawal amounts such as €30, €60, or more.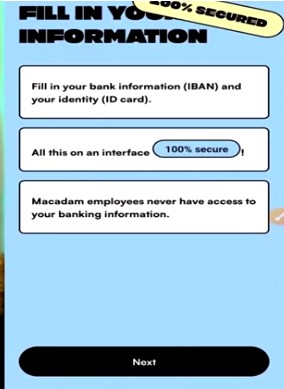 Reaching this minimum requirement may take some time, so initiating withdrawals sooner rather than later is advisable. The appeal of Macadam lies in its claim to offer nearly instant transfers, which adds to its attractiveness as a rewarding platform.
But the rewards don't stop there! If you're up for a more ambitious goal and accumulate 300,000 Coins, Macadam offers the option to treat yourself to a pair of refurbished AirPods 3.
Alternatively, if you're environmentally conscious and want to contribute to a greener planet, you can invest at least 3,000 Coins in real trees. This not only helps neutralize CO2 emissions but also supports reforestation efforts, making your earnings positively impact the environment. Macadam's diverse range of rewards and withdrawal options offers users a variety of ways to utilize their hard-earned Coins.
See More:
Color Ball Master Review – Earn By Playing 100% Joyful game
Cashplay App Review – Earn By Answering 100% Easy Surveys
Sweetstudy Review – Earn By Answering Student Easy Questions
Big Sports App Review – Earn 100% Real Cash By Playing Games