Introduction
Welcome to Listeners App, an intriguing mobile app that transforms the art of listening into a rewarding experience. This unique platform offers individuals the chance to earn by lending a sympathetic ear to others, engaging in meaningful conversations, and providing valuable feedback. While the app's availability is not explicitly outlined for specific countries, a simple search in your app store can determine if it's accessible in your region.
To embark on this distinctive opportunity, users must be at least 18 years old and follow a straightforward registration process upon installing the app. Once registered, you can set your schedule, indicating when you're available to connect with clients. Listeners utilize a cash payment system for every minute of listening, processed through the widely-used PayPal platform. Join us as we explore the fascinating intersection of connectivity and compensation in the world of Listeners.
What is the Listeners App?
Listeners is an innovative mobile application that provides users with a distinctive opportunity to generate income simply by engaging in the act of listening. This app introduces a novel concept wherein individuals can earn rewards or monetary compensation by actively listening to others. The uniqueness of Listeners lies in its focus on the value of attentive listening, turning a typically passive activity into a rewarding experience.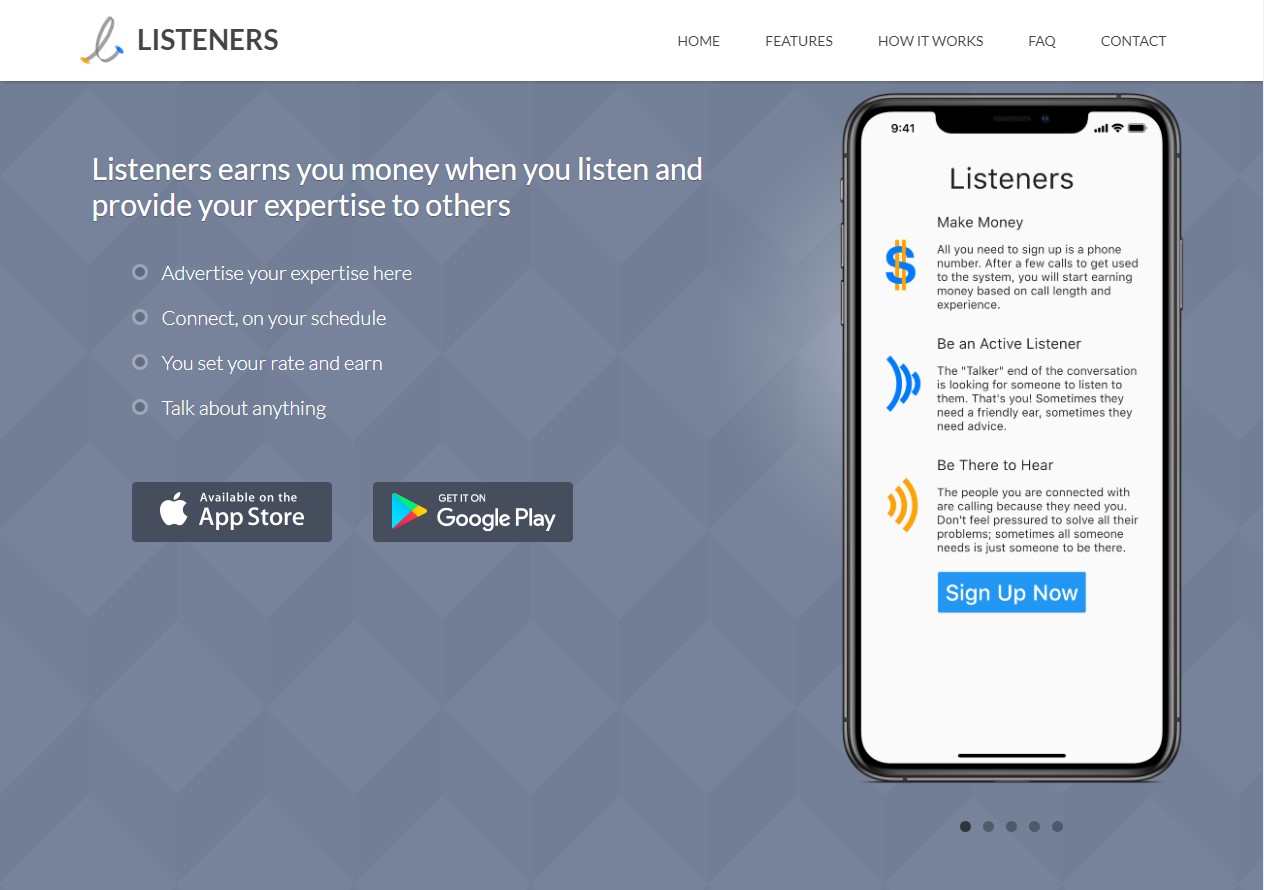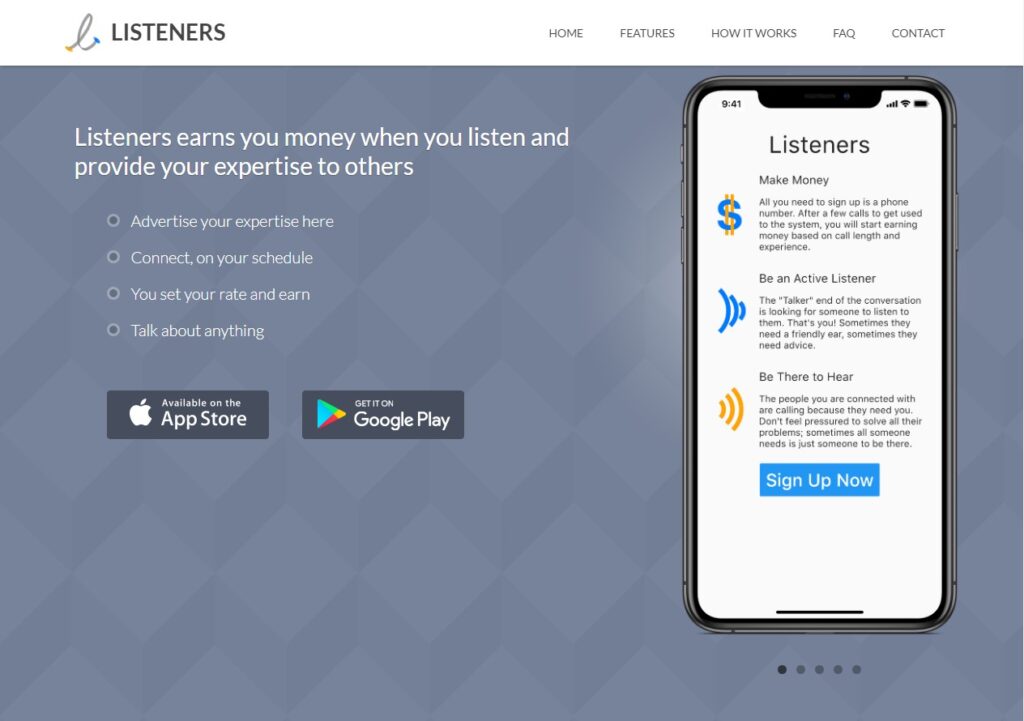 Users of the Listeners app have the chance to participate in various listening activities, such as providing an ear to someone seeking support, feedback, or simply a conversation partner. The platform not only encourages communication but also places a tangible value on the act of listening itself.
By creating a space where individuals can be compensated for their listening skills, Listeners aims to foster meaningful connections and conversations. The potential for earning is a key aspect of the app, making it an appealing platform for those who appreciate the art of listening and want to turn it into a valuable and rewarding experience. Overall, Listeners is a unique app that redefines the concept of social interaction by placing a premium on the simple yet powerful act of listening.
How to make money from the Listeners App?
So, here's how to earn from Listeners.
Make money by listening to other people.
Earning from the Listeners app involves a straightforward process of setting your availability and engaging in meaningful conversations with individuals seeking listeners. To initiate the earning process, log in to the app and establish your schedule, indicating the time slots during which you are available to connect with clients.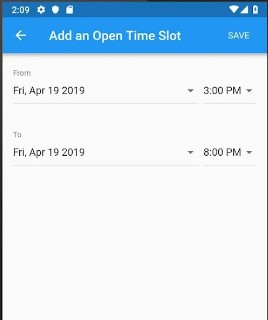 You have the flexibility to choose the number of slots you want to open, ensuring your commitment to being present during the specified times. Additionally, set your per-minute rate for the listening service.
Next, specify your preferred topics or areas of expertise for listening, although formal expertise is not a prerequisite. Think of these preferences as the subjects you are most comfortable engaging in conversations about.
Once your schedule and expertise are set, prospective clients can use the ProTalk app to find available time slots listed on Listeners. If someone books you, the Listeners app will notify you. Ensure that you log in to the Listeners app at the designated time, as sessions must take place exclusively on this platform, not on any other app or platform.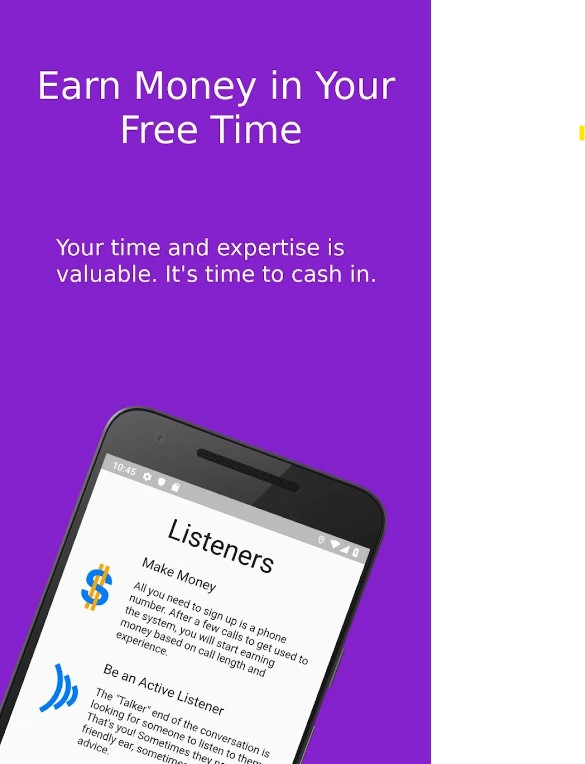 earning opportunity only guarantees consistent income, as it depends on clients booking your services. While the concept is intriguing and offers a unique way to earn, there needs to be more certainty regarding the frequency of bookings and, subsequently, earnings.
It's important to note that the nature of this
How Do You Get Paid?
Earnings from the Listeners app are conveniently processed through cash payments, calculated based on the duration of time you spend actively listening to clients. The payment is made in cash for every minute of engagement. To receive your earnings, Listeners employs a straightforward payment method, utilizing the popular and widely used platform, PayPal.
Listeners process payments on the 15th of each month, covering the earnings accumulated in the previous month. This means that if you earned income in a specific month, you can expect the corresponding payment in the subsequent month after the 15th. One notable aspect is that Listeners does not require users to reach a minimum payout threshold to receive their earnings. As long as you've earned from the previous month, you are eligible for payment.
It's worth noting that while the payment system is convenient, the transfer of funds to your PayPal account may take several working days, so immediate receipt should not be expected. Overall, Listeners offers a user-friendly and accessible payment system, leveraging the convenience of PayPal and eliminating the need for a minimum payout threshold.
How to Join The Listeners App?
While the Listeners app does not explicitly specify the countries in which it is available, indications suggest that its accessibility is limited to a select few regions. To determine if the app is accessible in your area, the recommended approach is to search for it directly in your app store. If it appears in the search results, it indicates eligibility for sign-up.
To register as a member, you must be at least 18 years old. The sign-up process involves installing the app and completing a straightforward registration. After successfully signing up, you can log in to the app and proceed to set your schedule. This uncomplicated process ensures that users can swiftly join the Listeners community and begin exploring the unique opportunities the app offers.
See More:
Musifiq: The Ultimate Fusion of Music & Income Opportunities
10 Best Ways to Earn Money Surfing The Web in 2024
5 Best Apps That Offer To Earn Money By Reading News
7 Best Websites To Get Paid To Read Books in 2024