Introduction
Welcome to Musifiq, a unique social music platform that lets you indulge in your favourite tunes and provides an exciting opportunity to earn money. Whether you're a passionate music enthusiast or an aspiring artist, Musifiq offers a vibrant space where the joy of discovery meets the thrill of earning. In this article, we'll explore the platform's user-friendly features, straightforward earning opportunities, and the fusion of music and rewards that sets Musifiq apart. Join us on a musical journey where your love for music transforms into a rewarding experience.
What is Musifiq?
Musifiq is a revolutionary social music platform that provides music enthusiasts with a vibrant space to discover and enjoy new tunes and offers an innovative opportunity to earn money while doing so. At the heart of This Platform lies a unique model that enables users to not just passively listen to music but actively engage with their favourite artists' creations.
On This Platform, artists upload their music, creating a diverse and ever-expanding library for users to explore. What sets Musifiq apart is its reward system, allowing fans to earn real money by immersing themselves in the musical experience. As users engage with tracks, they accumulate rewards, transforming their passion for music into a tangible and fulfilling endeavour.
This platform bridges the gap between artists and their audience, fostering a symbiotic relationship where both parties benefit. Musifiq empowers artists to share their work with a global audience, while fans can enjoy a dynamic listening experience and earn financial incentives in return for their active participation.
This Platform is not just a music streaming platform; it's a thriving community where the love for music is celebrated and rewarded. By blending the joy of discovery with a unique earning opportunity, Musifiq redefines how we engage with and support the musical arts.
How Do You Make Money from Musifiq?
Make money by Listening to music.
Technically speaking, Musifiq offers an additional avenue for artists to monetize their original songs by uploading them to the platform. However, this review will focus on the fan's perspective, as this represents an accessible opportunity for most users.
Users can log in to Musifiq's web-based dashboard or use This Platform app to start the earning process.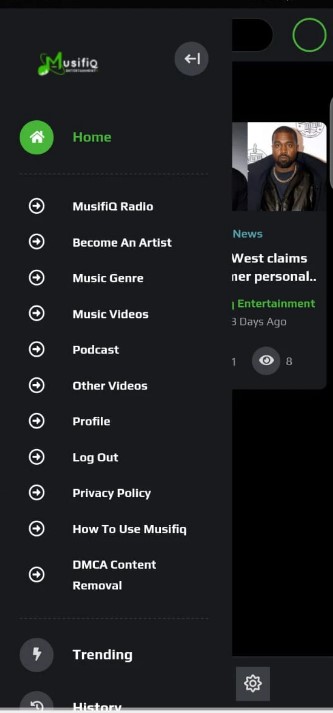 Once logged in, selecting a song of interest and clicking to play it will automatically trigger the reward system. Upon completion of the music, users receive 4 points as a reward.

The straightforward process allows users to continue playing the same song to accumulate rewards or seamlessly transition to the next available track. The limitations on earnings per song make it a user-friendly and simple method of generating income.
However, it's worth noting a particular aspect observed in Musifiq— most of the songs on the platform originate from artists based in India. The genre diversity may be limited, potentially impacting the variety of themes available for users with specific musical preferences. Despite this, the simplicity of the earning process remains a notable aspect of This Platform.
Make money by watching music videos.
Another avenue for fans to earn on Musifiq involves watching music videos, offering a similarly straightforward opportunity. Users can log in to the platform's dashboard or use the app, select a music video of their choice, and let it play. Upon completion of the video, users receive 4 points as a reward.

Like the song-earning mechanism, fans can watch the same music video multiple times, earning 4 points with each viewing. This straightforward process adds to the user-friendly nature of Musifiq's earning opportunities.
It's worth noting, however, that the content available on This Platform, including music videos, is predominantly contributed by artists from India. As a result, users with diverse musical tastes may find that the selection might not cater to their specific interests. Despite this limitation, the repeatable and uncomplicated nature of the earning process through watching music videos remains a notable feature of Musifiq's fan-centric approach.
How do you get paid?
As mentioned before, you earn points when you listen to songs or watch music videos on This Platform. These points can be turned into real money and withdrawn to your bank account. It would help if you cashed out, equal to $2. But remember, when you start, there's a 3% service fee, so you won't get the full amount.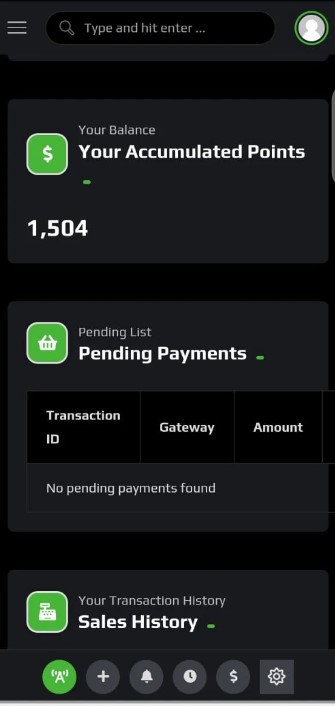 I like they offerThe payment process on This Platform is easy. I like they offer direct bank transfers as a payment option.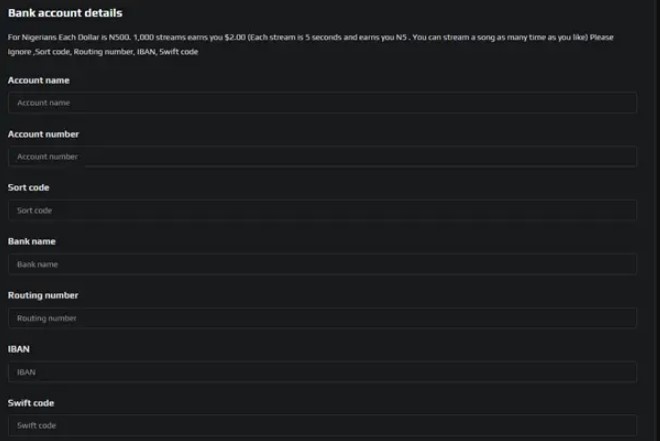 If you're looking for other websites with a straightforward payment method, explore platforms that pay through direct bank transfer.
How to join Musifiq?
The website doesn't clearly state the countries it's available in, but it seems accessible worldwide. However, since most songs are from Indian artists, Musifiq seems best suited for people in India.
Signing up is simple. Just fill out the registration form, and once you've submitted it, you can log in to the dashboard and begin earning. It's a straightforward process, making it easy to get started.
See More:
10 Best Ways to Earn Money Surfing The Web in 2024
5 Best Apps That Offer To Earn Money By Reading News
7 Best Websites To Get Paid To Read Books in 2024