Introduction.
Are you looking for the best way to make money online for free? And a website will give you free traffic? It does not indeed involve investment. By using the said platform, you'll be able to earn thousands of dollars in pure passive income. But for that to happen, you need to read every single word of this article. Because not only will I tell you how to set this up correctly. I will also share how to maximize your results and Earn even more money from LeadsLeap. Thanks to another website you've probably never seen before. With all of that said, for those of you who perhaps want another method to make money online.
The main platform where we can earn money.
And with all of that said, let's now get right into the main topic, as I said just a moment ago. Today, I have a website that allows you to get free traffic. And thus, it will enable you to get paid a passive income. The website in question is this one here called leadsleap.com.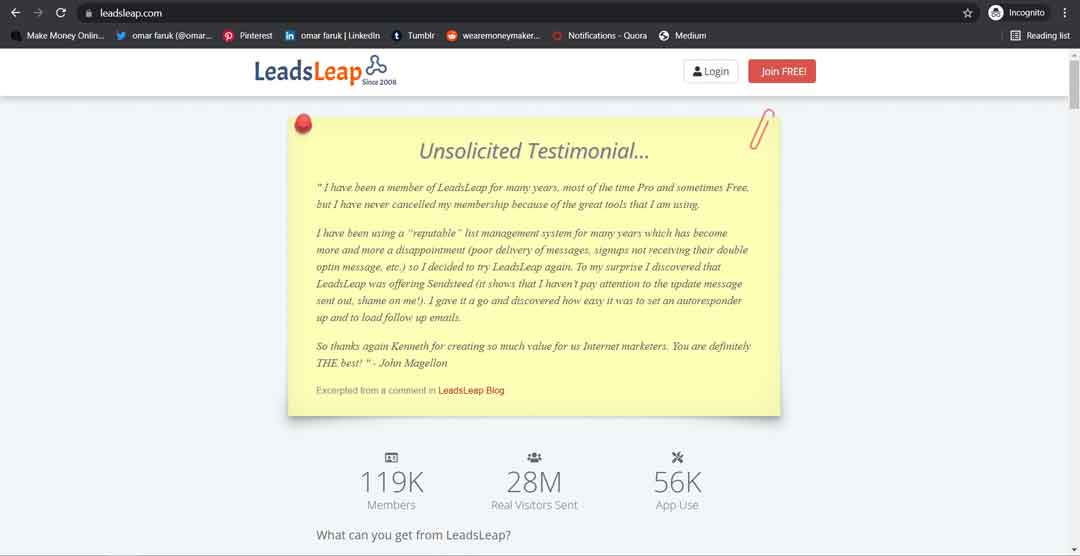 How to make money from leadsleap.com.
The way this website works for those of you who haven't heard about it. Basically, you can do various tasks that earn you credits? And then, you can exchange those credits for certain services. One of which will be particularly helpful to us.
Is leadsleap.com legit?
Before we proceed, it's worth noting that this platform has been around since 2008. And the reason this is so important is that scam websites don't last long. So, when you come across a platform like this that has been around for this long. You know it's 100%legit.
How to sign up at leadsleap.com
Just something to keep in mind before we proceed, guys. What do I need you to do? When you come onto this platform now is entirely predictable: sign up by clicking on the "join free!" button. They'll then ask you to type in your username, email address, first name, and password to finish the process. You will have to click on sign up now below.
How to be able to "log in" to your new leadsleap account?
What happens from there is you will have to confirm your email. So, you want to go over to your Gmail account and open up a message from LeadsLeap. And click on the sent link. With that done, you will now log into your new account.
What to do on leadsleap.com?
This is what you'll come across when you log in. You will now be able to complete the tasks that I mentioned before. All that you will have to do is click on ads on the right-hand side. That's it.
What not to do on leadsleap.com?
What's so essential for me to mention to you guys, is that you do not click on ads where there's text. saying, "for bot detection do not click."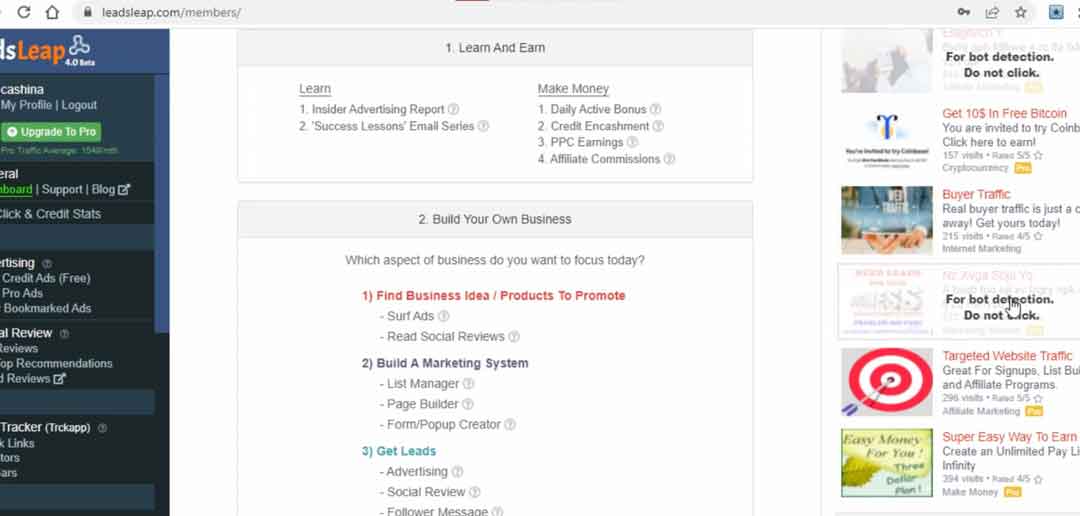 Because, as the text suggests, these ads, detect bots to make sure that the traffic is 100% human and legit. If you click on a text like this, you will get your account banned. So, you obviously want to avoid that.
Working procedure on leadsleap.com
The first step.
With that said, I know that clicking on ads will be boring for some of you. But before you think about giving up, clicking on ads will earn you credits that will allow you to get free traffic to any link you want. And that can make you big money online because you can now get sign-ups and clicks on affiliate links. So, by merely clicking on ads, you will essentially allow yourself to set up a passive income stream.
The second step.
So, the next step from here is simple. Just click on as many of these ads as you can and try to earn at least 20 credits, if not more. And to then utilize them and get traffic to an affiliate link. Click on "post-credit ads (free)." then add a new ad (1s pause).
The third step.
And if you now scroll down. You will see all of this info that you have to fill out, such as the URL you want to advertise and a bunch of other stuff. The elephant in the room, so to speak, here would now be the fact that you do not have a URL. But this is why it matters that you keep watching. I will tell you a platform to find affiliate offers to promote and get paid.
The second website oke.io
Before we get to that website, though, there's another platform you will want to sign up to. This website will boost your earnings significantly. The platform in question is called oke.io.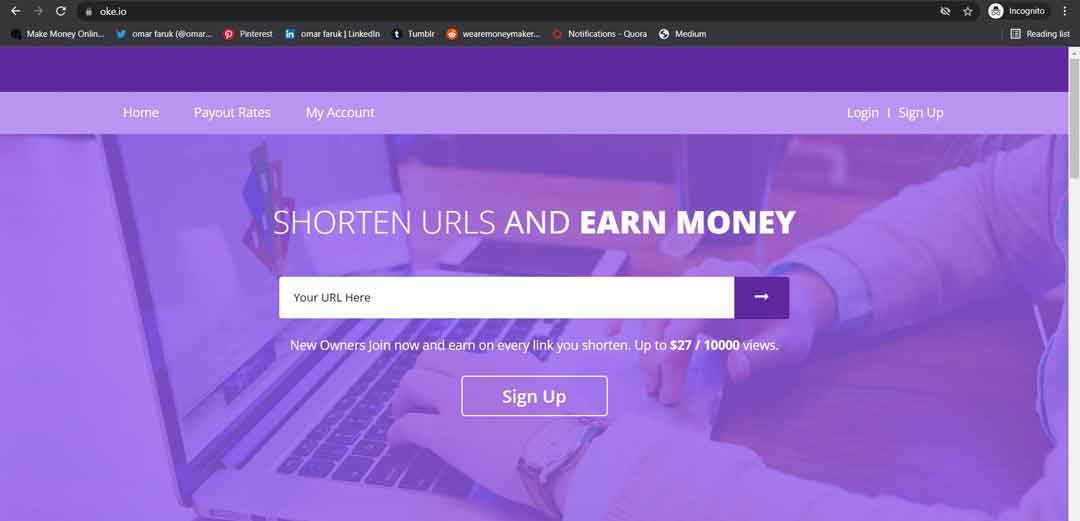 It is a website that allows you to shorten URLs and earn money.
How to work on oke.io?
The way this works is you shorten a link to some website. When someone clicks on the link, they'll see many ads first. And the ad revenue is what will make you money. And I think many of you can now see the potential of using this website to shorten affiliate links. By doing this, you will not only get paid per purchase or sign up.
You are depending on what you are promoting. But you will also get paid per click. This would allow you to boost your earnings substantially.
How to sign up free for oke.io?
So, could you do it now? Guys, sign up to this website for free by clicking the "sign up" button. I won't go over the actual registration process, since it's pretty similar to the one on leadleads.com,
The third website is cpagrip.com
I will instead proceed to the final website you will want to use today. That website is called cpagrip.com.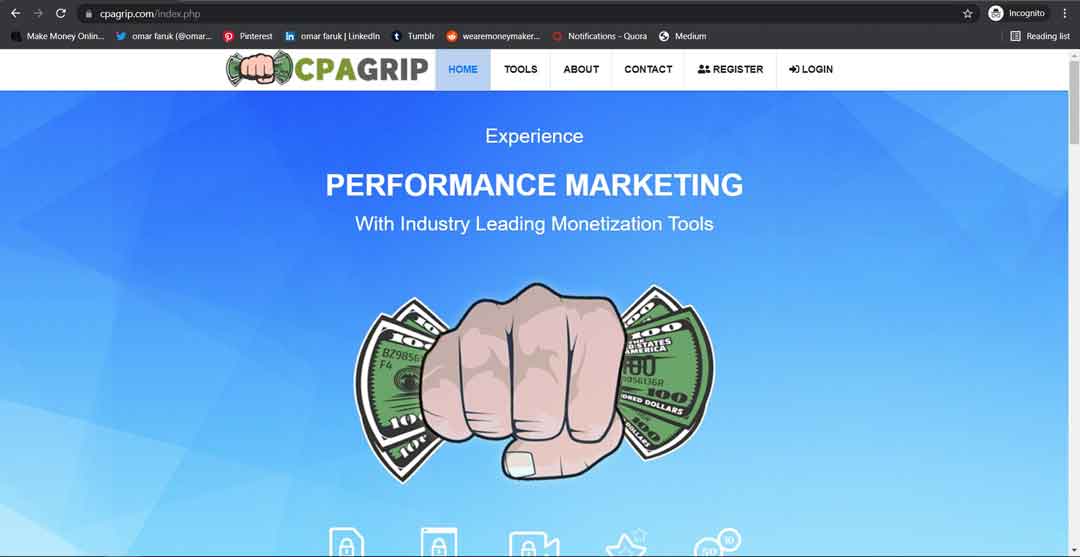 This is the place from where you will grab your affiliate links, guys. The big difference between this site and other affiliate marketplaces is that you can find CPA or cost-per-action offers here. And these require a mere registration to a specific website for you as an affiliate to get paid, instead of requiring an actual purchase. And as you know, getting someone to sign up is much easier than getting them to make a purchase. So, I need you to come over to this website and sign up for 100% free. Then log into your new account.
How to be able to promote offers on cpagrip.com
Of course, what you will want to do now is find an offer to promote. To access the marketplace, click on offer tools and my offers. And you'll now be able to promote any one of these offers.
Working procedure on cpagrip.com
Now comes the really important part. Try to find something that people will get value out of, which will also pay you as an affiliate a lot of money. For example, various giveaways will be pretty good to promote, stuff like that. Just make sure you invest some time in this to find the best offer possible. When you find it to now grab its link, simply click on it. And the actual link will be displayed, which you will now want to copy.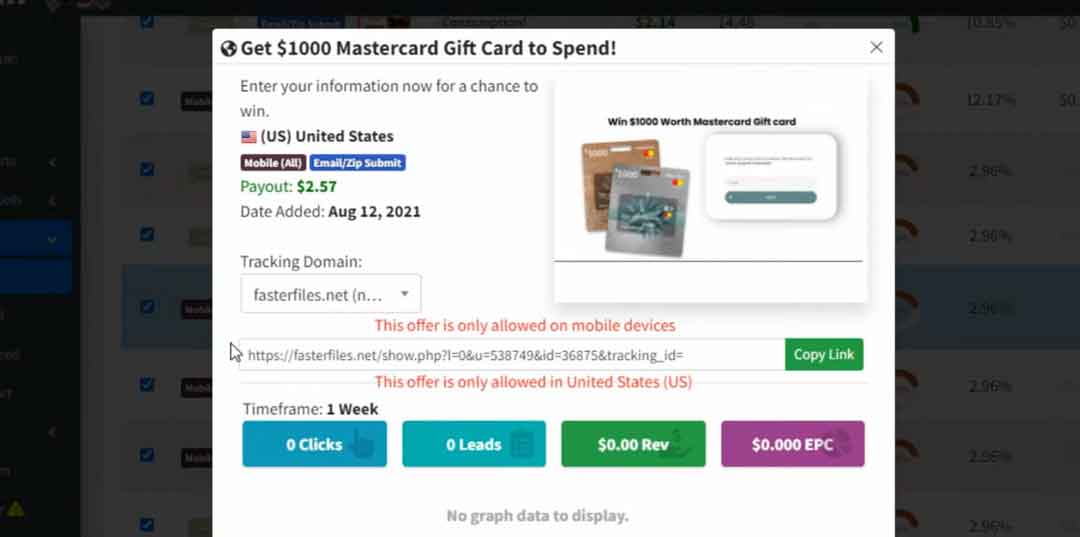 How to boost your earnings using this website?
And now, instead of going back to LeadsLeap directly, you want to first stop by oke.io. Here to shorten it because remember doing this will boost your earnings. And so, even though you don't have to do this per se, I highly recommend it. To shorten the link, all you need to do is paste it in "your URL here." and click on "shorten." and then wait a few seconds or less, and you'll be able to grab your shortened URL. Only now do you want to head back over to LeadsLeap and paste the link in the URL box here.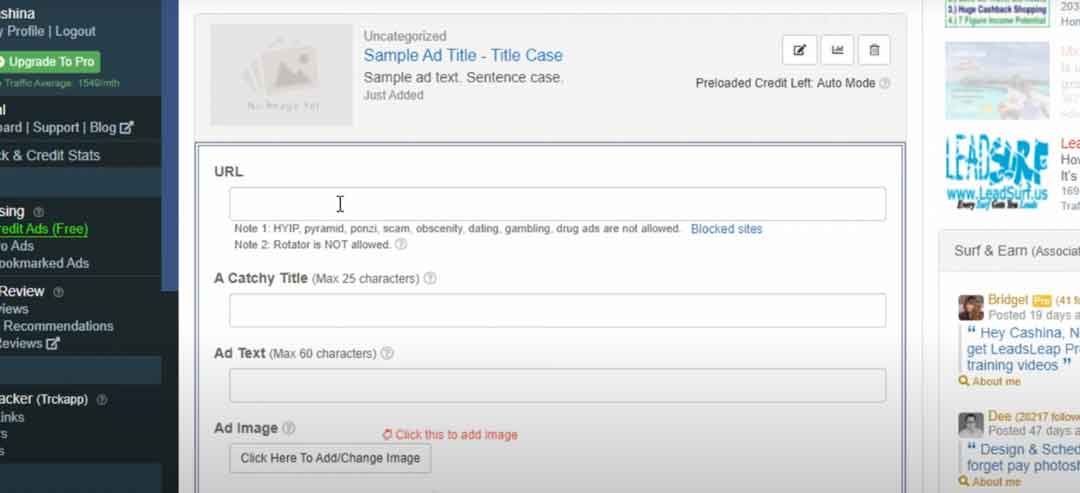 And what happens now guys, are you will be making money passively. It's as easy as that once the offer you are promoting expires. You can repeat this same process to make a lot of money passively despite not having any skills or experience to be with.
See More:
AppTrailers Review | 4 Best Ways To Earn Money From SmartPhone
14 Best Platform To Get Paid To Watch Videos Online in 2022
3 Best Way to Make Money Using FeaturePoints | FeaturePoints Review
Is Swagbucks legit? | 8 Best Way to Make Money with Swagbucks