Introduction
If you're interested in discovering fresh opportunities to boost your income, consider exploring this YouGov overview. You Gov is an international market research company established in 1998, with its main offices in the United Kingdom. Their reach extends across various regions around the world. You Gov specializes in conducting compensated surveys for clients, aiming to gain insights into public opinions on current events, consumer goods, and brand perceptions. They offer opportunities to participate in political polls where you can contribute your viewpoint and earn money in return.
What is YouGov?
YouGov is the world's leading research organization, boasting an extensive membership base of 6 million individuals. They are recognized for producing various syndicated reports, including the annual Global Survey of Wealth & Affluence, which offers in-depth market insights across diverse industry sectors. It regularly highlighted their research findings in the media, underscoring their influence and significance in the research and market intelligence landscape.
How to Sign Up With YouGov?
To get started with YouGov, follow these steps:
Visit the YouGov website at www.yougov.com.
Sign up using either your Facebook account or a valid email address. You can typically find the signup option on the homepage.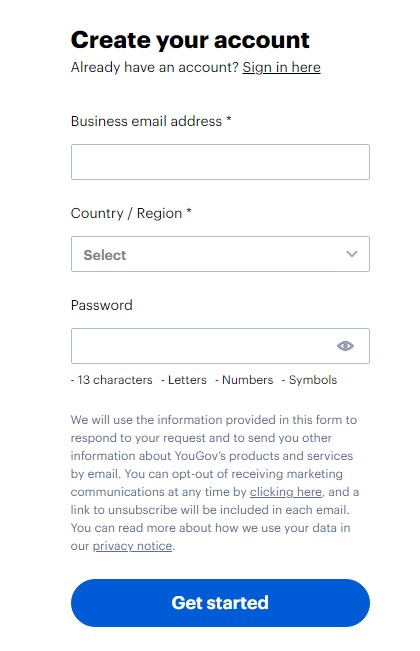 Fill out the signup form with your details. This may include providing information such as your full name, household income, marital status, gender, age, and ethnicity. Be honest and accurate when filling out this information, as it helps match you with relevant surveys.
After completing the signup form, YouGov will send you a confirmation email. Go to your email inbox, open the email from You Gov, and click on the verification link to confirm your email address and activate your account.
Once your account is verified, you should receive 100 bonus points for signing up. These points are often a part of the initial welcome bonus.
Access your YouGov account by logging in with the credentials you provided during signup.
How to make money from YouGov?
YouGov offers its members various options to earn rewards and incentives for participating in surveys and providing valuable opinions.
Make money by YouGov paid surveys.
YouGov primarily offers paid surveys to earn and provides surveys more frequently than similar survey sites. On average, you can expect to receive 5–7 surveys per week.

The surveys on You Gov are short, typically taking 5–15 minutes to complete. The rewards for these surveys are considered fair in the time spent. Occasionally, longer surveys are offered, which come with higher rewards.
You Gov sends email notifications for surveys, but these emails do not specify the reward and duration of the survey. However, it's easy to find this information by clicking the provided link in the email before deciding whether to participate.
You Gov is good at sending surveys you are likely to qualify for, and if you don't qualify for a particular survey, they often provide an alternative survey.
See the results of the surveys.
YouGov offers a unique feature that allows participants to see how their survey answers are used. Approximately once a month, they send out a newsletter containing links to national and international news stories where their survey results have been quoted.
You can also find this information on the You Gov website if you prefer to avoid receiving the newsletter. The front page of the survey panel website typically features a section with the latest survey results.
This transparency and feedback feature highlights the true strength of paid surveys – participants can see how their opinions and answers impact real-world issues. It's a great way to feel that your voice matters and that you are contributing to the broader conversation.
While earnings are a valuable aspect of participating in surveys, the opportunity to be heard and see the results of your contributions adds an extra layer of satisfaction to the experience.
The ability to connect your survey participation to real-world outcomes and news stories is a notable and positive feature of the You Gov platform, as it reinforces the sense of purpose and the impact that survey-takers can have.
The YouGov website is user-friendly, making it convenient to use. The email notifications reduce the need for frequent logins to check for surveys.
You Gov surveys often cover interesting and relevant topics that participants can easily relate to.
Overall, your positive experience with YouGov suggests it can be a rewarding and user-friendly platform for individuals looking to earn extra income through paid surveys. Survey availability and experiences may vary depending on your location and demographic profile.
Make money by invite your friends For YouGov.
YouGov offers a "Refer a Friend" program where you can share your unique referral link with others.
When someone signs up using your referral link and completes at least six surveys, you'll receive a bonus of 200 points. This is equivalent to £2 added to your account balance.
The referral program provides a strong incentive to encourage friends and family to participate in YouGov surveys, as both you and the referred individual can benefit from the rewards.
Sharing your referral link can be a simple and effective way to increase your earnings on the platform while helping others discover the benefits of participating in You Gov surveys.
The referral program can be a win-win for You Gov members and their friends, allowing everyone to earn rewards while sharing valuable opinions on various topics.
How does YouGov pay?
YouGov surveys offer its members a range of redemption options, with specific choices varying by country. Here's an overview of the standard redemption options available: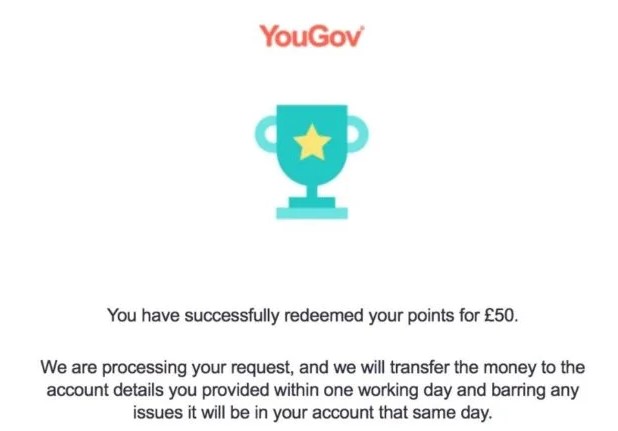 In some countries, members can receive cash payments via PayPal. You can redeem 30,000 points for a $25 PayPal amount, 55,000 points for a $50 payment, or 100,000 points for a $100 payment.
YouGov members can exchange their points for Amazon gift cards. For example, you can get a $25 Amazon gift card for 30,000 points, a $50 gift card for 55,000 points, or a $100 Amazon card for 100,000 points.
Depending on your country, You Gov may offer other redemption options, such as Visa prepaid cards, bank transfers, and various gift cards beyond Amazon. The availability of these options may vary by region.
Members may also have the opportunity to exchange their points for You Gov-branded merchandise.
These redemption options allow members to choose how they want to use their earned points, whether in the form of cash, gift cards, or other rewards. The specific rewards available to you may depend on your location and the terms and conditions set by YouGov in your region.
How to download the YouGov mobile app?
Android devices, allowing members to participate in surveys on the go.
YouGov offers mobile apps for both iOS and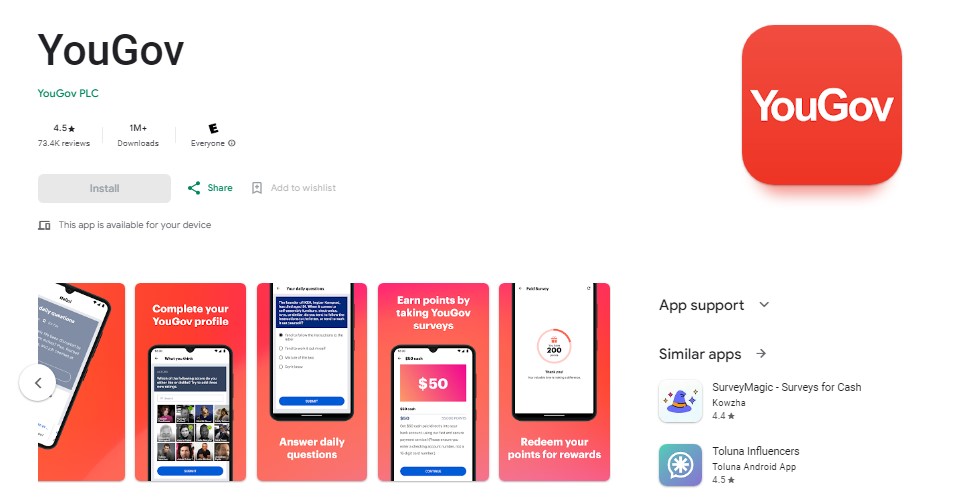 Additionally, these apps allow you to enable push notifications, ensuring that you receive timely updates about the latest survey opportunities directly on your mobile device. This mobile accessibility makes it easier for members to engage with You Gov and earn rewards wherever they are.
See More:
OnePoll Review – 3 Easy Ways To Earn From Online Survey Sites
Ipsos iSay Review – Earn By Surveys With 4 Easy Ways
Branded Surveys Review – 5 Easy Ways to Earn Money
Macadam App Review – Walk & Earn With 5 Easy Ways