Introduction
WAM App is a mobile app that allows users to win digital currency and collectibles through engaging gameplay. By participating in play-to-earn tournaments, users can compete in arcade-style games and strive to achieve high scores to win WAM tokens. The app provides a straightforward registration process, allowing users to join and start playing quickly. With no minimum withdrawal threshold, users can withdraw their earned WAM tokens anytime. Stay entertained and earn rewards with WAM!
What is WAM App?
WAM App is a legitimate mobile app that allows users to win digital currency and collectables through engaging gameplay. Players can earn WAM tokens by participating in various games within the app, a form of digital currency.
How to join WAM App?
To start with WAM App, you must install the app on your device. Once installed, open the app, and you'll be prompted to go through the registration process, which is simple and easy to follow. You can register using either your Facebook account or your email address.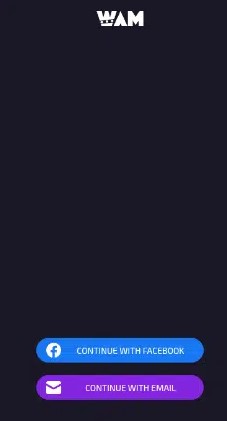 After providing the necessary registration details, you can log in to the app immediately. However, WAM will send you a verification email to confirm your registration. It's important to check your email inbox, and also be sure to check your spam folder, as the email might end up there. Click on the verification link provided in the email to complete your registration process.
Make money through Play-to-Earn Tournaments From WAM App.
WAM App offers a play-to-earn model where users can participate in tournaments to earn rewards. When logging into the app, users can easily find the ongoing tournaments, each displaying its duration. It is advisable to select tournaments that are close to ending. By selecting a tournament, users are directed to a specific game associated with that tournament.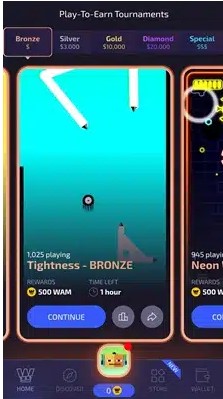 The games provided in WAM App are arcade-style and relatively easy to understand. The objective is to achieve the highest score possible to rank among the top players. At the end of the tournament, participants who rank well receive rewards in the form of WAM tokens. These tokens can be utilized for various purposes, which will be discussed shortly.
While the concept is straightforward, achieving a high rank can be challenging. Exploring the "Discover" section of the app and playing the games listed here is recommended. These games are typically used in tournaments, allowing users to familiarize themselves with the gameplay mechanics and avoid wasting their limited tries. Initially, users are granted three free tries, and if they exhaust them, they can obtain additional "lives" by watching ads or purchasing them with WAM tokens. However, during testing, the adoption for obtaining extra lives was not functioning, so it remains unclear if this feature was intentionally turned off or a bug.
WAM tokens won from previous tournaments can be used to acquire additional lives. However, for newcomers, purchasing WAM tokens with real money is necessary to participate fully. It is important to exercise caution when considering spending real money on such earning opportunities, as there is no guarantee of winning it back. Achieving higher prizes usually requires exceptional skill in these games.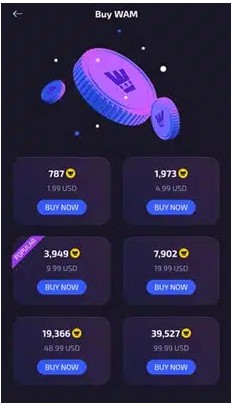 To maximize earnings from WAM, it is advisable to spend ample time practising the games before entering a tournament. Building confidence and honing one's skills will increase the chances of achieving a high score and winning rewards. The number of tournaments one can participate in is unlimited.
After a tournament concludes, the winnings are credited to the user's WAM account balance.
How do you get paid From WAM App?
As mentioned, WAM App rewards winners with WAM tokens, a cryptocurrency with monetary value. Currently, the value of 1 WAM token is relatively low, so earning a substantial amount from the app would require winning thousands of tokens.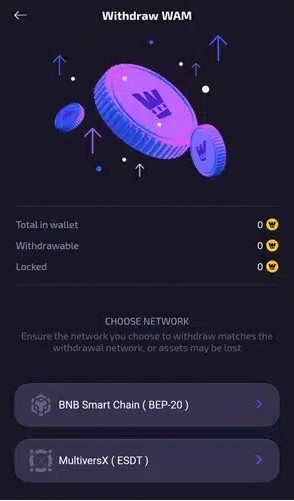 One positive aspect of WAM's payment system is that there is no minimum withdrawal threshold. Users can withdraw their WAM tokens at any time. Users must set up a third-party crypto wallet that utilizes either the Binance Smart Chain or MultiversX, as the app indicates. Binance is recommended as a user-friendly platform for beginners in the crypto space.
When withdrawing WAM tokens to a crypto wallet, it's important to note that transaction fees will be incurred for each withdrawal. To optimize the process, it is advisable to accumulate a significant amount of tokens that can cover the fee while still providing a substantial amount of WAM tokens as a payout. The exact fee amount is not specified in the app but will be displayed when attempting to withdraw.
I didn't have the opportunity to test this aspect of the app personally, and I will explain why later. However, overall, the payment system of WAM is relatively straightforward for individuals already familiar with cryptocurrency transactions. For newcomers to the crypto world, researching how to withdraw cryptocurrencies to a crypto wallet is recommended. Most crypto wallets provide tutorials on this process.
If you are seeking a platform that offers a simpler payment method.
FAQs
How can I earn digital currency on WAM?

You can earn digital currency, known as WAM tokens, by participating in play-to-earn tournaments and achieving high scores in the associated games.

What can I do with the WAM tokens I earn?

WAM tokens can be used within the app for various purposes, such as purchasing additional lives or participating in special events. They can also be withdrawn to a crypto wallet and traded on supported exchanges.

Is WAM a legitimate app?

Yes, WAM is a legitimate mobile app that allows users to earn digital currency through gameplay. However, it's important to note that the value of WAM tokens may vary, and earning significant amounts may require considerable skill and effort.

Can I withdraw my WAM tokens anytime?

Yes, there is no minimum withdrawal threshold on WAM. You can withdraw your earned WAM tokens to a crypto wallet anytime.
See More:
Givling App Review – Earn By Playing Trivia Game With 4 Easy Ways
HelpOwl Review – Earn Helping Others By Answering 100% Easy Questions
Get-Paid Website – Earn 100% Easy Money Per Click
mGamer App – Earn By Playing Featured Games With 6 Easy Ways