Introduction
Weegy App is an online platform that connects people seeking answers with a community of knowledgeable individuals. Since 2008, Weegy has been a trusted resource for obtaining accurate and reliable information on various topics. By joining Weegy, you can access valuable knowledge and earn money by sharing your expertise.
Answer questions, contribute to the knowledge base, and earn points that can be converted into monetary rewards. Weegy App emphasizes providing correct answers, following the required format, and maintaining high-quality responses. Stay engaged with real-time questions and conversations to maximize your earning potential.
Take part in contests, referral bonuses, and live conversations to boost your earnings and recognition within the community. With a minimum payout threshold of $20, they conveniently processed all payments through PayPal.
Join Weegy today and experience the rewarding combination of knowledge and earnings in a vibrant community. Let Weegy be your go-to platform for expert assistance and a fulfilling journey.
What is Weegy App?
Weegy.com is a website that claims to offer online payment opportunities. According to the website, Weegy is a community-based expert system that aims to help users solve problems or answer questions. The website suggests that if you have a question or a problem, you should go to Weegy.com, as it claims to have the answer usually. Proxy, LLC, based in Scottsdale, Arizona established the website on April 3rd, 2008.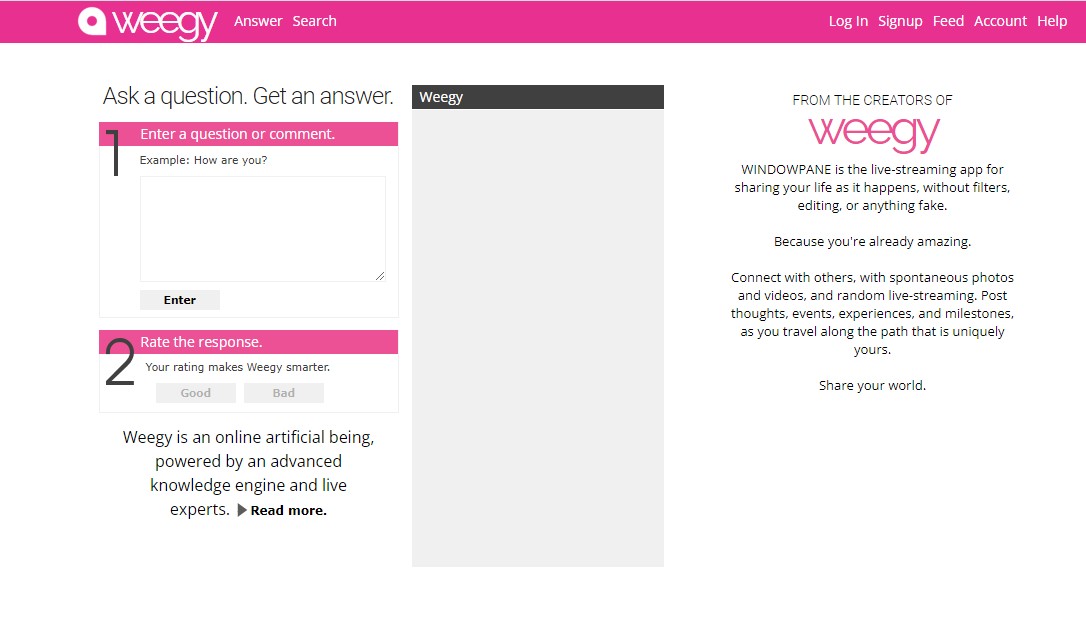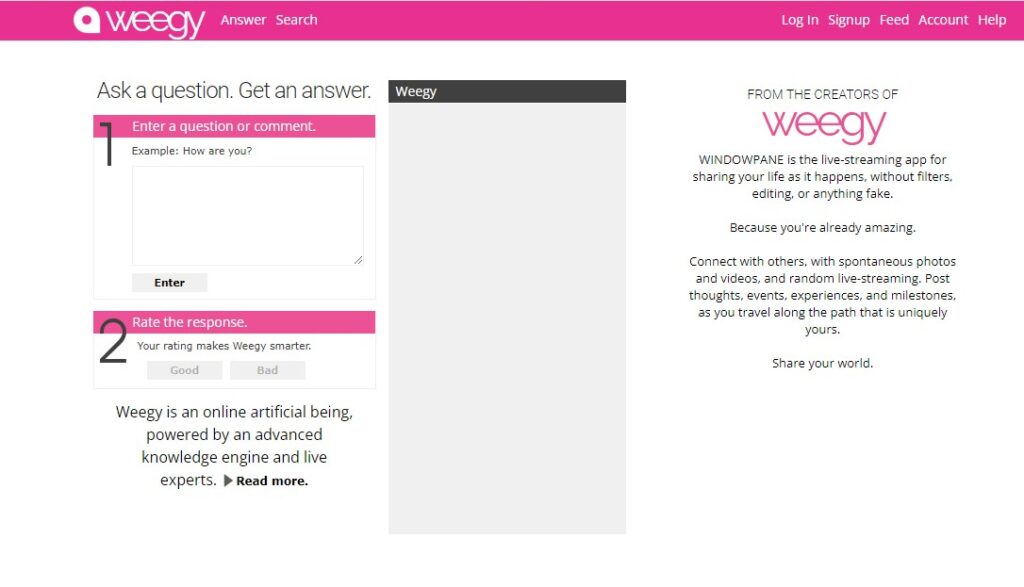 Weegy.com allows users to ask questions about homework, life, or other topics. This review aims to assist individuals in joining the website and earning from it.
How to Join Weegy App?
To get started with Weegy.com, Visit the Weegy website by typing "weegy.com" into your web browser's address bar.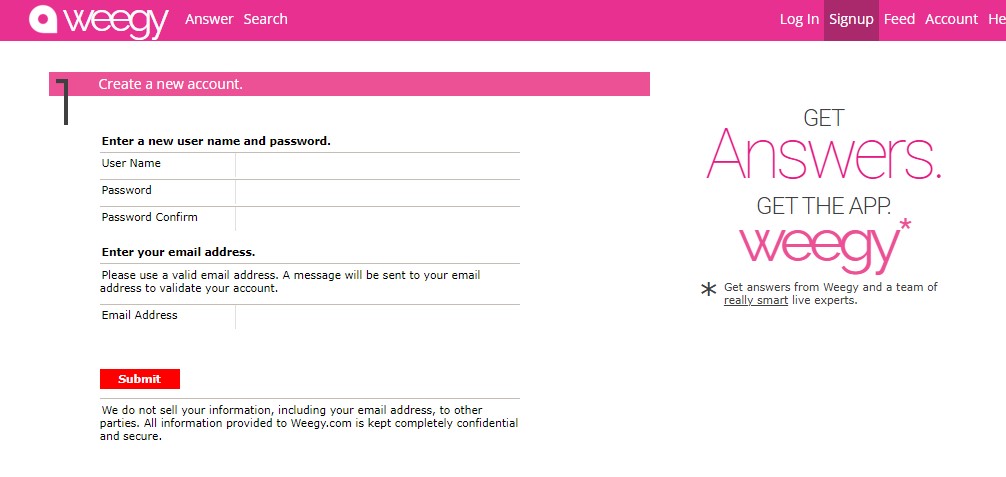 Once on the Weegy homepage, look for the "Sign Up" option and click on it.
You will be directed to the registration form to enter your username, password, and email address. Fill in the required information accurately.
After completing the registration form, submit it. You will then receive an email from Weegy containing a confirmation link.
Open your email inbox and find the email from Weegy. Click on the confirmation link provided in the email to confirm your email address and activate your new account.
Once your email address has been confirmed, your registration form will be reviewed by Weegy. If approved, you must take a small True and False test before answering questions on the site.
Answer the True and False test questions honestly and submit your responses.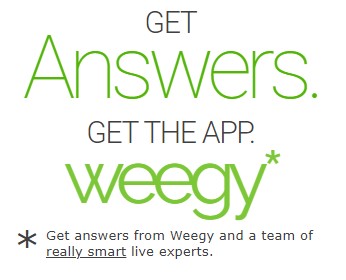 Once you have completed the test, you can start answering questions on Weegy.com.
You can also download the Weegy app on your mobile device. If you have an iOS device, you can find the app in the App Store. For Android users, the Weegy app is available in the Play Store.
How Does Weegy App Work?
Weegy App is an online platform that offers individuals the opportunity to earn money by answering various questions. However, some certain requirements and guidelines need to be followed.
To begin, you must pass a true and false test, which evaluates your knowledge and abilities. You will be redirected to the dashboard once you have successfully passed the test. Here, you can view your stats, including the number of questions you have answered, the points you have received, and any flags or warnings that may have been issued to your account.
Working on Weegy can be complex, as there are specific formats and guidelines to follow when answering questions on the site. It is important to provide correct answers and adhere to the required format. Additionally, taking too long to search for an answer or providing incorrect responses can result in your account being flagged.
The Weegy platform has an online tab where new questions appear. It is crucial to keep this tab open at all times, as you have only 15 seconds to accept or reject a question. Please do so to ensure you get opportunities to answer questions.
They collected the answers you provide on Weegy in Weegy's knowledge base, which helps in answering similar questions in the future. You can contribute to this knowledge base by visiting the "Add Responses to Knowledge base" section.
By answering questions, you earn points contributing to your level and privileges on the site. The more questions you answer, the higher your level will be. Starting at level 1, your progress is determined by the number of points you accumulate.
It is important to note that Weegy App has strict guidelines and expectations regarding its operation, answer responses, and adherence to formats. Following these guidelines diligently is essential for a successful experience on the platform.
How Do you make money by answering questions From Weegy App?
In Weegy, the primary way to earn money is by answering various questions. The exact pay rate per question can vary and is influenced by several factors. These factors include the accuracy of the answer, adherence to the required answer format, and overall quality of the response, among others. The pay rate is not fixed but can be around 20 cents or $0.05 per question. However, it's important to note that earning potential per question depends on the specific circumstances and requirements.
You may only earn money for that question if you answer correctly. There is an opportunity to earn higher pay rates by participating in live conversations on the platform.
It is worth mentioning that Weegy retains 25% of the total Earnings while you receive 75% as your share. They used this portion owned by the website for development and maintenance purposes.
Weegy also organizes various contests for its users. These contests have different categories, and three winners are selected in each category. The first-place winner receives $30, the second-place winner receives $20, and the third-place winner receives $10.
Contest winners are determined based on points earned, comments received, ratings, and the number of invitations and referrals made.
Additionally, you can earn by referring Weegy App to your friends and relatives. As a referral bonus, you earn 10 points for each person who joins Weegy through your referral link or code. The referral bonus is awarded after the referred individuals make their first purchases on the platform.
How do you get paid From Weegy App?
Weegy App offers payments exclusively through PayPal, and the minimum payout threshold is set at $20. Once you have accumulated earnings reaching or exceeding this threshold, you can request payment anytime. It is essential to have a valid PayPal account to receive your earnings.
Initially, your earnings will be reflected in points. However, the specific conversion rate of points to currency has yet to be discoveredsable to contact Weegy App directly or consult their official documentation for more information regarding the conversion rate and the process of converting points to monetary value.
FAQs
How do I receive payment from Weegy?

Weegy pays its users through PayPal. You can request payment once you reach the minimum payout threshold of $20. It is essential to have a valid PayPal account to receive your earnings.

Are there any fees or deductions from my earnings?

Weegy retains 25% of the total earnings for website development and maintenance, while you receive 75% as your share.

Can I earn from referrals on Weegy?

Yes, Weegy offers a referral program where you can earn referral bonuses. After people join Weegy through your referral link or code and make their first purchases, you will receive a referral bonus of 10 points.

Is Weegy available as a mobile app?

Yes, Weegy has a mobile app for iOS and Android devices. You can download the app from the App Store for iOS users and the Play Store for Android users.
See More:
WAM App – Earn by Playing 100% Easy AI-Powered Gaming
Givling App Review – Earn By Playing Trivia Game With 4 Easy Ways
HelpOwl Review – Earn Helping Others By Answering 100% Easy Questions