Introduction
In the world of online survey opportunities, Y Live stands out as a platform that offers a unique approach to earning extra money. Y Live provides members with a chance to participate in surveys, each carefully priced based on the estimated time required for completion. With a transparent compensation system that values your time at £1 for every 5 minutes, it's an option that many find appealing. But what truly sets Y Live apart is its commitment to accuracy; its estimated completion times are known to be remarkably reliable. In this article, we'll explore the ins and outs of Y Live's survey system, providing insights into how it works and how you can maximize your earnings on this platform.
What is Y Live?
Y Live is a legitimate-paid survey website that provides an opportunity to earn extra money online. With the Y Live app, you can increase your income by participating in a variety of surveys, including online, teen, and mobile surveys.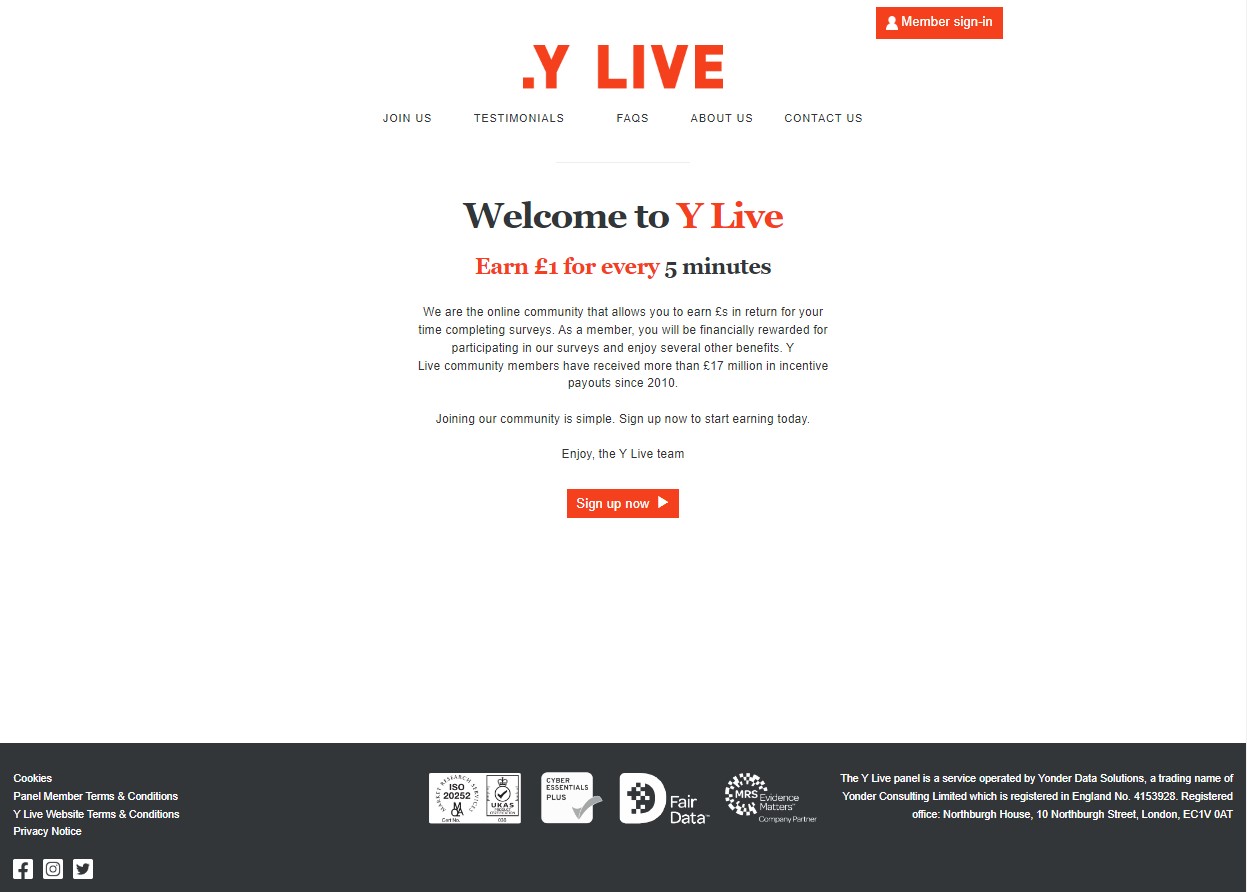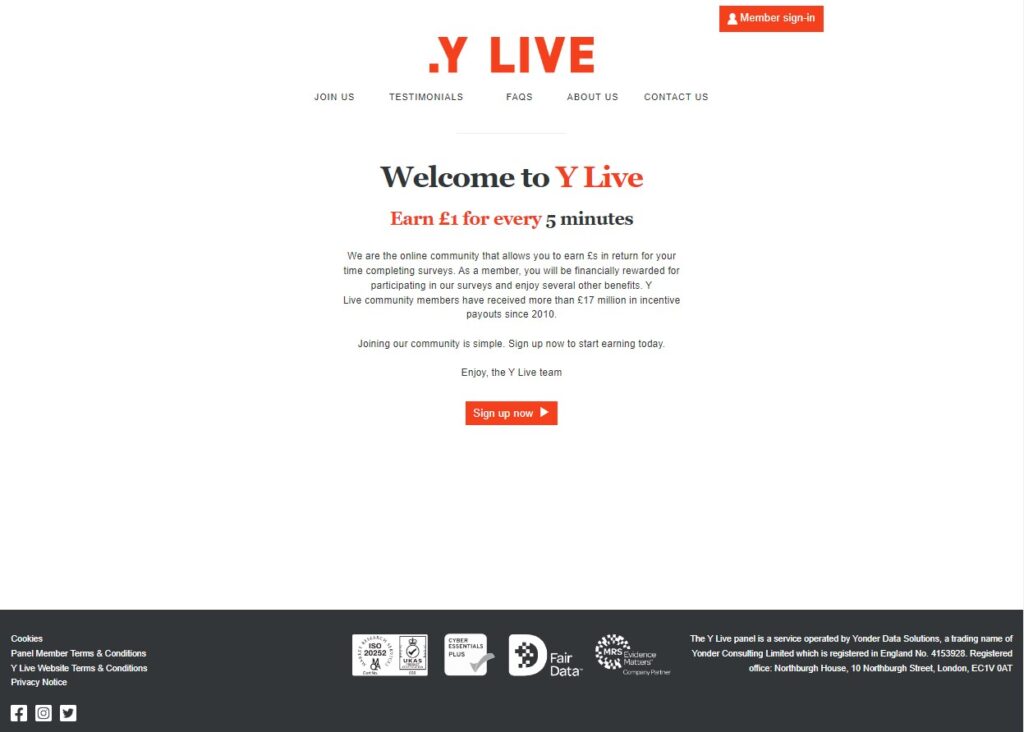 By employing some legitimate strategies, you can potentially generate anywhere from £100 to £200 per year, and you have the option to withdraw your earnings through methods such as checks, bank transfers, or even entry into sweepstakes. It's important to note that Y Live is available exclusively to residents of the United Kingdom.
How to Sign Up with Y Live?
To register with Y Live:
Start by visiting their homepage and clicking the "Join Us" option.
Fill in your name and email address, and choose a username and password.
Provide your birth date, gender, and zip code to finalize the registration process.
Once this is done, click "Register" and proceed to complete your demographic profile. You can then begin using the website.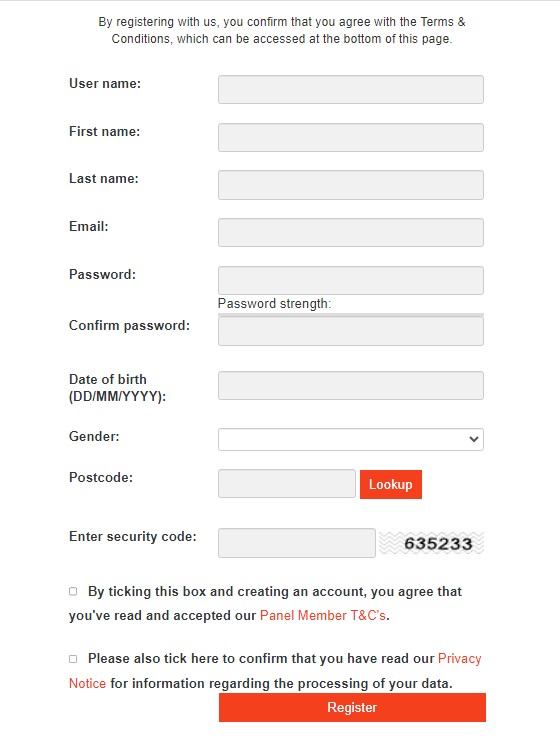 How to make money from Y Live?
2 Easiest Ways to Earn From Y Live.
1. Make money by Paid Surveys.
The primary method for earning with Y Live is by participating in paid survey offers.
once you've become a member of their panel, you become eligible to receive surveys via email.
It's crucial to remember that you don't need to log in to the website to complete surveys. Instead, you should regularly check your email because all survey offers will be sent there, each containing a link to the survey. Click on this link to begin.
When you're taking the survey, you'll typically start by answering a set of qualifying questions to determine if you fit the profile the survey is targeting. If you meet the criteria, you'll proceed to answer the actual survey questions. If not, the process stops there.
During the survey, there are a few important points to keep in mind. Y Live has incorporated quality control measures into all their surveys. Your account will only receive points if your responses are logical and if you have spent the minimum required time on the survey.
This is done to discourage rushing through surveys to collect rewards quickly. The panel has developed methods to ensure the best quality answers from each survey offer they present.
Once you've met all the necessary conditions, you'll receive the promised points, which will be credited to your account.
2. Make money by Monthly Draw.
While it's important to note that this opportunity doesn't guarantee earnings, Y Live offers a monthly prize draw for its members.

The prize at stake is £250, and here's how it works: members who attempted to complete a survey during the month but did not qualify will automatically be included in the monthly draw. There's no additional action required on your part to enter the monthly draw.
In essence, this feature serves as a consolation reward for those who weren't able to qualify for any survey offers. The prize draw is conducted during the first week of each month.
How do you get paid From Y Live?
Now, let's delve into the payment process.
As previously mentioned, for each survey you complete, you'll receive a specific number of points, which are then credited to your Y Live account.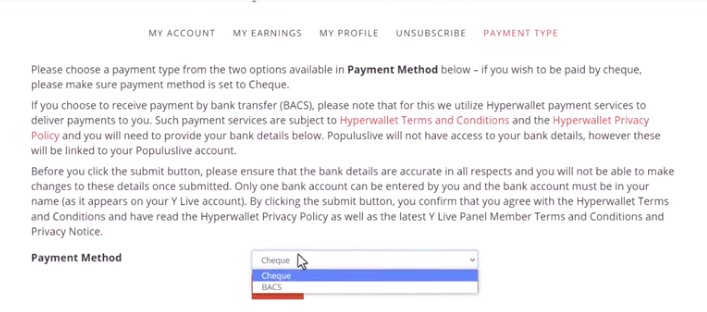 The notable aspect of Y Live's payment system is its automation. To receive a payment, you need to accumulate 50 points, which translates to £50, since 1 point equals £1. In essence, the payment threshold is relatively high for a survey site.
However, if you manage to reach 50 points within a given month, you can expect to receive a £50 payment in the subsequent month. All payments are processed at the beginning of each month.
You have the flexibility to choose between receiving your payment via cheque or a direct BACS transfer into your bank account, making it a convenient system. The challenge lies in reaching the high threshold each month, as it may require answering a substantial number of surveys. If you don't reach the threshold within one month, your rewards will carry over to the following month until you accumulate enough points to meet it. Patience may be required to reach this threshold.
How much do Y Live Surveys pay?
The compensation you receive for each survey is directly tied to the estimated time it should take to complete it. Y Live values your time at £1 for every 5 minutes, and it's worth noting that their time estimates are quite accurate.
Typically, a survey that pays £1 can often be completed in just a few minutes. While you may complete surveys quickly, it's essential to take your time to ensure you don't miss any quality control questions. It's also worth mentioning that you might encounter surveys worth £5 or more, which can be completed in significantly less time than the estimated 25 minutes.
See More:
Panelbase Review – 4 Easy Ways To Earning Money with Online Surveys
AttaPoll Review – Maximizing Your Earnings With 2 Easy Ways
Opinion Bureau Review – Getting Paid With 3 Easy Ways
6 Easy Ways To Earn With MarketAgent – A Comprehensive Review