Introduction
Panelbase is an online survey platform that allows users to engage in various research activities in return for rewards, such as cash and gift cards. Many paid online survey companies and platforms are available, all dedicated to facilitating this process.
These websites primarily function as research hubs, collecting valuable insights to enhance products and services. They enlist everyday consumers like yourself to provide honest feedback on product or service usage topics.
Among these platforms, Panelbase stands out as a convenient and cost-free method to earn money online. Your earnings are contingent on simply sharing your thoughts and opinions. This article will delve into various aspects of this research website and guide you on generating income by participating in surveys.
What is Panelbase?
PanelBase is a secure online research community where you can earn money by sharing your opinions on genuine products, services, and current topics in the United Kingdom. The PanelBase app provides various ways to participate, including online surveys, mobile surveys, online focus groups, telephone surveys, product testing, a refer-a-friend program, video surveys, and teen surveys. You can accumulate approximately £50 in monthly credits, which can be redeemed for cash through retail e-vouchers, bank transfers, charitable donations, or entry into sweepstakes. Additionally, PanelBase shares updates and news on their Facebook and Twitter accounts as an added benefit.
How to Sign Up With Panelbase?
Panelbase.net is completely free to join. To become a member and earn money through surveys, you must be at least 16. No registration fees or costs are associated with joining this online paid survey site. Click the "Sign up Now" button to initiate your registration.
After you've completed your registration and your account is verified, you'll receive an automatic bonus reward of 3 British Pounds credited to your account. This initial bonus can be a starting point for your survey participation.
How do you make money from Panelbase?
1. Make money with Panelbase surveys.
way to earn rewards on Panelbase. After completing the registration process and logging into your dashboard, you'll find a list of available surveys when you click the "Surveys" button.
Participating in paid surveys is the primary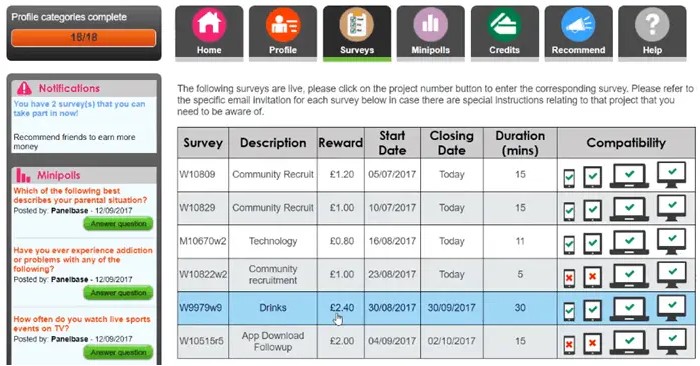 These surveys provide valuable information such as the survey deadline, the reward you'll receive upon completion, the estimated time required to finish the survey, and the device compatibility (whether it's accessible on a smartphone, tablet, laptop, or desktop). This device compatibility feature is a useful addition that many survey sites do not typically offer.
To increase your chances of qualifying for more surveys, filling out your profile with all the necessary information is essential. While you won't receive rewards for completing your profile, this information is crucial for Panelbase to match you effectively with surveys that suit your demographics.
On average, the surveys take approximately 10-15 minutes to complete, a reasonable and typical duration for survey sites. Overall, Panelbase provides decent survey opportunities for users to earn rewards.
2. Make money by Monthly Prize Draw.
When you don't qualify for a survey you've started on Panelbase, you'll still receive something in return. Panelbase compensates you with entries into their monthly draw. This is a standard compensation method used by survey sites.


Panel base conducts a monthly prize draw with prizes ranging from £1 to £50, and the number of winners in each category may vary. Two winners are drawn each month for the top prize of £50.
While this isn't a reliable way to consistently earn rewards, we can see it as a way to add an extra incentive and provide a consolation prize for individuals who do not qualify for surveys, which can sometimes be frustrating. It adds an element of chance and excitement to the survey-taking experience.
3. Make money by Referral program.
To invite your friends to join Panel Base and earn rewards, begin by visiting the "recommend" page within your Panel Base account. You can send your friends a direct invitation to join the PanelBase community on this page. When your friends successfully sign up and become members, you will receive a reward of £0.20 for each friend you have referred. This is a great way to earn additional rewards by bringing new members into the Panel Base community.
4. The Other Ways to Make Money on Panelbase.
Panelbase originally started as a paid survey site, and while the primary earning opportunities remain through online surveys, they have occasionally expanded to offer other paid research methods.
In addition to surveys, you may receive invitations for phone interviews, participation in focus groups, product testing, and more. These alternative tasks may require more time and involvement but offer higher rewards. It's a good idea to watch for these opportunities to maximize your earnings.
However, it's important to note that you shouldn't expect to receive these opportunities frequently. If you are interested in options like focus groups, exploring other platforms that specialize in offering such opportunities in addition to Panel base may be a good idea. Diversifying your participation across multiple platforms can enhance your chances of accessing a more comprehensive range of paid research methods.
How do you get paid From Panelbase?
Your rewards will naturally accumulate as you continue to complete surveys on Panelbase. One of the notable advantages of Panel base is its relatively low payment threshold of £10. When your earned rewards reach this amount, you can request payment.


Panel base offers three methods for requesting payment:
Direct Bank Transfer (BACS): You can use a direct bank transfer to receive your cash reward. This method allows you to avoid the significant fees associated with PayPal transactions.
Voucher Options: Another option is to request payment via vouchers. You can exchange your accumulated rewards for coupons, which will be sent to the address you provided via postal mail.
Charitable Donation: If you prefer, you also have the choice to donate your earnings to a charitable cause.
These flexible payment options cater to different preferences and needs, making it convenient for Panelbase members to access their rewards in a way that suits them best.
See More:
AttaPoll Review – Maximizing Your Earnings With 2 Easy Ways
Opinion Bureau Review – Getting Paid With 3 Easy Ways
6 Easy Ways To Earn With MarketAgent – A Comprehensive Review
PrizeRebel Review – 9 Easy Ways To Earn Surveys, Offers, More