Introduction
Earning money online is a common pursuit, and survey sites have become a popular choice for individuals seeking to make some extra income without requiring specific qualifications. Yet, given the multitude of survey platforms available, distinguishing between legitimate options and scams can be challenging. Attapoll is one such survey app that has garnered attention. In this in-depth Attapoll review, I'll provide an unbiased assessment of the platform, covering its functionality and whether it's a worthwhile investment of your time.
What is AttaPoll?
AttaPoll is a paid survey app that allows you to earn extra income by simply sharing your opinions. It serves as a bridge between you and diverse companies and organizations seeking your insights to shape new products or enhance existing ones. Each survey you complete, the compensation varying based on length, contributes to your earnings. Once you've reached a designated threshold, which can be as low as $2.50 or the equivalent in your currency, you can cash out through PayPal or donate your earnings. In select regions, you can opt for various gift cards or use Revolut as your preferred cash-out method.
Furthermore, Atta Poll offers a referral program. By sharing your referral code with friends, you can earn 10% of their earnings from completed surveys. In some countries, additional perks may be available, enhancing your overall experience with the platform.
How to join AttaPoll?
Getting started with AttaPoll is a straightforward process that can be completed in just a few minutes. To begin, you can follow these steps:
Get the Atta Poll app from your Android or iOS app store.
Sign up by providing your email address and phone number for verification purposes.
Once you've completed the sign-up process, you'll gain access to the app's dashboard.
The first survey you encounter is typically a demographic survey, which involves questions about your age, gender, zip code, and basic personal information. This survey usually takes 30 seconds and rewards you approximately $0.10.
Subsequently, you may be presented with another survey that delves deeper into personal details, such as household income, education level, and whether you have children.
It's worth noting that AttaPoll, like many other survey platforms such as Swagbucks and Survey Junkie, requests this kind of personal information to match you with surveys that align with your demographics. While it seems repetitive and time-consuming, it's a standard practice in the survey industry. Just be aware that sharing personal information is typically required to use Atta Poll.
How to make money from AttaPoll?
1. Make money with Paid Surveys from AttaPoll.
AttaPoll is a survey app where you earn by completing paid survey offers. When you log in, you'll see surveys indicating the reward and estimated completion time. This information helps prioritize surveys when you need more time.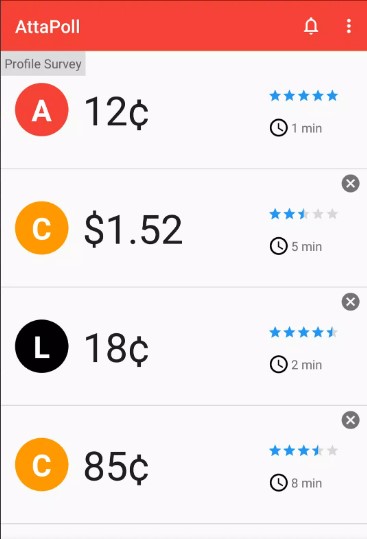 Remember that survey completion times may vary based on your speed and experience. During the survey, you'll encounter qualifying questions to determine if you fit the intended group. Honesty is crucial at this stage, as consistent and truthful responses prevent potential account issues in the long run.
Initially, you might have access to only a few short profile surveys, which pay you for completion. Completing these unlocks more surveys for you. AttaPoll allows you to choose the maximum survey length you prefer in the app settings. However, longer surveys generally offer higher rewards, so considering a mix of survey lengths can be advantageous.
2. Make money with a Referral Program from AttaPoll.
opportunity to earn money by inviting your friends to join. Through the Atta poll referral program, you can receive $0.50 for each referral, and in most countries, you earn an additional 10% of your earnings every time they cash out. It's important to note that your referrals still receive their total earnings, and your bonus is added on top. Furthermore, your friends benefit from a $0.50 sign-up bonus when referred.
Like many beer money websites, Attapoll offers an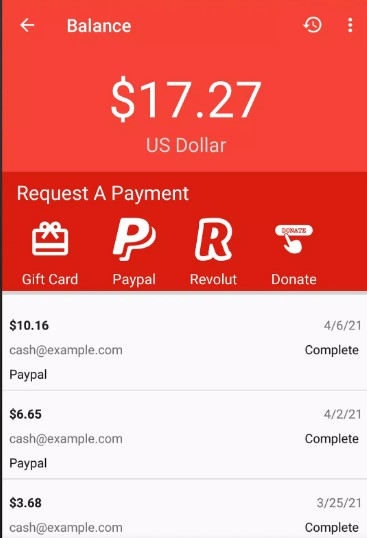 This combination of sign-up and referral bonuses is quite competitive. It can be a valuable asset if you build a sizable network of friends interested in survey apps like Atta poll. It can be particularly advantageous during slower survey periods.
How Do You Get Paid From AttaPoll?
earnings for cash or donate them to charitable causes. If you cash out, you can request payment via PayPal or Revolut.
Receiving payments through AttaPoll is a straightforward process. Your earnings are displayed in your local currency, eliminating any confusion. You can exchange these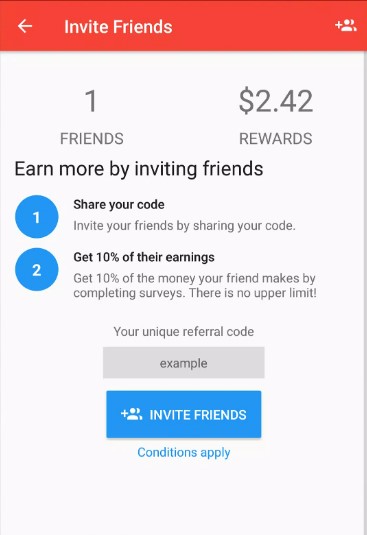 The specific payout threshold varies based on location but is typically around $4. It's worth noting that Atta Poll used to offer cryptocurrency as a payout option, but this feature is no longer available. If you prefer cryptocurrency payments, explore platforms that offer Bitcoin and other digital currencies.
One notable advantage of Atta Poll is its low payout threshold and relatively quick payment processing, making it easier for you to access your earnings promptly. If you're interested in other sites with low payout thresholds, you can also explore the fastest-paying sites.
How Much You Can Earn From AttaPoll?
Earnings on AttaPoll, as with most survey apps, are influenced by several factors, such as the number of available surveys and their lengths. Users can expect to earn a variable amount, ranging from a few cents to a few dollars for each completed survey.
Recognizing that making money through Atta Poll or similar survey apps is not a dependable or a sustainable income source is essential. Survey opportunities may be sporadic, and the compensation per survey may not significantly impact your finances.
While AttaPoll and other survey apps can provide an enjoyable and straightforward method to earn extra cash, they should be considered different from a full-time job or a consistent income source. Nevertheless, Atta Poll is a legitimate platform for earning additional income, offering an opportunity to make easy money.
See More:
Opinion Bureau Review – Getting Paid With 3 Easy Ways
6 Easy Ways To Earn With MarketAgent – A Comprehensive Review
PrizeRebel Review – 9 Easy Ways To Earn Surveys, Offers, More