Introduction
ySense is one of the big names in surveying sites and Get-Paid-To sites.
But is ySense legit and a great and easy way to make some extra money online, or a scam to stay away from? So let me reveal right away that ySense is legit, and it pays you.
However, this does not mean it will be the right option for you. This 2022 ySense review will give you all the details you need to know to select if it is worth it for you.
What is ySense?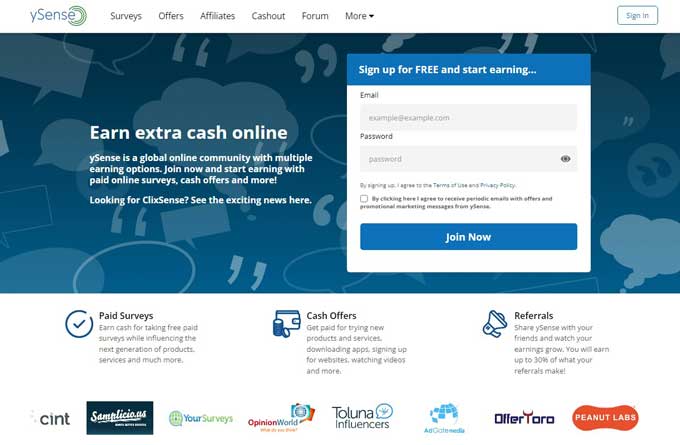 So let's begin with the name – the platform used to be called ClixSense.
ClixSense was started in 2007. Initially, it was created as a PTC site (paid to click) and was mainly seen as a PTC site for many years.
At the midpoint of 2017, ClixSense made some significant changes. It included getting rid of the PTC side, as that kind of business has a bad reputation, and ClixSense moved forward without that aspect.
Then in August 2019, they made some more significant changes–they rebranded themselves with a new name and moved to a new domain (ysense.com). So the platform is now called ySense.
Most of the options are the same, but there have been some significant updates, and The website has continually rolled out new improvements since they took the new name.
How to make money on ySense?
So let's look into the opportunities The website now offers to find out if you should join or not.
Take Surveys
ySense has partnered with some of the most significant market analysis companies to provide their members with online paid surveys. Daily survey routers are available, and they posted new surveys to the platform every day.
Complete tasks
Every day, it published new tasks on the website. These are natural things such as completing surveys and accomplishing internet research. Receive a $5 reward for every $50 worth of tasks you complete and take part in weekly contests where you can win even more significant prizes.
Participate in offers
ySense offers many of its direct offers, as well as ones through AdGate, Adscend, OfferToro, Peanut Labs and more. Get free trials, download apps, make purchases, and earn cash credits.
Make money simply by watching videos.
The newest addition to the earning opportunities is the ySense Watch. It is a section where you can make money simply by watching videos.
the website members can watch videos to make cash credits. Navigate to the Offers section and click 'ySense Watch'.
You choose your preferred video topic/channel, and there are relevant topics, regardless of your preferences.
It will then take you to content within that category and have to stay and watch a video for a certain amount of time. A timer will tell you when you can move on to the following video.
Watch several videos to get your reward, and you can always follow how many you have left before you get paid. Usually, it will be 7-10 videos.
Usually, this will pay you $0.02-$0.03. So it is not huge earnings, but it is still quite good compared to many other sites that offer videos as an earning option. And the good thing about this option is that you can always earn, even though it is not a lot you can make–but at least it is entertaining at the same time.
Just be aware that currently, this option is only available in the US. the website is working on making this option available in more countries asap, but if you cannot find the website Watch when you log in, it is simply because it is not available in your country yet.
Refer and Earn
Earn a $2.00 commission on the foremost $5.00 earned from recent referrals, a $0.30 signup commission on current active affiliates in top-tier countries (USA, UK, Canada, etc.), and a $0.10 signup commission on current active affiliates in other countries. Find your special referral link in your account under the Affiliates tab.
How do you join ySense?
It is elementary and fast to sign up. Just click the button below. It will take you to the website, where you have to fill out a small registration, and then you can start earning.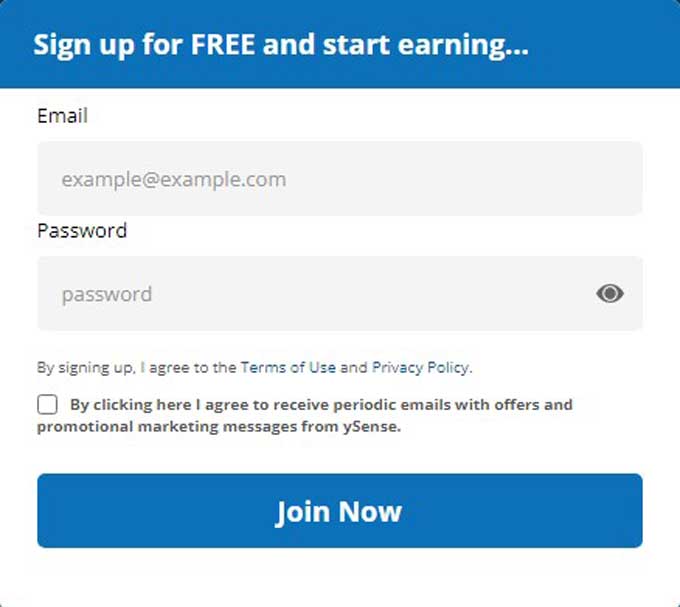 The first time you log in, you must fill out a little about yourself, which only takes a few minutes. It is, of course, free to join.
ySense Payment methods.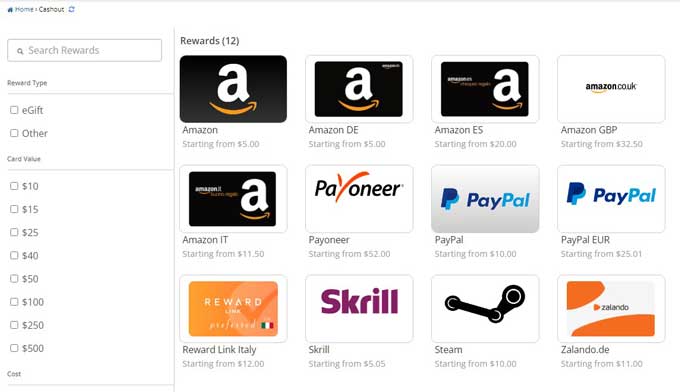 ySense Payment Threshold.
Get paid through Payoneer, PayPal, Skrill, gift cards, or Reward Link. The minimum account balance needed to cash out your rewards will vary by bonus. A $3-$5 minimum account balance is demanded cashing out prizes such as Walmart gift cards, Amazon gift cards, etc. Skrill payments initiate at $5, and Reward Links begin at $10 denominations.
PayPal Payments
You can cash out your ySense account balance for a PayPal payment if you prefer cash. Payments bear a few days to process and are given in US dollars or your local currency. The minimum cash credit required for a PayPal payment may vary based on the money of your redemption, but most typically start at $10.00.
Is ySense Legit or a Scam?
ySense was formed in 2007; ySense had over 7 million members join its community and claim to have issued over $39 million in earnings (before Prodege acquired the website in 2019). ySense is a legit GPT site and is not a scam. As with any GPT site, you keep track of your earnings and take screenshots of completed offers and surveys for your records. And in case of dispute is essential. ySense is not a fraud and is a believable rewards site.
Conclusion
I believe ySense is still an excellent way to make money online, as it's available worldwide & free to join. You have zero to lose, but sometimes you might otherwise spend on social media or watching movies.
You can certainly make money with such reward sites, and if you've never made money online before, then it's a great (more accessible) option to get started with.
I hope you got some information about ySense that helps you decide whether it's an excellent way to make money online or not. Every week I research & post about new money-making opportunities from the internet on my blog that can help you earn more money online in case you are interested.
FAQ
Can you use ySense on mobile?

Yes, you can easily use ySense on your mobile phone or tablet.
As mentioned earlier, it has its app, and you can download the ySense app in the App Store or through Google Play.

Who can join on ySense

If you are under 13, you are not qualified to use the Prodege Sites and Features or our Services. Some offerings on the Prodege Sites and Features or our Services may be subject to additional age restrictions.

How much money can I make?

It is challenging to define how much money you can make with ySense. There are multiple variables in choosing this. For example, how frequently you log in, how many offers, how many referrals you have, tasks or surveys you and your referrals complete, and more.
See More:
29 Best Platform To Get Paid To Watch Videos Online in 2022
3 Easy Ways to Make Money with SuccessBux | Wearemoneymaker
5 Ways To Earn Money From Adsital Solution