Introduction
In today's digital age, there are many opportunities to earn money online. One of these opportunities is through paid-to-click (PTC) sites. ArgonClick is a PTC site that promises to pay users to view ads, participate in surveys, and complete other simple tasks. In this article, we will look at ArgonClick and its earning opportunities, payment system, referral program, and more. Whether you are looking for a way to earn some extra cash or just curious about PTC sites, this guide will provide you with all the essential information you need to know about ArgonClick.
What is ArgonClick?
ArgonClick is a legitimate PTC (Paid-To-Click) website that rewards you for viewing ads. It has been operational since February 2020 and boasts thousands of active members. Besides earning money by viewing ads, you can also choose to invest in any of their nine plans, which pay out hourly as coins. It can later exchange these coins for real money. You can claim a daily bonus every 24 hours, which ranges from 1 to 60 coins. If you wish to increase your earnings while viewing ads, you can upgrade your account, which works similarly to their sister site, SerfBux. The click value has no maximum limit; you can increase it indefinitely.
How to make money from ArgonClick?
1. Make money with paid ads from ArgonClick.
The primary way to earn on the site is by viewing ads, where you will receive a reward after watching an advertisement for several seconds.

To view ads, you need to log in to your account and click on the "View Ads" link on the left side of the dashboard. Once you click on it, a page with a list of ads will appear. You can click on any ad to open it in a new browser tab.
When the ad loads, you will see a timer at the bottom of the page, and you need to wait until the timer runs out. Once the timer has finished, a captcha will appear that you need to solve. The captcha was simple during our testing and involved solving essential addition or subtraction problems.
After successfully solving the captcha, you will receive a message confirming that you earned the reward. You can then close the window and return to the paid ads list to view another ad. You can repeat this process until no more ads are left to view.
However, ArgonClick has fewer ads available compared to other PTC sites, so you may run out of ads to view in just a few minutes. The amount you earn per ad view is relatively low, and you will need to consider a significant number of ads to make a substantial amount of money.
2. Make Money by Daily Bonus from ArgonClick.
The Daily Bonus feature on ArgonClick is a simple way to earn extra coins without viewing ads. You can claim your bonus once daily, available to all site members.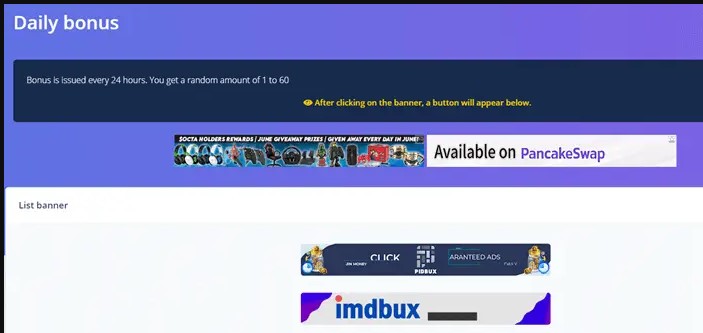 To claim your daily bonus, you must first log in to the site and navigate to the Daily Bonus page on the left side of the dashboard. Once you're on the page, you will see several banners that you can choose from.
To claim your bonus, click on any of the banners. It will open a new tab where you will see an ad. Once the ad has fully loaded, you can return to the Daily Bonus page and click the "Get Bonus" button.
After clicking the button, you will receive a random number of coins ranging from 1 to 60. The coins you receive will be added to your account balance immediately.
It's important to note that the Daily Bonus is available once every 24 hours. So, if you've already claimed your bonus for the day, you'll have to wait until the next day to claim it again.
3. Make money by using the Referral program from ArgonClick.
The referral program offered by ArgonClick can also be a source of additional earnings for members. By inviting people to join the site using their referral link or banner, members can earn a commission for every referral who signs up and participates in the site's paid-to-click activities.

Members can also earn a commission when their referral purchases an advertising plan or adds funds to their account. However, the effectiveness of this referral program is debatable since the traffic generated by these types of sites may only sometimes lead to actual conversions.
Furthermore, attracting advertisers to these sites can be challenging since the viewers are primarily focused on earning rewards rather than engaging with the ads. Nonetheless, the referral program remains viable for members who want to increase their earnings through ArgonClick.
How do you get paid from ArgonClick?
ArgonClick offers two different types of balances: account balance and purchase balance. The coins you earn from viewing ads will be credited to your account balance, which you can withdraw once you have earned at least 120 coins. You can withdraw your earnings via Payeer or Perfect Money.
The coins you receive from their daily bonus will be credited to your purchase balance, which you can use to purchase advertising plans on the site. Although you cannot withdraw your purchase balance directly, you can exchange it for your account balance using their "Exchanger" feature. The minimum exchangeable amount is 100 coins.
Alternatively, you can convert your account balance to cryptocurrency via FaucetPay. The minimum amount you can withdraw is also 120 coins, which is equivalent to $0.02. This shallow payout threshold makes it easy for you to start your earnings.
Overall, ArgonClick's payment system is simple and easy to understand. With a low payout threshold, you can withdraw your earnings quickly and hassle-free.
How to join ArgonClick?
ArgonClick is an online platform that accepts members from all around the world. Signing up is a simple process; anyone can register regardless of location.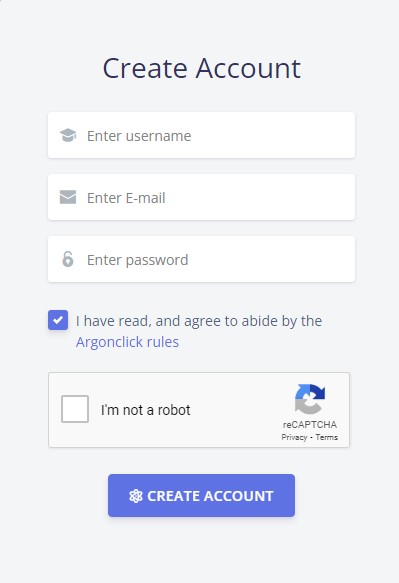 All you have to do is complete the registration form and submit it. Once you've completed the process, you can log in to the site and earn rewards immediately. Unlike other rewards sites, you won't be asked to confirm your registration, making the process even more straightforward.
FAQs
Is ArgonClick available globally?

Yes, ArgonClick is available globally. Anyone can sign up and start earning regardless of their location.

How much can I earn with ArgonClick?

The amount you can earn with ArgonClick varies depending on the task or offer you complete. Each ad view will earn you a certain number of coins, which can be converted to cash. The more tasks you complete, the more you can earn.

How do I withdraw my earnings from ArgonClick?

You can withdraw your earnings via Payeer or Perfect Money or convert them to cryptocurrency via FaucetPay. The minimum payout threshold is shallow, only 120 coins, equivalent to $0.02
See More:
Checkealos Reviews – Earn For Your Feedback With 3 Easy Tasks
Repocket App Review – Get Paid For Your Unused Internet With 2 Easy Tasks
Dabbl App Reviews – Earn By Watching Videos With 3 Easy Tasks
Mooladays Review – Make Money by Reading Emails With 6 Easy Tasks