Introduction
In today's world, where technology and the internet are essential parts of our lives, there are numerous ways to earn money online. One of the latest methods is through a platform called Repocket App. Repocket is a unique platform that allows its members to earn passive income by selling their idle internet bandwidth. By simply installing the Repocket software on their devices, members can contribute their internet connection to the platform's clients for various activities like monitoring prices, competitor research, and more. In this article, we will look closer at Repocket, how it works, how to earn from it, and what you need to know before signing up.
What is Repocket App?
RePocket is a novel global application that enables you to earn money by installing its software. By utilizing RePocket, you can generate passive revenue by selling your unused internet bandwidth. This widely-used program offers a minimum payment threshold of $20, with payments currently being facilitated through PayPal, and other payment methods may be added in the future. Your potential earnings are subject to various factors, such as location, device, and internet service provider.
Upon registration, you will immediately receive $5. You can earn up to $600 per month by utilizing your available idle internet.
How to Make Money From Repocket App?
1. Make Money by Running The Software From Repocket App.
Repocket's primary way to generate income is by installing its software and letting it run in the background. One advantage of Repocket's software is its compatibility with various devices, including Android and iOS devices, Mac and Windows computers, Linux, and Docker. This versatility increases the likelihood that you can use the software.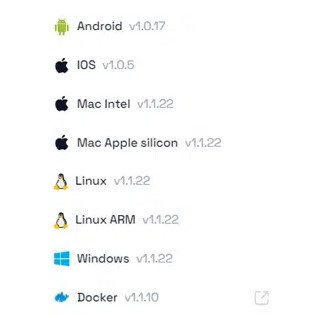 The software uses your internet connection to enable its clients to monitor prices, conduct Google searches, monitor stock pricing, perform competitor research, and similar activities. If you are already familiar with Honeygain, this process will familiarize you.
Repocket App assures users that the process is anonymous and does not collect sensitive data, only the user's IP address, ISP name, and city. The amount of earnings is subject to several factors, such as location, device type, mobile carrier/ISP, internet speed, and the number of devices connected to the software.
It is important to note that only two devices connected to the same IP address are allowed, and users will only be paid for every gigabyte of data ($0.20 per 1 GB) shared using the software. Additional devices beyond the first two must use a different internet connection (such as mobile data) to earn. The software should not significantly decrease internet speed, except for activities that require high bandwidth, such as uploading video files or online gaming.
2. Make Money Through Paid Offers From Repocket App.
Paid offers are short tasks that users can complete to earn rewards. These tasks typically involve answering surveys, playing games, signing up for websites, and similar activities. Each offer has specific instructions that must be followed to receive the reward, and if a step is missed, the offer cannot be completed.

While few offers were available during testing, earning additional rewards from completing these paid offers is still possible. However, there may be other reliable sources of income.
3. Make Money in the Referral Program From Repocket App.
Lastly, Repocket App offers a referral program that allows users to earn passive income by inviting others to join the platform. To participate, users must share their unique referral link with others and encourage them to sign up and become active platform members.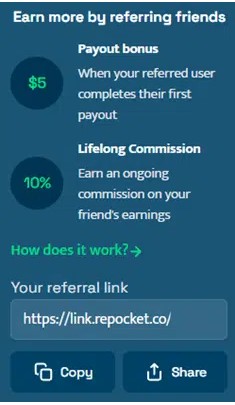 Once the referral completes its first payout, the referred user will receive a $5 reward. Additionally, the user will earn a 10% commission every time their referral makes money from the platform.
While the referral program can be an excellent way to earn additional rewards, it is important to ensure that the people being invited are interested in making from Repocket to increase the likelihood of them becoming active platform members.
How Do You Get Paid From Repocket App?
Repocket offers a straightforward payment system, and users can see their earnings immediately upon logging in to the member dashboard. Earnings can be tracked weekly or monthly, and once the user has earned at least $20, they can cash out using PayPal.
While the minimum payout threshold of $20 may seem high, PayPal is a convenient and widely used payment method. Repocket has also stated that they plan to integrate additional payment options to give users more choices in the coming months.
How To Sign Up From Repocket App?
It's important to note that before signing up for Repocket or any similar platform, it's recommended to carefully read through their terms and conditions and privacy policy. This can help you understand how your personal information is used and your responsibilities as a member.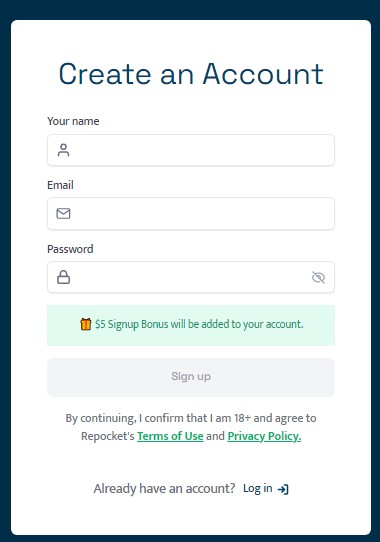 Additionally, doing your research and due diligence before joining any platform that promises to make you money is always a good idea. While Repocket may be a legitimate platform, many scams try to take advantage of people looking to earn extra income online.
If you're interested in earning passive income by selling your unused internet bandwidth, Repocket may be worth considering. Just weigh the potential rewards against the risks and responsibilities involved, and always be cautious when sharing personal information or downloading software onto your devices.
FAQs
Is Repocket available worldwide?

The availability of Repocket may vary by country, but it is a widely used program. You can check their website to see if it is available in your location.

How do I get paid with Repocket?

You will be paid through PayPal once you've earned at least $20. They are also planning to integrate more payment options in the future.

Is it safe to use Repocket?

Repocket promises that the process will be done anonymously and will not collect sensitive data. All it contains is your IP address, the name of your ISP, and your city. The software will also not drastically decrease your internet speed, so you can still browse the internet like normal. However, as with any program, it is always advisable to read the terms and conditions carefully before signing up.
See More:
Dabbl App Reviews – Earn By Watching Videos With 3 Easy Tasks
Mooladays Review – Make Money by Reading Emails With 6 Easy Tasks
LootUp Review – Take Paid Surveys & Earn Cash Rewards Completing 6 Tasks
Tapestri App Review – Earn by Running App In The Background With 5 Easy Tasks