Introduction
If you're seeking a no-cost method to boost your online income, you might have encountered PrizeRebel, a prominent platform in Get-Paid-To (GPT) and survey websites. On PrizeRebel, users earn rewards by completing various tasks, including participating in surveys, watching videos, and engaging in multiple activities. In this 2023 review of PrizeRebel, we'll provide a comprehensive overview of what the platform truly provides.
What is PrizeRebel?
PrizeRebel is a U.S.-based online survey platform that provides a straightforward avenue for individuals to earn additional cash or gift cards by participating in surveys and completing uncomplicated tasks, resulting in the accumulation of redeemable points.
After completing a survey or task, you can convert your points into either cash or gift cards. PrizeRebel offers many alternative methods to accumulate points, from watching videos and playing games to signing up for third-party websites and even referring friends and family.
With a user base of over 9.2 million members, PrizeRebel is a popular choice for those seeking to bolster their online income. The platform boasts of disbursing more than $19 million in cash and rewards since 2017.
Like many online survey sites, PrizeRebel generates revenue by granting advertisers access to user data. However, the platform assures users that their personal information will never be shared with any third party, addressing privacy concerns.
How to sign up for PrizeRebel?
PrizeRebel is exceedingly straightforward. To join, visit the PrizeRebel homepage and enter your name, email address, and password. Once you've completed this step, you're all set. Alternatively, you can opt for a quicker registration using your Facebook account.
The registration process for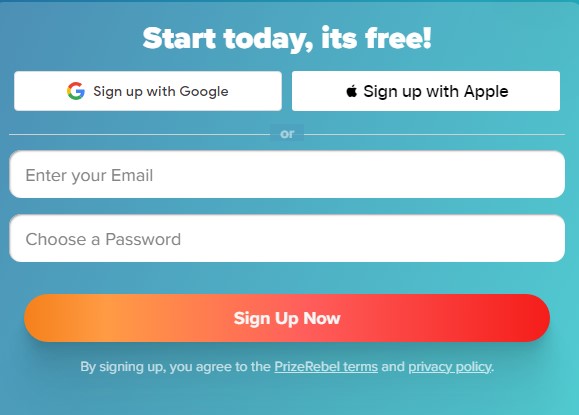 Upon finishing your registration, you'll be directed to the primary PrizeRebel dashboard. This user-friendly page offers a clear layout of all the money-making opportunities at your disposal.
The dashboard also provides information on the number of users who have already earned points through these activities, which can be reassuring for newcomers concerned about the platform's legitimacy.
How to make money from PrizeRebel?
1. Make money by Taking Surveys.
PrizeRebel allows you to take online surveys and receive rewards for sharing your opinions. These daily surveys are accessible through various survey routers, including Your Surveys, Samplicious Surveys, Cint Daily Surveys, OxSample Router, Precision Sample Surveys, Tap Research Surveys, and more.
One noteworthy feature is that PrizeRebel provides information about the estimated time required to complete a survey and the corresponding points you can earn. Many members have lauded PrizeRebel for its reputation as one of the more generous platforms for compensating survey-takers, making it a favored choice among those seeking to earn rewards through surveys.
2. Make money by completing paid Offers.
Another avenue for earning income through PrizeRebel is participating in various special offers featured in the "Offer Walls" section.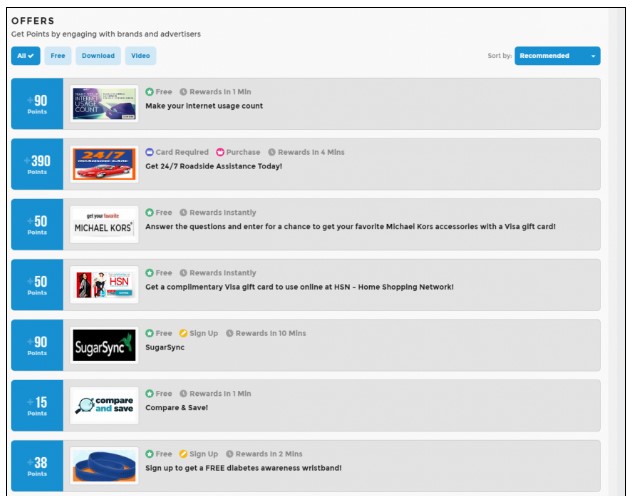 It's essential to exercise caution when engaging with special offers that necessitate a financial commitment. While PrizeRebel's Offer Wall presents opportunities for earning free money, some of the most lucrative offers may entail spending money or sharing personal information.
The rewards for these offers typically range from $0.25 to $25, or even more, depending on the specific requirements of each request. It's essential to carefully assess each offer to determine if it aligns with your preferences and comfort level regarding financial or personal commitments.
3. Make money by watching videos.
Watching entertaining videos is one enjoyable way to pass the time and accumulate points for cash or gift card rewards on PrizeRebel.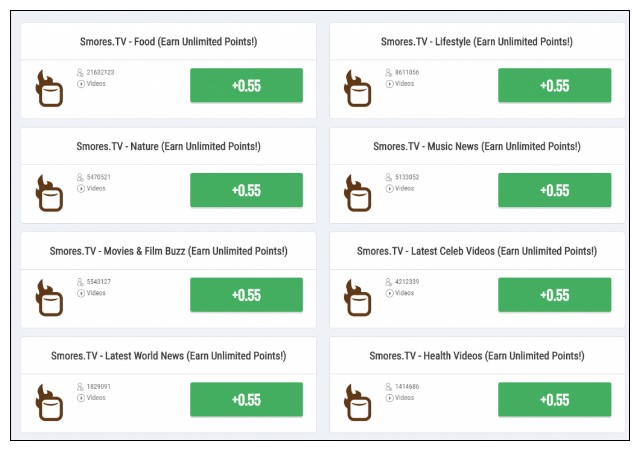 Brands utilize video ads on the platform to boost product awareness and promote their services. These videos span a variety of categories, such as Food, Celebrity, DIY, Movies, and more, allowing you to select content that interests you.
It's important to note that while watching videos can earn you points, the point accrual rate may be lower than completing surveys. Therefore, you should prioritize survey participation for the best return on time.
Nonetheless, PrizeRebel offers additional opportunities to earn rewards while watching videos and ads, so exploring these options for potential extra earnings is worthwhile.
4. Make money by playing games.
Another way to boost your earnings on PrizeRebel is by exploring the game offers. This is an excellent opportunity for individuals who enjoy playing games, as it can provide you with additional rewards.
You can often find games available for download and play within the offers section. Some of these games may require you to download and briefly open them, and you'll receive a small reward. In other cases, you may need to play the games to a specific level to qualify for more substantial rewards.
For instance, there are games where you can earn $5-6 by installing and reaching a certain level, which is appealing if you're already interested in gaming.
It's crucial to carefully review each game offer's exact terms and requirements on PrizeRebel's website. These terms are typically clearly visible before you download the games, making it easy to understand what you need to do to earn your rewards.
Some standard requirements include opening the game within a specific time frame after clicking the offer button or achieving a particular in-game level. Understanding these requirements is vital, so read them before taking advantage of any game offers to maximize your rewards.
5. Make money by Raffles.
In addition to redeeming your points for cash or gift cards, PrizeRebel offers an alternative option to exchange your points for raffle tickets. These raffle tickets grant you entry into PrizeRebel's raffles, which are lotteries that allow you to win various gift cards.

For instance, you can use a certain number of points to purchase a raffle ticket, and this ticket may entitle you to participate in a raffle for a particular gift card prize. The cost of the raffle ticket, in terms of points, often corresponds to the value of the potential gift card prize.
For example, you might use 10 points to acquire a raffle ticket for a chance to win a $10 gift card. This offers members an exciting and potentially rewarding way to utilize their accumulated points on PrizeRebel.
6. Make money by Contests.
PrizeRebel organizes contests that operate slightly differently from raffles and lucky number games. These contests revolve around being among the leaders in specific categories to compete for prizes, and they don't require any additional action beyond striving to be one of the top participants.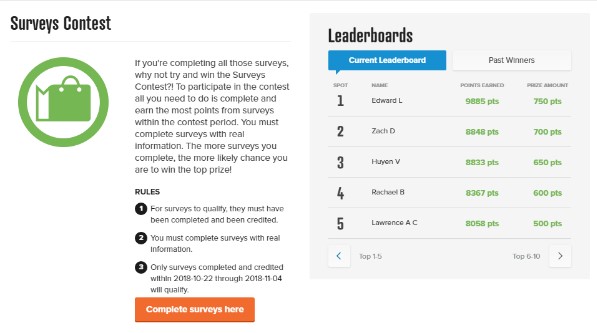 For example, if you aim to be among the top 10 leaders in completing surveys, you could win a designated amount of bonus points. In your description, it's highlighted that the prize amounts and categories can change over time.
It's advantageous toThese contests encompass a range of categories, including tasks, offers from the Offer Walls, surveys, and referrals. I plan to complete numerous offers. It can be advantageous to undertake them concurrently to enhance your chances of securing a bonus point prize by ranking among the top participants in that category.
In essence, these contests provide an extra incentive for active members to further engage with the platform and strive to excel in specific areas, with the possibility of receiving additional rewards based on their performance.
7. Make money by Daily challenges.
On PrizeRebel, there's a daily challenge feature that members can take advantage of. When you log in, you'll notice this feature on the left side of your screen, particularly when accessing the platform from a desktop computer.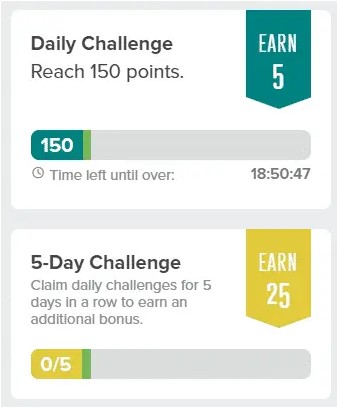 The daily challenge is a time-sensitive task where you must accumulate a specific number of points within a given day. You'll receive an additional bonus Upon reaching the required point threshold. You can always check the time left to complete the challenge and monitor your progress toward meeting the goal.
In addition to the daily challenge, PrizeRebel offers a 5-day challenge. You'll be rewarded with an extra bonus if you complete the daily challenge for five consecutive days. While these challenges may result in insignificant earnings individually, they are an excellent supplementary bonus for those who actively use PrizeRebel. It encourages consistent engagement and can provide a little extra boost to your overall earnings.
8. Make money by Inviting Friends.
PrizeRebel, like many other survey sites, offers a lucrative referral program that allows you to earn rewards for bringing your friends on board.
When you successfully refer a friend to join PrizeRebel, you receive at least 15% of all the earnings they accumulate on the platform. If you advance your membership level, you might have the opportunity to earn a higher rate for your referral bonus.
A distinctive aspect of PrizeRebel's referral program is that the referral bonus is paid directly to you by PrizeRebel, and your friend's earnings remain unaffected. Your friend's payments won't be reduced, and you'll receive a portion of their earnings as a reward for bringing them into the PrizeRebel community. It's a mutually beneficial way to boost your income while introducing others to the platform.
9. Make money by Lucky numbers.
PrizeRebel offers an additional opportunity for members to try their luck and win extra rewards through the Lucky Numbers feature.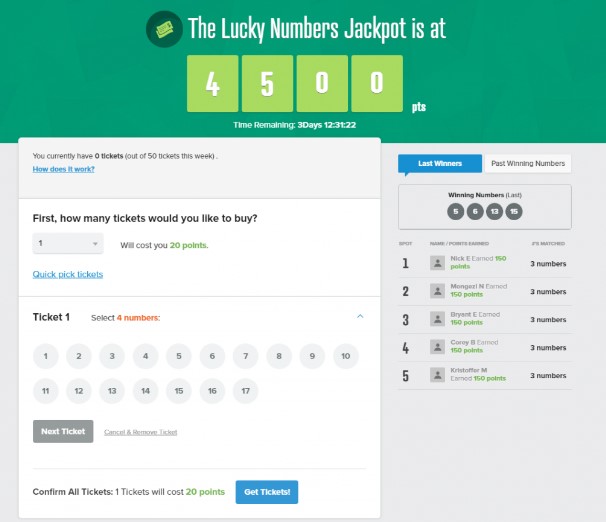 Here's how it works: You can purchase a lottery ticket and select four numbers of your choice. You can win the jackpot if your chosen numbers match the winning combination when the draw is conducted. Typically, there is a new lottery draw held each week.
Participating in the Lucky Numbers feature is relatively affordable, as the tickets cost just 20 points. While the odds of winning the jackpot can vary, it's an intriguing option, especially if you believe you're feeling lucky. Winning the jackpot can lead to substantial rewards, making the Lucky Numbers section a tempting choice for those looking to add an element of chance to their PrizeRebel experience.
How do you get paid From PrizeRebel?
PrizeRebel presents a significant advantage in its low payment threshold, which makes it accessible and convenient for members to receive their earnings. To make a withdrawal, members need to accumulate just 500 points, equivalent to $5. This threshold aligns with what other platforms like Survey Junkie typically offer.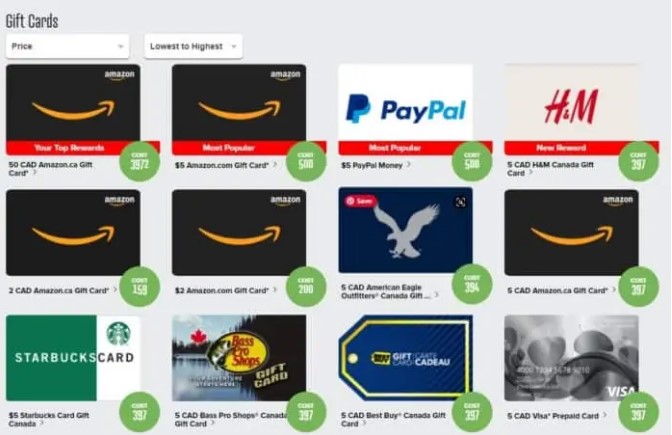 Notably, reaching the 500-point mark usually doesn't take more than a day or two, and PrizeRebel is known for its prompt processing of payouts.
For Canadian users, PrizeRebel provides flexible options for cashing out, including cash or gift cards. The platform partners with well-known Canadian and international brands such as Walmart, Nike, Gap, Amazon, Starbucks, Playstation, and Google Play. PrizeRebel often offers discounts on gift cards, enabling users to acquire a $10 card for fewer than 1,000 points.
promisesWhile the company does promise instant payouts, this is typically true for Diamond, Platinum, and Gold members. Silver or Bronze members might experience slightly longer processing times of up to 24 hours. Diamond and Platinum members may also have the option to redeem gift cards worth $3 or less.
As a member, look for the easiest and fastest withdrawal option that aligns with your membership level to efficiently access your earnings on PrizeRebel.
PrizeRebel Membership Levels.
PrizeRebel operates a tiered membership system that rewards members with additional benefits based on their level of participation and earnings. The account levels are as follows:
Bronze: The initial level where members start.
Silver: An intermediate level.
Gold: Requires 4,500 points to reach. At the Gold level, members earn 25% referral commissions, receive automatic prize processing, and get a 1% special bonus on their monthly earnings.
Platinum: A higher level with even more perks.
Diamond: The highest level with the most benefits.
These membership levels incentivize members to actively participate in PrizeRebel, with each group offering an increasing range of advantages, such as increased referral commissions and special bonuses, making it more rewarding for dedicated and consistent users.
PrizeRebel Promo Codes.
PrizeRebel occasionally provides promo codes users can redeem for additional points. To take advantage of these codes, follow these steps:
Monitor Social Media: Closely on PrizeRebel's social media profiles. They often share promo codes through these channels, so being an active follower can help you stay informed about the latest offers.
Install the PrizeRebel Browser Extension: You can also consider installing the PrizeRebel browser extension. This extension can provide alerts for promo codes and offer easy access to various opportunities on the platform, including special codes.
Redeem Promo Codes: Once you have a promo code, you can quickly redeem it from your PrizeRebel account dashboard. There should be a designated section where you can input the code to claim your extra points or rewards.
Taking advantage of promo codes can be a quick and efficient way to boost your earnings on PrizeRebel, so it's a good idea to search for these codes and use them whenever available actively.
See More:
Opinion Outpost Review – Earn By Surveys With 6 Easy Ways
Toluna Influencers Review – 8 Easy Ways To Earn Money
Highest-Paid Survey PineCone Research Review – Earn 3 Easy Ways