Introduction
Participating in online surveys for monetary compensation is a viable method to earn extra income. Nowadays, many survey websites and mobile apps offer opportunities for users to make money. Opinion Outpost stands out as a prominent survey platform that provides compensation for sharing your opinions. At first glance, it is a trustworthy platform.
Our team conducted a comprehensive assessment of the Opinion Outpost platform to gain deeper insights into its functionality, earning potential, and the experiences of other users. In this Opinion Outpost review, we aim to provide an informed understanding of how the site operates and whether it's a worthwhile option for those seeking to make money online.
What is Opinion Outpost?
Opinion Outpost is an online platform where you can earn money by taking surveys, testing products, and watching ads. It's important to mention that this website is currently accessible in four specific regions: the USA, Canada, the UK, and Germany.
Unlike some other survey sites, Opinion Outpost doesn't offer a dedicated mobile or desktop app. To complete surveys, you must log in to the website, which may be less convenient than using an app.
Opinion Outpost collaborates with businesses and companies to gather insights for product development. They collect this information through surveys covering various topics such as technology, education, and business.
You receive cash rewards and gift cards in return for participating in surveys. The website operates on a point system, where you earn a specific number of "opinion points" for each survey you complete. The average payout for most surveys is around 10 points, but some surveys can offer as many as 250 points.
Opinion Outpost employs a membership tier system that rewards users as they complete more surveys. It would help if you met specific criteria to advance through the different tiers, such as maintaining consistent activity on your Profile. You know that you can only drop down a level or two in the membership system if you meet these criteria.
How to join Opinion Outpost?
Registering on Opinion Outpost is a straightforward process that can be completed quickly using your email address or Facebook account.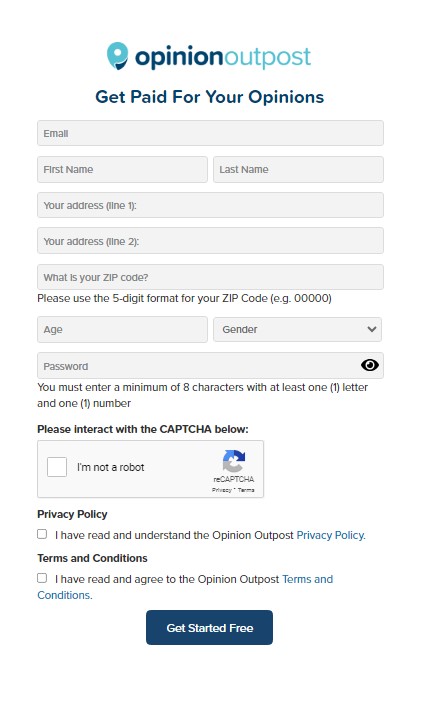 If you choose to register with your email, you'll need to provide your name, surname, email, and gender in a simple form. Using Facebook for registration is even quicker since it eliminates the need to fill out the initial form.
Once you've signed up, you'll receive an email containing a verification link that you'll need to click on to activate your account.
Before taking surveys, you must complete a detailed profile questionnaire. This questionnaire is used to match you with relevant survey opportunities in the future. It typically takes around 15 minutes to answer all the questions, and you'll earn five bonus points, equivalent to £0.25, upon completion.
How Opinion Outpost Works?
Opinion Outpost operates on a straightforward model. You start by completing profile surveys that help match you with surveys that offer compensation. As you continue to take surveys, you'll earn higher badges. Once you reach the designated cashout threshold, you can redeem your accumulated points for gift cards or PayPal cash.
How to make money on Opinion Outpost?
1. Make money by completing your Profile.
Opinion Outpost and several platform reviewers emphasize the importance of providing comprehensive and accurate responses to the Profile questions, which cover topics like demographics and interests.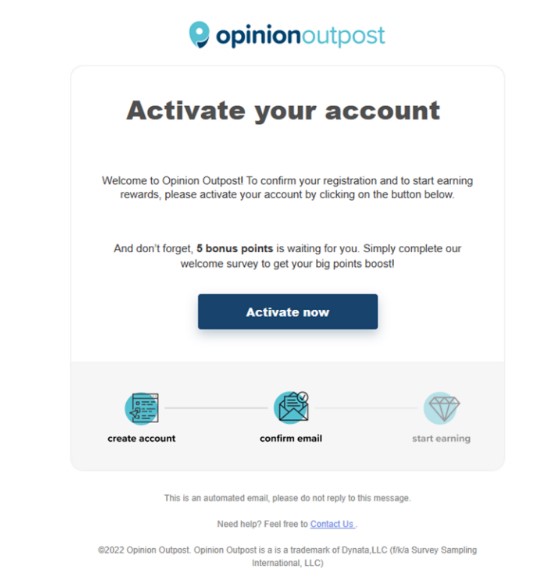 Many while many questions are available, you must only answer some of them. However, by completing a certain percentage of this "welcome survey," you can earn an additional five points.
The reasoning behind this detailed profiling is that it enables Opinion Outpost to better match you with surveys that align with your specific characteristics and interests. By filling out these details, you increase the likelihood of receiving survey opportunities that are a good fit for you.
2. Make money from Opinion Outpost surveys.
The primary method of earning on Opinion Outpost is by participating in paid surveys. To get started, you need to sign up for an account. Once registered, you won't have to search for surveys actively.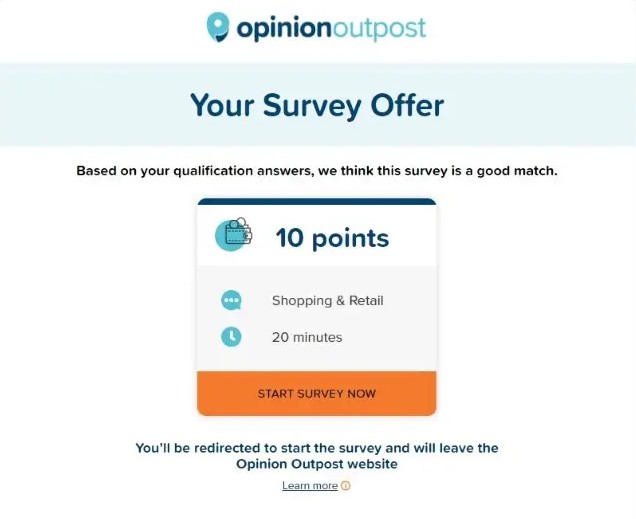 Instead, you'll receive email invitations when new surveys become available. Opinion Outpost may provide a lower volume of survey opportunities, but the quantity you receive can vary based on your country and Profile.
It's essential to know that, like most survey websites, you will only qualify for some surveys you're offered. Rejection is common in online surveys, and it's not something to be discouraged by. Opinion Outpost may have a slightly higher rate of disqualification than some other sites, but you should still find a reasonable number of surveys you can complete.
3. Make money through Charity donations.
While surveys are the primary method of earning as a member of Opinion Outpost, there is an additional, commendable benefit to being part of this platform.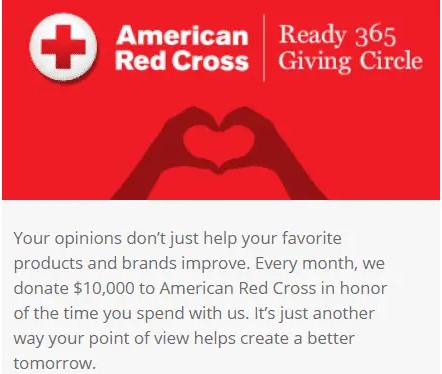 Opinion Outpost allocates $10,000 to the American Red Cross each month in recognition of their panellists' time participating in surveys. As a member, you don't need to take any extra steps or make additional efforts to contribute to this donation, and it won't impact your earnings.
This initiative sets Opinion Outpost apart from many other survey sites and is a notable gesture that shows its commitment to social responsibility. As a member, it's reassuring and commendable that your survey participation indirectly supports such a charitable cause.
4. Make money by Product Testing.
One of the standout features of Opinion Outpost is its involvement in market research, particularly in prototype products. Manufacturers seeking valuable feedback highly sought after this feature before they officially launched their products to the market.
Opinion Outpost members can receive prototype products by mail and are asked to provide their opinions and insights by completing feedback surveys about these products. This process allows manufacturers to gather crucial data and consumer perspectives to refine their products and make informed decisions before introducing them to the market. It's a win-win scenario where members get to try out new products, and manufacturers gain valuable insights to improve their offerings.
5. Make money by referring your Friends.
Opinion Outpost offers a referral program that allows you to earn $1.00 for each friend you refer using your custom referral link, provided they complete at least one survey. You can earn up to $5.00 through this program.
To access your custom referral link, log into your Opinion Outpost account and look for the "refer a friend" tab. Please note that this referral program is available to US panellists only. Sharing your custom link with friends or extended family members can be a simple way to boost your earnings on the platform.
6. Make money by Email Offers.
Opinion Outpost members can expect receiving exclusive survey opportunities in their email inboxes regularly. These emails provide clear and transparent information, including the length of the survey and the monetary reward for completing it. This transparency allows members to quickly assess how much time they need to allocate before beginning a survey, making it convenient and straightforward to plan their survey participation.
How do you get paid From Opinion Outpost?
Understanding how a survey site pays its members is crucial when choosing the right platform. Opinion Outpost provides several flexible payment methods to accommodate different preferences.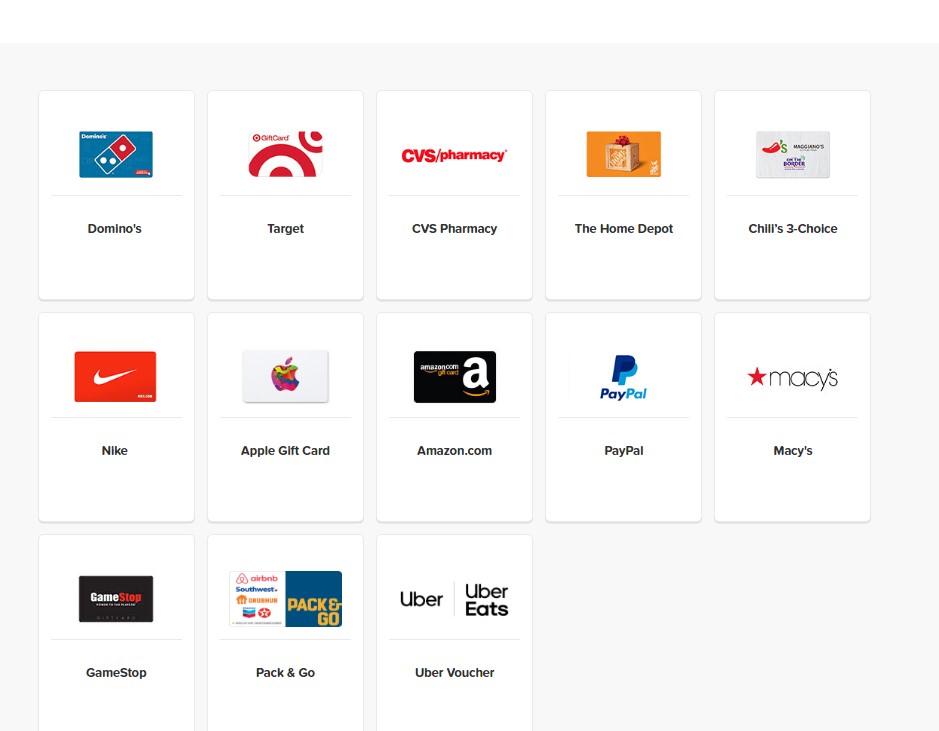 Opinion Outpost offers various payment options, including PayPal, Amazon gift cards, prepaid MasterCard, and other gift cards. The specific rewards and gift card options may vary depending on your country.
When you participate in surveys on Opinion Outpost, you earn points. These points can then be exchanged for your chosen rewards.
The minimum payout threshold varies depending on your reward and location. For instance, if you prefer Amazon gift cards, you can request a payout when you've earned as little as $5. However, if you opt for PayPal, you'll typically need to reach a threshold of $10. You can cash out in the UK with as little as £2.50. Remember that the specific point may differ slightly from one country to another.
While Opinion Outpost provides a decent number of surveys, it's important to note that accumulating enough points for a payout may take time and patience compared to other survey sites. The speed at which you can reach the payout threshold will depend on the availability of surveys and your eligibility for them.
In summary, Opinion Outpost offers a variety of payment options, and the relatively low payout thresholds are a positive aspect. Knowing the specific payout conditions based on your chosen reward and location is essential. Still, PayPal, in particular, is a convenient way to receive your earnings in cash.
See More:
Toluna Influencers Review – 8 Easy Ways To Earn Money
Highest-Paid Survey PineCone Research Review – Earn 3 Easy Ways
YouGov Review – Earn 100% Easy Money From Surveys Site
OnePoll Review – 3 Easy Ways To Earn From Online Survey Sites