Introduction
Reward Time: Earn Gift Cards is an intriguing app that allows users to earn gift cards through various activities and tasks. With its unique approach to rewarding users for completing offers, surveys, and referrals, Reward Time aims to allow individuals to accumulate gift cards and other rewards while engaging with the app. In this introduction, we'll delve into the app's features and functionalities, shedding light on how users can make the most of this platform to earn valuable incentives.
What is Reward Time: Earn Gift Cards?
Reward Time: Earn Gift Cards is an application that offers the allure of gift cards for completing quick tasks or engaging in games. While the concept sounds appealing, more information about the app's legitimacy must be provided. It remains to be seen whether this app delivers on its promises or falls into the category of potentially unwanted applications (PUAs) akin to Lucky Scanner or Gift Cards.
Upon investigation, it was revealed that Reward Time Inc. is the creator behind this app, but this studio has released none other apps. Attempts to find detailed information about the company and the app have yielded minimal results. Searches for similar applications with comparable names have not provided conclusive results either. Thus, the information is limited, and the app's reliability remains to be determined.
It's essential to exercise caution with such apps, particularly those promising gift cards or monetary rewards. When encountering apps that claim to offer monetary incentives, it is advisable to conduct thorough research. If you find additional information about such apps, sharing the app name in the comments can be helpful, as it allows for further review and assessment.
Getting Started Reward Time.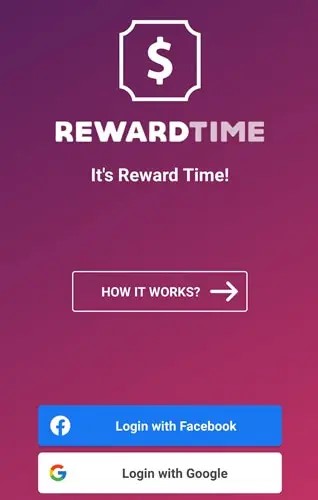 Once you've connected your account, the app may prompt you to enter a referral code if you have one. After this step, you can immediately start accumulating coins, which I will discuss in more detail below.
It appears that the app is accessible to users worldwide. However, it's important to note that the availability of offers within the app may vary depending on your geographical location. Where you reside will impact the types of offers and opportunities you encounter, so results can differ from user to user.
It's worth emphasizing that the app is entirely free to download and use.
How to make money from Reward Time?
1. Make money by Paid offers From Reward Time.
One way to earn rewards through Reward Time is by completing paid offers provided through partnerships with offerwalls. Offerwalls serve as in-app or site advertising platforms to promote various mobile apps and websites by offering paid tasks and opportunities.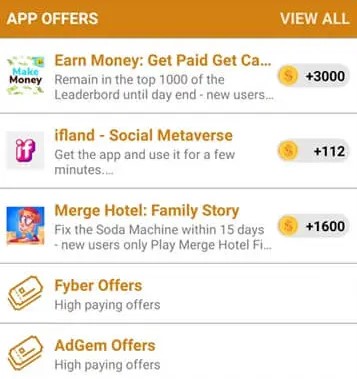 Upon logging into the app, you will have immediate access to a list of available paid offers (as shown in the provided image). You can choose the offer you want to engage with and click on it. This action will redirect you to a different website, so there's no need for concern when this happens.
It's crucial to thoroughly read and understand the complete details of the offer before you commence the task. Take note of all the steps and requirements outlined, as missing even one may disqualify you from completing the offer and receiving the associated reward.
You will be rewarded with a specific number of coins upon completing an offer. I'll explain how you can utilize these earned coins later.
A diverse range of offers is typically available at any given time, ensuring a continuous stream of opportunities to earn rewards. Most offers may involve playing mobile games, installing other apps, participating in quizzes, or watching videos.
2. Make money by Paid surveys From Reward Time.
Another avenue for earning rewards within the app is by participating in surveys through the dedicated surveys tab.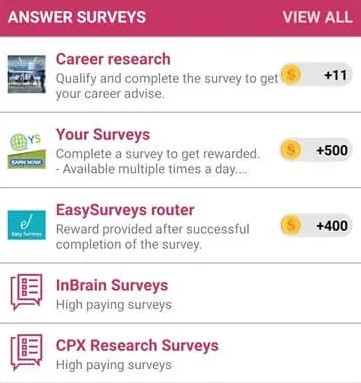 In this section, it's important to note that most surveys are sourced from third-party providers, a common practice in similar companies. Essentially, these third-party providers send surveys to the app, which are subsequently offered to you, the user. When you complete a survey, the main provider is compensated, and they, in turn, share a portion of these earnings with you.
This survey mechanism operates somewhat differently than the app's other features, as many of these survey links will redirect you to third-party platforms to complete the surveys. This underscores the collaborative nature of the process, involving both the app provider and external survey providers to facilitate your participation and compensation for completing surveys.
3. Make money by using the Referral program From Reward Time.
Additionally, Reward Time offers an opportunity to earn extra rewards through its referral program. To participate, you must share your unique referral code with individuals you wish to invite to the app. When they proceed to download and install the app and input your referral code during registration, both you and the new user benefit.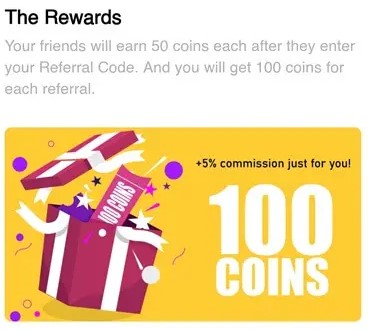 Upon using your referral code, new users receive a joining bonus and become part of your referral network. In return, you will receive a 100-coin reward for each successful referral, and you will also be eligible for a 5% commission every time your referred user earns rewards through Reward Time.
This referral program can be a decent way to generate passive income. Still, ensuring that the people you invite are genuinely interested in using Reward Time to earn rewards is essential. Otherwise, your referral bonuses will be limited to 100 coins for each referral. While these tasks may be short, the other earning options provided by the app can offer more consistent opportunities for earning rewards.
How do you get paid From Reward Time?
You can request your payment through various gift cards within the app, although the options may differ from country to country. Among Latin American countries, only Brazil is included in the list of approved countries, and Spain is the eligible option for terms of Hispanic countries. Unfortunately, other Latin American and Hispanic countries do not have coverage within the app.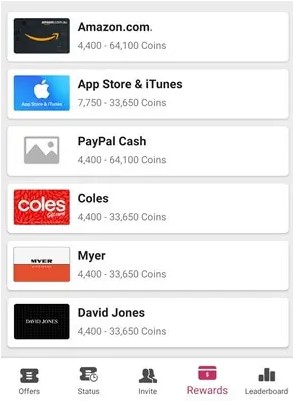 For users in Brazil and Spain, it's noteworthy that besides gift cards, you can withdraw your earnings through PayPal. The minimum payment threshold for PayPal is 3 dollars, requiring 4,200 coins to reach this amount. Explore the available withdrawal options closely, as each gift card may have a minimum requirement. This information is vital to ensure a smooth and efficient process when cashing out your earnings.
See More:
Toy Town Review – Earn by Playing With 4 Easy Tasks
Paid Product Testing Review – 2 Easy Ways To Earn Money
PaidForResearch Review – Earn By Answering 100% Easy Questions
Panel Champ Review – Earn By Expressing Your Thoughts in 2024