Introduction
Welcome to Maya Gems, the sensational match-3 puzzle game taking the gaming world by storm! Dive into a world of shimmering gemstones, exciting multipliers, and captivating gameplay. In Maya Gems, your mission is to match and merge gems to climb the progress ladder and unlock fantastic cash rewards. But that's not all – this game offers a unique cash-out platform that lets you convert your in-game earnings into real-world rewards, including PayPal transfers, Visa rewards, Gift Cards, and more.
With the opportunity to multiply your earnings by up to 5x, Maya Gems is not just a game; it's a rewarding adventure waiting to be explored. So, are you ready to embark on your gem-filled journey and cash in on your skills? Let's play Maya Gems!
What is Maya Gems?
Maya Gems is a recently launched game on the Android platform, readily available for download via the Play Store. It offers an engaging match-3 puzzle experience, where players can strategically swap adjacent gems on the game board to form chains of three or more identical gems.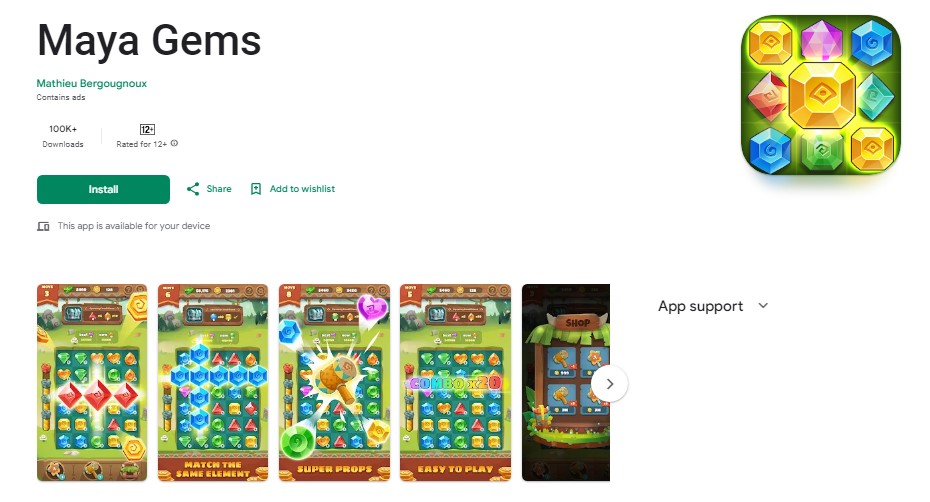 By successfully eliminating these matched gems, players advance through various missions and, in turn, accumulate enticing cash rewards. These rewards contribute to a balance that reflects the in-game currency you've earned. However, there's a twist to cashing in on your winnings: you must fulfill specific criteria designed to keep you engaged with the game for an extended period.
Despite amassing over 100,000 downloads from Android users, Maya Gems proudly displays its 'early access' label on the Play Store, hinting at ongoing development and improvements in the pipeline.
How Does Maya Gems Work?
Maya Gems is a globally accessible free-to-play mobile application. It offers a hassle-free gaming experience as players can dive right into the action with no registration process.
They crafted this captivating game using the Unity platform, a renowned and extensively employed engine for developing an array of mobile games, underlining the quality and versatility of the gaming experience it provides.
Maya Gems Security Concerns
It's crucial to know that Maya Gems currently does not employ data encryption measures. This presents a noteworthy concern, leaving the application vulnerable to potential security breaches. If the app were to be compromised, it might grant hackers access to user data, raising the specter of data theft.
Such unauthorized access to personal information can have severe consequences, including but not limited to identity theft, fraud, and other security risks. Individuals prioritizing their privacy and online security should exercise caution and carefully weigh the potential risks before installing Maya Gems.
How to Play and Earn From Maya Gems?
Once you dive into the gameplay of Maya Gems, you'll find it both simple and captivating. Your journey begins with your finger swiping as you maneuver gemstones across the game board.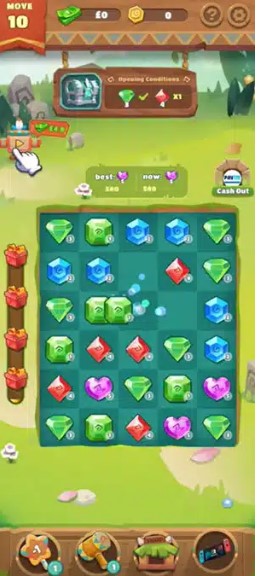 Each gemstone is uniquely numbered, and here's where the excitement kicks in when you manage to align a minimum of three identical gemstones, they magically merge into a single gem carrying a higher number. As you consistently match and combine these shimmering gems, you'll notice a progress bar steadily ascending.
You're in for a decent cash reward when this progress bar reaches the coveted prize icon. And if you're looking to double that reward, all it takes is a quick tap on the button, followed by watching a brief advertisement. This clever tactic heightens player engagement and boosts ad views, generating more revenue for the game developer.
Maya Gems also offers a super reward, an even more enticing prospect. You must accomplish a specific mission to unlock it, eliminating a predetermined number of gems at varying levels. Once again, a simple tap on the button and a short ad view will magnify your reward by an astonishing 500%. This strategic approach encourages players to strive for higher rewards while enhancing the overall gaming experience.
Maya Gems Cashing Out
Maya Gems offers a flexible cash-out system, making it a sensation in the reward platform. Players can convert their hard-earned in-game currency into real-world rewards, including PayPal, Visa, Gift Cards, and in-game currencies.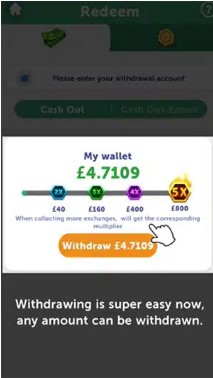 What sets this platform apart is its multiplier feature. By accumulating specific cash amounts, you can significantly amplify your earnings by 2x, 3x, 4x, and even 5x. For instance, if a player decides to withdraw an amount less than £40, they won't benefit from any boosters. However, if they exercise patience and wait until they've amassed £800, taking advantage of the 5x multiplier, they could potentially cash out a remarkable £4,000. This enticing reward system motivates players to aim for higher earnings and reap the benefits of their strategic gameplay.
See More:
Pop Bubble Winner – Earn by Playing 100% Joyful Mobile Game
HappyTube – Earn By Watching Videos & Playing 100% Easy Games
Mystic Bingo Voyage – Earn by Playing 100% Easy Mobile Game