Introduction
This article will delve into the HappyTube App for Android, aiming to determine its legitimacy and safety. We understand you might have many questions regarding this app, such as its nature, authenticity, safety, and functionality. By the end of this read, we aim to provide comprehensive answers to all your queries concerning the Happy Tube App.
Let's dive into the details to clarify what the Happy Tube App is, assess its authenticity, evaluate its safety, and shed light on how it operates. Stay tuned for all the essential information you need about Happy Tube App.
What is HappyTube?
It appears that HappyTube is one of the many market apps claiming to allow users to earn money by watching videos. The idea of getting paid for watching videos is undoubtedly appealing, and this is precisely why such apps tend to attract a large number of users rapidly. These apps are typically designed to generate revenue by displaying ads, often seamlessly integrated with the video content.
HappyTube is attributed to the developer Fsj Games. If you've been following this blog, you might have encountered this developer's name before, as they have released multiple apps claiming to offer opportunities to earn money, whether through watching videos, playing games, or even walking. However, based on the information provided, it's suggested that none of these applications deliver on their promises of paying users.
The author recommends caution and advises against placing trust in Fsj Games or any apps associated with them. It is asserted that these apps are likely only to provide real earnings if they are promoted as such. According to the author, the promises made in the advertisements are deceptive, and it's advisable to exercise skepticism and thoroughly research any such apps before getting involved.
In summary, the HappyTube app and other applications from Fsj Games may not be genuine opportunities to earn money, and users should be cautious when considering them as a source of income.
How to Get Started HappyTube?
It seems that accessing the HappyTube application is a straightforward process. Users can find the app by entering its name into a search engine or clicking on an advertisement that leads to it. However, the app's availability may be limited to certain types of smartphones, and if it's incompatible with your device, there may not be a solution to make it work. The author suggests moving on to other games or applications in such cases.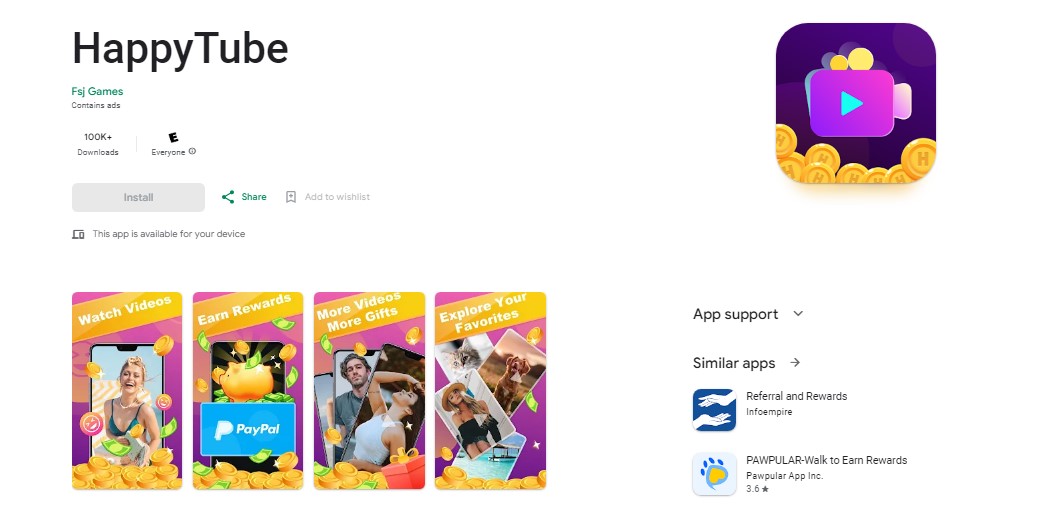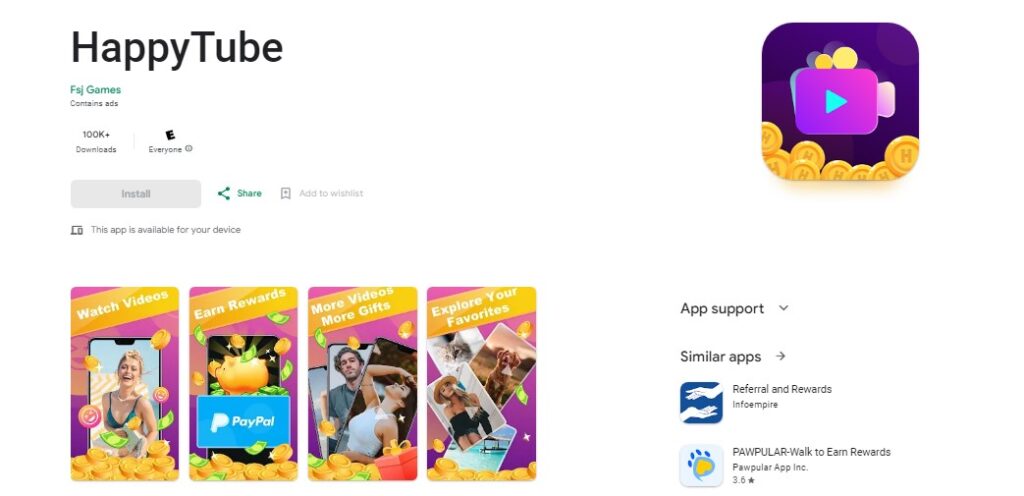 One notable aspect mentioned is that users are not required to register or provide any personal data to use the app. Users can start using HappyTube right away by playing and attempting to accumulate winnings without the need for a registration process.
While this ease of access might be appealing, it's essential to remember the previous warning about the developer and the app's credibility. As mentioned earlier, apps like HappyTube, especially those from developers with a questionable track record, should be approached cautiously, as they may need to deliver on their promises of monetary rewards.
How do you play and make money from HappyTube?
Thank you for providing more details about the HappyTube app's interface and operation.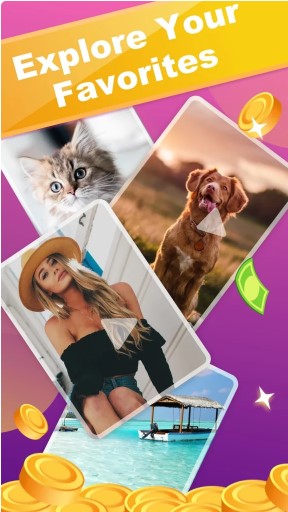 Upon entering HappyTube, users are presented with different windows to explore. The primary window appears to contain videos, while the bottom bar provides options to switch to the second and third windows.
In the first window, users must scroll through a selection of videos until they accumulate the required number of seconds to claim a reward. It's important to note that there isn't a search option, so users are limited to the videos presented.
In the second window, users can access mini-games to help them achieve their earnings goals more quickly.
The third window offers mini-tasks and a roulette wheel, presumably for earning more coins.
The reward system is based on time intervals, with rewards accumulating approximately every 30 seconds. For the games, rewards are added automatically when users achieve specific milestones or levels. Additionally, users have the option to watch ads to earn more rewards.
It's worth noting that users may be required to install certain apps or games to receive rewards. This practice can be a common tactic used by apps that aim to generate revenue through ad installations and affiliations with other apps.
While the app's interface and reward system are explained, it's essential to reiterate the earlier caution regarding the credibility of HappyTube and similar apps. Apps promising easy money often have risks, including potentially wasting time, exposure to unwanted ads or downloads, and questionable payout practices. Always exercise caution and consider the legitimacy of such apps before investing your time or resources.
How to Cash Out From HappyTube?
To withdraw your earnings from HappyTube, you must accumulate a minimum balance of £50. This threshold represents the amount you must reach before requesting a payout.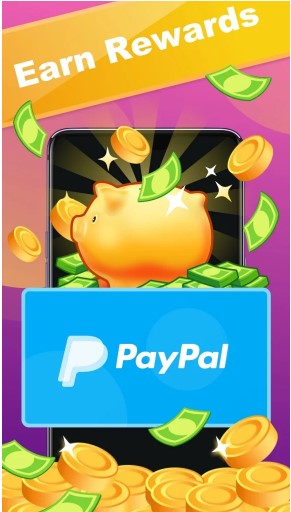 It's mentioned that users must check-in for at least seven consecutive days to become eligible for payment. This requirement implies that consistent app usage is necessary to qualify for withdrawals.
HappyTube appears to offer multiple payment methods for cashing out earnings. Users can withdraw their money via PayPal, Visa, or Mastercard. These options provide flexibility in how users can receive their earnings.
It's important to note that the rewards may decrease as users approach the £50 minimum cash-out threshold. This practice is common among apps and is often employed to make it more challenging for users to reach the withdrawal amount quickly.
Given the relatively high minimum cash-out requirement and the potential for decreasing rewards, users should exercise caution and carefully evaluate whether it's realistic and worthwhile to pursue earnings through HappyTube. Additionally, users should consider the credibility and legitimacy of the app and its developer before investing significant effort. Apps that promise high profits with stringent withdrawal conditions should be approached with skepticism, as they may need to deliver on their promises consistently.
See More:
Mystic Bingo Voyage – Earn by Playing 100% Easy Mobile Game
Cashew App – Make 100% Easy Money by Sharing Your Opinions
GrindBux – Make Money by Completing 3 Easy Tasks
Viewfruit – Earn By Message Members With 5 Easy Ways