Introduction
Welcome to Get-Paid.com, a GPT (Get Paid To) site that offers you various ways to earn rewards by completing activities. With a history dating back to 2005, Get-Paid.com has established itself as a legitimate platform for earning cash and rewards. Whether it's completing paid offers, participating in surveys, inputting business card information, inviting others as referrals, or even joining contests and sweepstakes, Get-Paid.com provides multiple avenues to boost your earnings. The registration process is simple, and once you become a member, you can dive into the available earning opportunities. So, join Get-Paid.com today and start earning while engaging in fun and rewarding activities.
What is Get-Paid.com?
Get-Paid.com, an established GPT (Get-Paid-To) site, has been operating since 2005, a significant duration in the online earning industry. Its longevity is a strong indicator of its legitimacy and reliability.
At Get-Paid.com, users can access various activities to earn cash. These activities encompass different methods through which individuals can generate income.
How to join Get-Paid.com?
To register as a member on Get-Paid.com, you can follow a simple process. As shown in the photo above, you must complete the registration form, providing the necessary information. An alternative option is to sign up using your Facebook account, which offers convenience.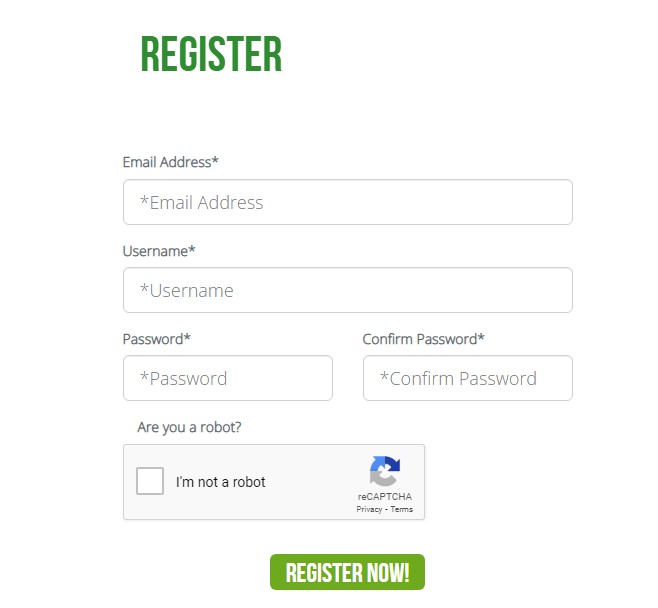 After completing the registration form, you will receive an email containing an activation link. Clicking on this link is required to confirm your membership. Once you have clicked the activation link, you can begin participating in and completing offers on the site.
In summary, the registration process on Get-Paid.com involves filling out the registration form or signing up via Facebook, followed by confirming your membership through an activation link sent to your email. This will allow you to start engaging with the available earning opportunities on the site.
How to make money from Get-Paid.com?
1. Make money by Paid Offers from Get-Paid.
At Get-Paid.com, like many other GPT sites, you can earn money by completing paid offers. Once you have registered and logged in to their website, you can access the available offers by clicking on the Offers tab.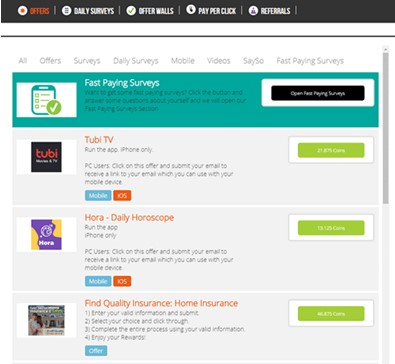 Upon entering the Offers section, you will see a list of available offers. Choose one that interests you and click the Visit Offer button to access the instructions for that particular offer. Following the instructions is important to ensure you receive the reward carefully.
The offers typically involve:
Signing up for a website.
Playing a game.
Answering surveys or quizzes.
Installing software.
These are some common offers you will come across on the site.
After completing an offer, you will receive the specified reward, which can be used to redeem items or cash. The redemption process and available options will be further explained on the website.
Additionally, you can explore more paid offers by visiting the offerwalls section of the Get-Paid.com site.
2. Make money by Paid Surveys from Get-Paid.
In addition to completing paid offers, you can earn rewards on Get-Paid.com by participating in surveys. However, it's important to note that Get-Paid.com acts as a survey router rather than hosting its surveys. This means that the surveys you will be directed to are provided by other external sites.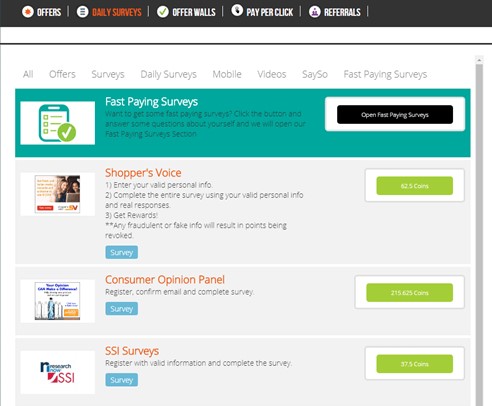 While this isn't necessarily a disadvantage, it's essential to understand how it works. Since the surveys originate from various sites, the requirements and processes may differ. Some survey offers may ask for personal information before allowing you to proceed, while others may require you to register on their site before taking the survey.
Regardless of the specific requirements, the common rule is to complete the survey to receive the reward.
It's worth mentioning that only some surveys will be available to you. Typically, survey opportunities involve a series of qualifying questions. If you meet the criteria, you can complete the survey. You can move on to the next offer if you don't qualify.
However, compared to other GPT sites, the number of survey opportunities on Get-Paid.com may be relatively lower. The availability of surveys can vary depending on factors such as your country of residence. Thus, the number of survey opportunities may differ based on location.
3. Make money by Business Cards from Get-Paid.
Get-Paid.com offers a unique earning opportunity called "Type Is Money", where you can input business card information such as phone numbers, addresses, and company names. This feature is accessible through the app located in the member dashboard.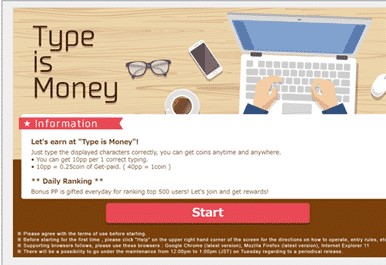 Before starting this opportunity, a tutorial will be provided to guide you through the entire process. So, even if you're unfamiliar with this task, the tutorial will help you get acquainted.
The key aspect of this opportunity is that you earn rewards for providing correct answers in Type Is Money. While it can be a fun way to earn rewards, it's worth noting that it may take some time before you accumulate enough rewards to redeem.
However, it's important to consider the reward structure. Each correct task in Type Is Money will earn you 10 PP (Point or Pay Points), roughly equivalent to $0.002. In other words, you would need to complete approximately 500 correct tasks to earn $1. Therefore, there may be more efficient ways to make significant rewards on Get-Paid.com.
4. Get Paid Per Click from Get-Paid.
The earning opportunity described is similar to what you typically encounter on Paid-To-Click (PTC) sites. The main distinction is that on Get-Paid.com, each offer within this category has specific instructions, whereas PTC sites usually involve clicking on ads to earn rewards.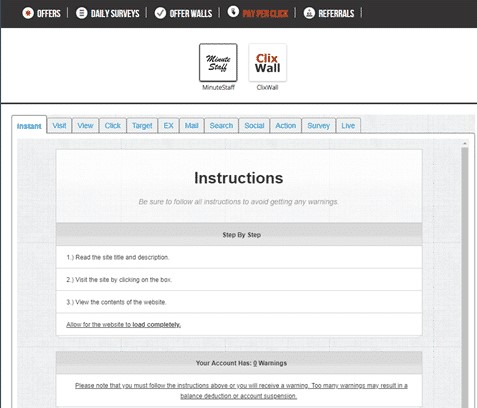 You must often visit a website for these offers and read the title and description. It's crucial to follow the provided instructions to ensure proper completion closely. Failure to do so may result in receiving a warning.
Accumulating too many warnings can lead to consequences such as a deduction from your balance or even suspension of your account. Therefore, exercising caution while engaging in this earning opportunity is important.
Although these tasks usually take little time, it's important to note that the rewards for this option are generally low. Consequently, there may be other fastest or most lucrative methods for earning on Get-Paid.com. It's advisable to set realistic expectations and not rely solely on the PPC (Paid-To-Click) option for significant earnings.
5. Make money by Referral Program from Get-Paid.
Another way to earn additional rewards on Get-Paid.com is by inviting people to join the site as your referrals. You can use four methods to invite others: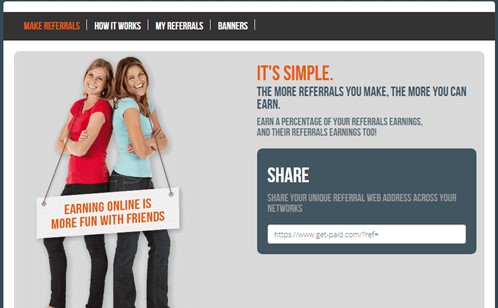 Posting your invite link on your social media pages.
Sharing your referral link.
Sending email invitations.
Publishing a referral banner on your website or blog.
When your referrals join and start earning on the site, you can earn up to 30% of their earnings, depending on your level on the site (which will be discussed later). You can also earn a certain percentage of the earnings from your referral referrals.
It's important to note that the commission you earn from your referrals will not be deducted from your earnings. Get-Paid.com covers the payment of these commissions, so your referrals do not need to worry about their earnings being reduced.
This referral program can be a valuable source of passive income, especially as your commission can increase over time as you remain active on the site. However, the effectiveness of this earning method will depend on how active your referrals are on Get-Paid.com.
6. Make money through monthly contests from Get-Paid.
While not a guaranteed earning opportunity, it's worth mentioning that Get-Paid.com hosts contests and sweepstakes with significant prizes.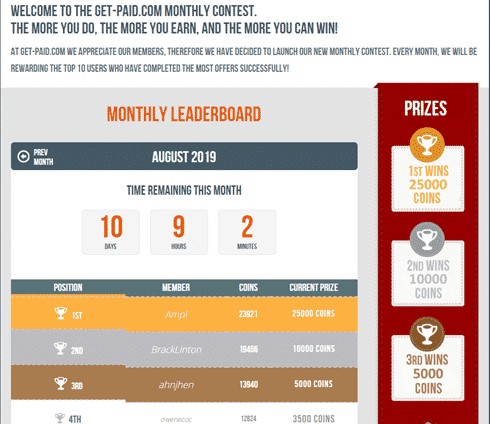 The monthly contest on Get-Paid.com allows every member to participate. To win, you must be among the top 10 earners on the site for a given month. For example, if you become the top earner in June, you will be awarded 25,000 coins, the currency used on the platform. The winner is determined at the end of each month.
Participating in the monthly contest can serve as a motivating goal to strive for and maintain high earnings on the site.
Additionally, Get-Paid.com offers monthly sweepstakes. To enter, you can purchase an entry for five coins. The winner of the sweepstakes is announced at the beginning of the following calendar month, typically during the first week. The prize for the monthly sweepstakes is 10,000 coins. While the chances of winning may be low due to only one monthly winner, it can still be a pleasant extra reward if luck is on your side.
In summary, Get-Paid.com provides opportunities to participate in contests and sweepstakes, although they do not guarantee earnings. The monthly contest offers substantial prizes for the top earners, serving as a motivational goal, while the sweepstakes present a chance to win an additional reward through a lucky draw.
How do you get paid from Get-Paid Website?
On Get-Paid.com, you earn coins as rewards for completing offers. These coins serve as the site's currency. Once you have accumulated a certain number of coins, you can redeem them for gift cards or cash out via various payment options.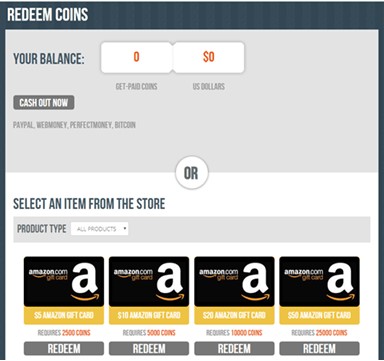 The value of coins can be put into perspective, where 500 coins are equivalent to $1. The payment threshold is quite low on Get-Paid.com. If you reside in Australia, Canada, or the US, the minimum payment threshold is $1. The threshold for residents of other countries is even lower at $0.5. This allows you to withdraw your earnings relatively quickly.
Regarding payment options, Get-Paid.com supports PayPal, WebMoney, PerfectMoney, and Bitcoin. You can select the payment method that suits you best.
Additionally, Get-Paid.com offers a wide selection of gift cards if you prefer to redeem your earnings in that form.
Overall, Get-Paid.com has a well-designed payment system with a low payment threshold, various payment options, and the flexibility to choose between gift cards and cash redemption.
FAQs
Is Get-Paid.com a legitimate platform?

Get-Paid.com has been around since 2005 and has established itself as a legitimate GPT site. It has a history of providing earning opportunities and rewarding its members.

How do I register as a member?

To register, fill out the registration form on the site or sign up using your Facebook account. After completing the form, confirm your membership by clicking the activation link sent to your email.

How are the rewards redeemed?

Get-Paid.com typically offers various redemption options, such as cash, gift cards, or other items. The specific redemption process and available options can be found on the site.

How do contests and sweepstakes work?

Get-Paid.com hosts monthly contests where the top earners can win significant prizes. The site also offers a monthly sweepstakes with a chance to win rewards. Participation and prize details are outlined on the site.
See More:
mGamer App – Earn By Playing Featured Games With 6 Easy Ways
Fortune Coin Pusher Game – Earn by Playing in 2023
Mushroom Ocean Review – Earn By Playing 100% Easy Puzzle Game
Candy Pop Star – Earb By Playing a 100% Colorful & Addictive Game