Introduction
Welcome to the exciting world of Fortune Coin Pusher Game! Immerse yourself in the addictive gameplay of this Android game as you drop shiny dimes and nudge them toward the platform's edge. Watch as the coins plunge, showering you with virtual dollars and tokens. Your goal is to accumulate substantial virtual wealth, with the ultimate challenge of reaching a staggering $1,000 to cash out.
Along the way, you'll encounter various rewards, milestones, and even the chance to win a jaw-dropping $10,000 prize by collecting different fruits. Remember that as you enjoy the game, you'll also come across occasional advertisements, contributing to the developer's revenue. So, get ready to tap, strategize, and push your way to virtual riches in Fortune Coin Pusher Game!
What is Fortune Coin Pusher Game?
Fortune Coin Pusher Game is an exciting Android game that immerses you in the thrilling world of coin dozers. In this game, you aim to drop shiny dimes and strategically nudge them toward the platform's edge.
As the coins plunge, you'll be rewarded with virtual dollars, creating the sensation of money falling from the sky! With persistence and skill, your cash balance will quickly skyrocket to hundreds of dollars.
However, there's a catch: you can only withdraw your earnings once they reach an impressive $1000! This adds an extra level of challenge and excitement to the game.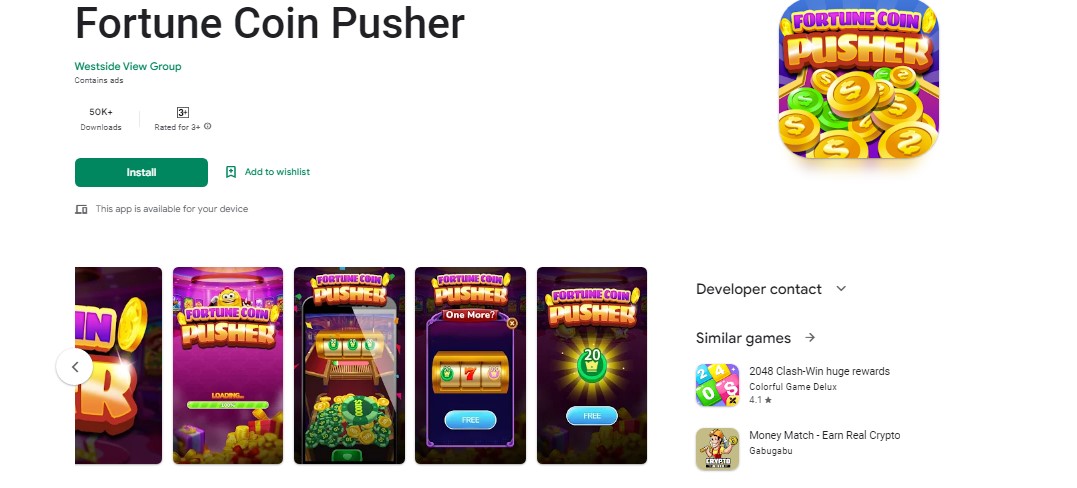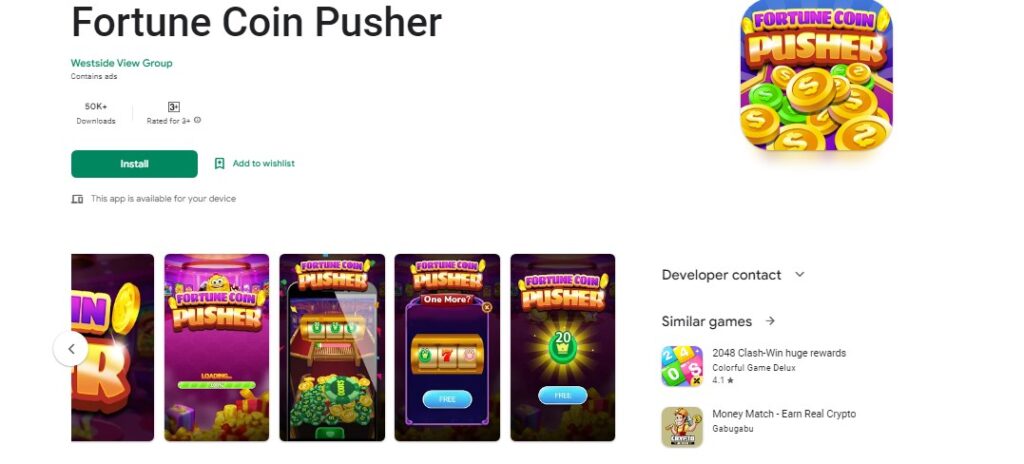 It's worth noting that Fortune Coin Pusher Game shares similarities with other coin pusher games I've reviewed on my blog. Like many games, the developer monetizes the experience by incorporating advertisements that generate revenue from your views.
So, get ready to embark on a coin-pushing adventure, aiming to accumulate substantial virtual cash while enjoying the gameplay and occasional ads along the way!
How do Fortune Coin Pusher Game Work?
Fortune Coin Pusher Game offers a free download on the Play Store, and it doesn't require any in-app purchases or registration to start accumulating virtual riches. When you launch the game, you're greeted with a generous $10 welcome bonus, which gives you a head start.
To entice you further, the game presents an opportunity to earn an additional $100 by watching your first commercial. It sounds incredible. However, as you delve deeper into the game, you'll realize that reaching the $1,000 cash-out threshold becomes quite challenging.
While the grand prize of $1,000 might seem worth the wait, it's important to approach it cautiously. The game's design and mechanics are geared towards keeping players engaged for extended periods, and the path to reaching that cash-out goal may involve significant time and effort.
It's essential to maintain a realistic perspective and understand that the primary purpose of these games is to entertain while generating revenue for the developer through advertisements. So, while pursuing the cash-out goal can be enjoyable, it's advisable to avoid expecting it to be easily attainable or to view it as a guaranteed reward.
Approach Fortune Coin Pusher with a sense of fun and entertainment, and enjoy the experience while considering the potential challenges and the game's underlying business model.
How to make money by Playing Fortune Coin Pusher Game.
Playing Fortune Coin Pusher Game is simple and intuitive – tap anywhere on the screen to drop the coins where you want them to fall. You start with 40 nickels, and a new one is added every 6 seconds unless you choose to watch a commercial to refill your stack.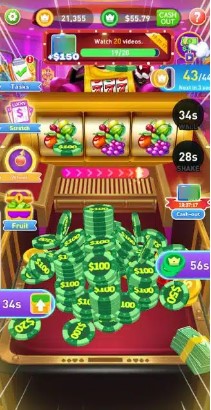 The mechanics of a coin pusher machine are straightforward. The dozer moves back and forth, pushing the coins closer to the edge until they eventually fall off.
In Fortune Coin Pusher Game, you'll encounter green and yellow dimes. Pushing yellow coins off the edge earns you tokens, while green coins reward you with virtual dollars. However, it's important to note that the value of the green coins could be more realistic, considering that the developer's revenue comes solely from advertisements.
Pushing dimes into the 777 box triggers the slots, where you can earn additional rewards such as coins and fruits.
Occasionally, the game will offer you a reward of around $25, but only if you tap the claim button and watch a video advertisement.
There are multiple ways to trigger cash prizes within the game, but the quickest route is tapping the $30 bubble. However, as expected, this prompts another commercial before you can claim the prize.
You can earn even higher cash rewards by reaching milestones, such as watching 20 videos. It becomes evident that the game revolves around incentivizing you to engage with advertisements and generate revenue for the developer.
How to Cash out From Fortune Coin Pusher Game?
Once you reach the coveted $1,000 milestone in Fortune Coin Pusher, the game prompts you to tap the cash-out button to initiate a withdrawal. At this point, you can choose your preferred payment method, either PayPal or Cash App. Enter your account information, and you can hope for the best as you await your payout.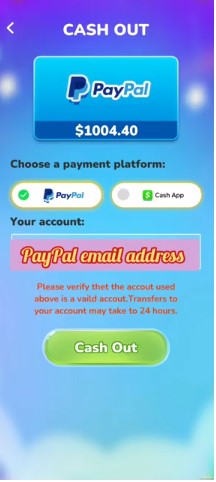 In addition to the $1,000 cash-out option, the game also entices players with an enticing $10,000 prize for those who collect 20 different fruits. This adds another layer of excitement and motivation to continue playing and striving for that elusive big payout.
Including various cash-out options and the promise of significant rewards are intentional strategies the developers employ to keep players engaged and hopeful for a substantial payout. It creates a sense of anticipation and a desire to continue playing to achieve a significant cash prize. However, it's important to approach these enticing offers with caution and understand that they may be challenging to attain or require significant time and effort to achieve.
Remember to enjoy the game responsibly and remember realistic expectations while pursuing these tempting cash-out options.
FAQs
Are there any in-app purchases in Fortune Coin Pusher?

No, Fortune Coin Pusher does not require any in-app purchases to play. However, there may be optional advertisements that you can choose to engage with for additional in-game rewards.

How do I earn virtual dollars and tokens in the game?

You can push green and yellow dimes off the edge by strategically dropping coins. Yellow coins earn tokens, while green coins reward you with virtual dollars.

Is Fortune Coin Pusher free to download and play?

Fortune Coin Pusher is free to download from the Play Store and can be played without any initial cost.
See More
Mushroom Ocean Review – Earn By Playing 100% Easy Puzzle Game
Candy Pop Star – Earb By Playing a 100% Colorful & Addictive Game
WePointz Review – Earn By Playing Games With Completing 4 Easy Tasks