Introduction
mGamer app is a mobile app that allows users to earn rewards and coins by participating in various activities. Whether playing games, completing tasks, answering surveys, or joining contests, mGamer provides an engaging platform for users to earn while having fun. With options to redeem coins for cash, cryptocurrency, or in-game currencies, mGamer offers flexibility and a range of rewards. Discover new games, earn coins, and enjoy the benefits of mGamer's user-friendly interface and earning opportunities. Start exploring and earning with mGamer today!
What is mGamer app?
mGamer is a mobile application that allows users to earn rewards and cash by participating in various gaming activities. It operates as a Get-Paid-To app, meaning that users can earn rewards by playing games and engaging in other earning opportunities provided by the app. mGamer is a legitimate application that allows users to earn rewards by completing tasks and activities.
How to make money from mGamer app?
To make money from mGamer Visit your app store (Google Play Store for Android or App Store for iOS) and search for "mGamer." Download and install the app on your mobile device.
Open the mGamer app and sign up for a new account using your email address or mobile number. Follow the instructions to complete the registration process.
Once logged in, you'll find various earning opportunities within the app. Here are a few common ways to make money on mGamer
1. Make money by playing featured games from mGamer app.
Earning from mGamer involves playing the featured games within the app. Here's a step-by-step guide on how to earn through gaming on mGamer: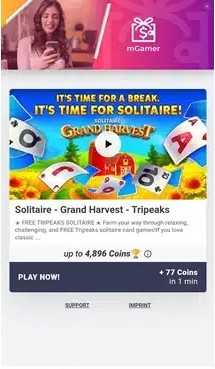 First, log in to the mGamer app and navigate to the "Play" section to find all the featured games.
When you choose a featured game, you'll need to install it on your mobile device. After installation, open the mGamer app and go to the "Games" section to locate the installed game.
Launch the game from within the mGamer app to start earning. You will receive coins for every minute you play the featured game. However, remember that the coin earning rate may gradually decrease the longer you play, encouraging you to try other games.
To ensure accurate coin earnings, always open the featured game from the mGamer dashboard rather than directly from your mobile device's menu. This allows mGamer to track your gameplay time and award you the appropriate number of coins.
It's important to note that some featured games may involve gambling elements. Choose the games you want to play carefully, based on your preferences and comfort level.
Stay updated with the mGamer app to discover new featured games and any promotions or additional earning opportunities that may be available.
By following these steps and playing the featured games responsibly, you can enjoy gaming while earning rewards through mGamer.
2. Make money by Complete Tasks and Offers from mGamer app.
Another way to earn from mGamer is by completing tasks offered through the app. Here's a simplified guide on how to earn through tasks on mGamer: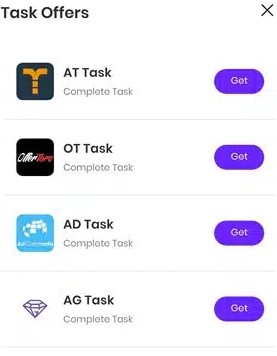 Log in to the mGamer app and select the "Task Offers" option to view available task providers. These providers typically offer various tasks through offerwalls.
Choose an offerwall to work on and browse through the available tasks. Tasks may include playing mobile games, completing surveys, signing up for websites or apps, and more.
Read and understand the instructions for each task carefully. It's essential to follow all the instructions accurately, as missing a step may result in the task not being completed, and you won't receive the reward.
Once you've selected a task, complete it according to the instructions. Completing a task will earn you the specified number of coins, which will be added to your mGamer coin balance.
Now that you've earned coins from completing tasks, you can utilize them for various purposes within the mGamer app, such as redeeming rewards, purchasing in-app items, or participating in other earning opportunities.
Remember to regularly check for new task offers, as task availability and rewards may vary over time. Ensure you approach the tasks responsibly and accurately follow the instructions to maximize your mGamer earnings.
3. Make money by Surveys from mGamer app.
mGamer also offers the opportunity to earn more coins by participating in surveys. The survey feature functions similarly to surveys found on dedicated survey sites. Here's a simplified guide on how to earn coins by answering surveys on mGamer: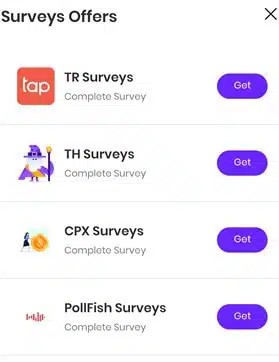 Log in to the mGamer app and navigate to the "Surveys" section. Here, you will find various survey providers that mGamer has partnered with.
Choose a survey provider from the available options and select it. This will direct you to the survey provider's interface.
Provide your basic information as requested by the survey provider. This information helps the provider determine if there are surveys available for you.
If there are available surveys, they will be displayed to you. Choose an available survey and begin answering the qualifying questions.
The qualifying questions are designed to ensure you are the right fit for the survey. If you meet the requirements, you will proceed to the actual survey and have the opportunity to earn the promised reward.
If you do not qualify for a particular survey, move on to the next available survey (if there are any).
By participating in surveys on mGamer, you can earn coins based on the completion of each survey. These coins will be added to your mGamer coin balance.
Remember that survey availability may vary, and providing accurate information during the qualification process is important. Regularly check the "Surveys" section for new survey opportunities to maximize your earning potential.
Remember to approach surveys responsibly and provide thoughtful and honest responses.
4. Make money by Lucky Draw from mGamer app.
mGamer also offers Lucky Draw contests, which provide an opportunity to win prizes. Here's a description of how the Lucky Draw contests work on mGamer: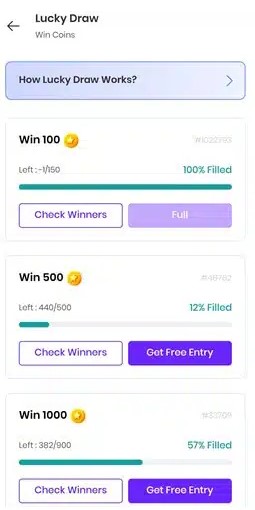 The mGamer app contains the "Lucky Draw" section where various contests are held. Participating in these contests does not guarantee earnings, but they require minimal effort.
To join a Lucky Draw contest, select the contest you wish to enter and press the "Gain Free Entry" button. Upon doing so, a video advertisement will appear. It is necessary to watch the entire ad to proceed.
Once you have finished watching the ad, your entry will be accepted. You will then need to wait for the announcement of the winner. It's important to note that each Lucky Draw contest has a limited number of participants, so joining as quickly as possible is advisable to secure a spot.
You can join multiple Lucky Draw contests if you wish. The prizes awarded in these contests typically consist of a certain number of coins ranging from around 500 to 1,000.
Participating in Lucky Draw contests can add an element of excitement to your mGamer experience, offering the potential to win additional coins as a reward.
5. Make money by Game Tournaments from mGamer app.
You can also have the opportunity to win coins by participating in game tournaments on mGamer. Here's how you can potentially earn coins through game tournaments: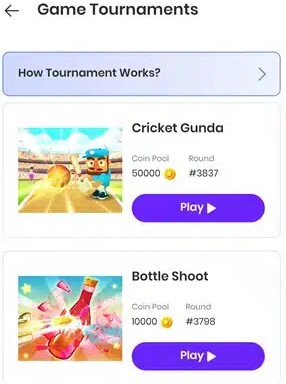 Open the mGamer app and navigate to the "Tournaments" section. In this section, you will find several browser-based games you can play.
Choose a game from the options you want to participate in for the tournament. The games in the tournaments are designed to be user-friendly and easy to play.
Unlike other features in mGamer, game tournaments do not require you to install any additional apps. You can play browser-based games directly within the mGamer app.
To win a prize in a tournament, you must aim to be among the top players on the leaderboard. The prize you can win will depend on the coin pool accumulated for that particular tournament.
The coin pool increases with more players joining the tournament. However, it's important to note that a larger number of participants also means increased competition, which may lower your chances of winning.
While winning a tournament requires skill and performance, it is not impossible to achieve a high ranking. You can increase your chances of earning coins through game tournaments on mGamer with practice and dedication.
Participating in game tournaments can provide an enjoyable and engaging way to earn coins on mGamer. It combines gaming excitement with the opportunity to win rewards based on your performance.
6. Make money by Referral Program from mGamer app.
You can earn additional coins through mGamer's referral program, which incentivizes you to invite others to use the app. To invite people to join mGamer, share your referral code with them. This code serves as a unique identifier.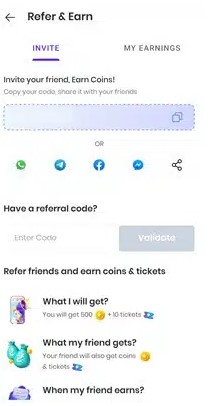 When the people you invite install the app and sign up, make sure they input your referral code during the registration process. This ensures that they are linked to your referral.
Once your referrals successfully sign up and input your referral code, you will receive a reward of 500 coins. You will also receive tickets to participate in mGamer's Jackpot Draw, which offers larger prizes.
Your referrals will also receive coins and tickets as a reward for using your referral code. This creates a win-win situation, benefiting both parties involved.
Consider whether you genuinely find the mGamer app valuable before actively promoting it through the referral program. Sharing the referral code with others should be done genuinely and authentically.
Utilizing the referral program can be a decent way to earn more rewards on mGamer, particularly if you believe in the app and its offerings.
How do you get paid from mGamer app?
mGamer provides various options for redeeming the coins you've earned for different rewards.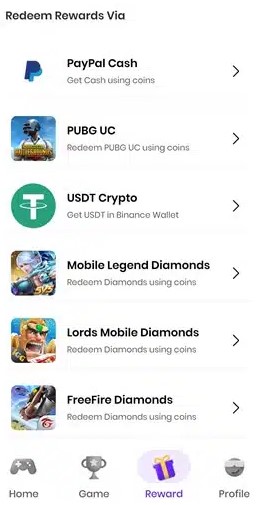 You can exchange your coins for cash through PayPal. To withdraw, you'll need to accumulate a minimum of 20,400 coins, equivalent to a $2 PayPal transfer.
mGamer also allows you to convert your coins into USDT (Tether) tokens, a cryptocurrency form. To avail this option, you'll need to earn a minimum of 1,000 coins, equivalent to $0.10 worth of USDT.
mGamer offers the opportunity to redeem coins for in-game currencies of popular games such as PUBG Mobile, Mobile Legends, and others. The specific number of coins required for these redemptions will depend on your in-game currency.
mGamer's payment system is designed to be user-friendly and offers convenient options like PayPal and cryptocurrency. This allows you to convert your earned coins into tangible rewards, whether cash, crypto, or in-game currencies.
How to join mGamer App?
To sign up as a member of mGamer Install the mGamer app from the Google Play Store on your mobile device.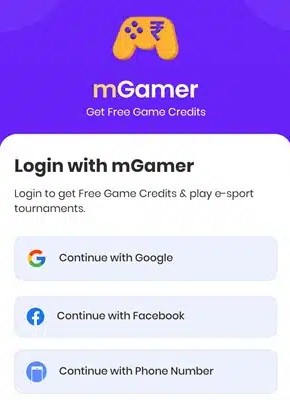 Launching the app for the first time will prompt you to choose a login method. You can select Google or Facebook to log in using your existing account or sign up using your mobile number.
After selecting your preferred login method, you may need to provide the necessary account information or permissions to proceed.
Once you have completed the initial registration, mGamer will email you a verification link. Click on the link to verify your account.
After verifying your account, you can log in to the mGamer app using your chosen login method and earn rewards.
FAQs
Is mGamer a legitimate app?

Yes, mGamer is a legitimate app. It offers various earning opportunities, such as playing games, completing tasks, answering surveys, and more, through which you can earn rewards and coins.

Is mGamer available in my country?

mGamer's availability may vary by country. The best way to determine if it is available in your country is to search for the app on the Google Play Store. If it appears in the search results, the app is available for download in your country.

Are there any fees or charges to use mGamer?

No, mGamer does not charge fees for using the app or participating in its earning opportunities. However, please note that certain payment platforms, such as PayPal, may have their transaction fees or requirements.

Can I use mGamer on multiple devices?

You can use mGamer on multiple devices if you log in using the same account credentials. This allows you to access your account and earn coins across different devices.
See More:
Fortune Coin Pusher Game – Earn by Playing in 2023
Mushroom Ocean Review – Earn By Playing 100% Easy Puzzle Game
Candy Pop Star – Earb By Playing a 100% Colorful & Addictive Game
WePointz Review – Earn By Playing Games With Completing 4 Easy Tasks