Introduction
Dive into Mushroom Ocean, an addictive match-3 puzzle game for Android. Swipe and align mushrooms with unlocking levels and earn cash rewards. Match unique balls with PayPal or Amazon logos for even bigger prizes. Watch sponsored videos to claim your earnings. Aim for a $1000 cash-out option. Enjoy the adventure, and see if you can turn virtual success into real-world rewards!
What is Mushroom Ocean?
Mushroom Ocean is a captivating match-3 puzzle game that bears some resemblance to the popular Candy Crush game. While its core mechanics are similar, the game's visuals may need to be more impressive.
In Mushroom Ocean, you aim to swipe and align at least three identical mushrooms to make a match. Each mushroom is assigned a numerical value, and when you successfully match more than three mushrooms, they merge to form a mushroom with a higher number.
The gameplay can be quite addictive, but the promise of cash rewards keeps players hooked. As you progress in the game, you unlock rewards adorned with PayPal or Amazon logos, creating the illusion that real money is within your grasp.
To claim these rewards, you are required to watch sponsored videos. However, redeeming your earnings for actual cash is only possible once you fulfill certain requirements established by the game.
How Does Mushroom Ocean Work?
Mushroom Ocean is a free-to-play game for Android users worldwide, offering an enticing opportunity to earn real cash rewards.
Upon launching the game, you are immediately informed that it is a legitimate cash-out game, assuring players that any money they accumulate will be transferred to their PayPal account within 24 hours.
The game's developers make an exciting promise: if you manage to amass an impressive $1000, you can redeem it instantly. This high cash-out threshold adds excitement and encourages players to strive for substantial earnings.
How To Make Money By Playing The Mushroom Ocean Game?
Mushroom Ocean's gameplay revolves around matching at least three identical mushrooms on a 5 x 5 grid by swiping and aligning them.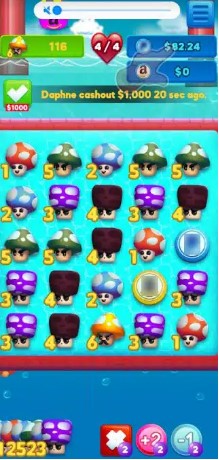 When you successfully match more than three mushrooms, they merge to create a mushroom with a higher number, allowing you to progress to higher levels. It's crucial to keep progressing without running out of lives to continue the gameplay.
However, the real excitement arises when you come across special balls featuring the logos of PayPal or Amazon on the grid. You trigger a decent cash reward by matching these special balls with any mushroom.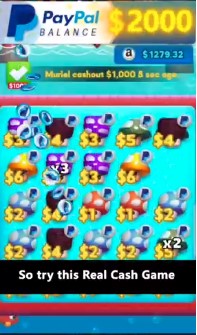 Tap the "Receive" button to claim this enticing prize and watch a sponsored video. This mechanism allows the developer to maximize profits by generating revenue through sponsored content at the expense of your time.
It's important to be aware that while the game offers the potential for cash rewards, it also relies on sponsored videos to monetize the gameplay experience.
How Do You Get Paid From Mushroom Ocean?
In Mushroom Ocean, once you have accumulated a certain amount of money by collecting cash rewards through gameplay, the game claims to send the earnings to your PayPal account within 24 hours. This suggests that the developers utilize PayPal as the payment method for distributing cash rewards to the players.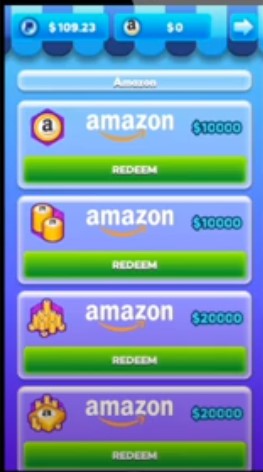 You must have a valid PayPal account linked to the game to receive the cash payout. The specifics of setting up and linking your PayPal account depend on the game's interface and instructions.
It's important to note that the actual process of receiving payment and the reliability of the cash-out system can only be confirmed by the game's developers and their policies. Therefore, it's advisable to carefully review the terms and conditions and user reviews to ensure the legitimacy and credibility of the cash-out system before investing significant time and effort into the game.
Conclusion
Embark on the captivating journey of Mushroom Ocean, where addictive match-3 gameplay meets the allure of cash rewards. Swipe, align, and merge mushrooms to unlock levels and earn exciting prizes. Watch for special balls adorned with PayPal or Amazon logos for even more lucrative wins. With the opportunity to cash out up to $1000, this game offers an enticing challenge for puzzle enthusiasts seeking real-world rewards. Dive into Mushroom Ocean today and see how far your matching skills can take you!
FAQs
Are there any costs involved in playing Mushroom Ocean?

Mushroom Ocean is free-to-play, meaning you can download and play the game without any upfront costs. However, remember that the game may contain optional in-app purchases or advertisements to support its development.

What are the requirements to cash out my earnings?

The specific requirements for cashing out earnings in Mushroom Ocean may vary. It's important to consult the game's guidelines or instructions to understand the exact criteria and thresholds that need to be met.

Can I earn real cash in Mushroom Ocean?

Yes, Mushroom Ocean claims to offer real cash rewards. The game promises to send your earnings to your PayPal account within 24 hours, allowing you to redeem them.
See More:
Candy Pop Star – Earb By Playing a 100% Colorful & Addictive Game
WePointz Review – Earn By Playing Games With Completing 4 Easy Tasks
FunTap Review – Earn By Playing 100% Easy Mobile Games