Introduction
Givling App is a unique app that combines the excitement of trivia games with the opportunity to win funding for student loans and mortgages. By playing trivia games and earning Givling Queue Points, users can participate in rewards queues to have a portion of their loans paid off. With its team-based gameplay and various earning opportunities, Givling offers a distinctive approach to both entertainment and financial support.
What is Givling App?
Givling is a mobile app available on iTunes and Android platforms that allows users to earn rewards by playing trivia games. It was created by Lisbeth Pratt, a Stanford University graduate who faced financial challenges after being defrauded by her business manager, despite graduating without student loan debt. The app aims to help users alleviate their student loan burden by providing cash rewards through its gameplay.
How to join Givling App?
Givling App is exclusively available in the United States, which means individuals residing in other countries cannot access the app. Additionally, the minimum age requirement for joining Givling is 18 years old.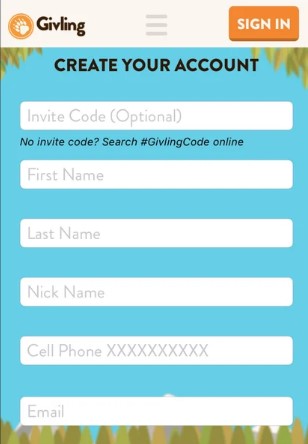 To register for Givling, you must download and install the app on your device. From there, you can proceed with the registration process, which is relatively simple and easy to follow. After completing the sign-up, you will need to confirm your registration before being able to log in to the app and start playing the trivia games.
How to make money from Givling App?
Here are the ways you can earn from Givling App.
1. Make money by playing the Trivia game from Givling App.
Givling App is a unique app that allows you to play trivia games with two other members, forming a team of three versus another team of three.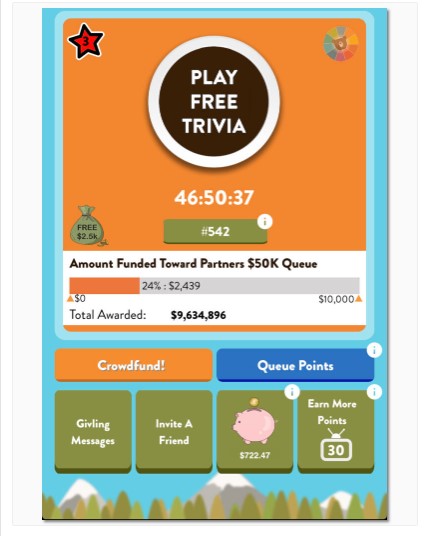 You are paired with two other members when you enter the play queue. You independently answer true or false trivia statements within a 10-second time limit. Correct answers earn you points. The game ends after three incorrect answers or when there are no more questions.
During the game, you'll notice points already on the board. These points come from your anonymous teammates who have recently completed their games. Your score and your teammates' scores determine your team's score.
The game runs from Wednesday at 3:00 pm Mountain time until the following Wednesday. At the end of the week, the team with the highest score wins the prize. Check your trivia rank on the Home Screen under the countdown clock.
If your team ranks among the top teams when the countdown clock reaches zero, you may receive Givling Queue Points or a trivia funding award, usually in cash (around $100 or more). The trivia funding award is displayed on the home page.
Additionally, you can compete for a daily cash prize by playing the trivia game.
After each game, you'll be prompted to interact with a video ad. Watching the ad will earn you Givling Queue Points, contributing to the app's reward system.
You can play the trivia game for free twice every day. You can purchase Givling coins to access additional trivia plays if you want to play more. The app generates revenue through coin purchases, sponsorships, merchandise sales, and advertisements.
2. Make money by watching Video ads from Givling App.
In addition to playing trivia games, Givling offers the opportunity to earn extra Givling Queue Points by watching video ads.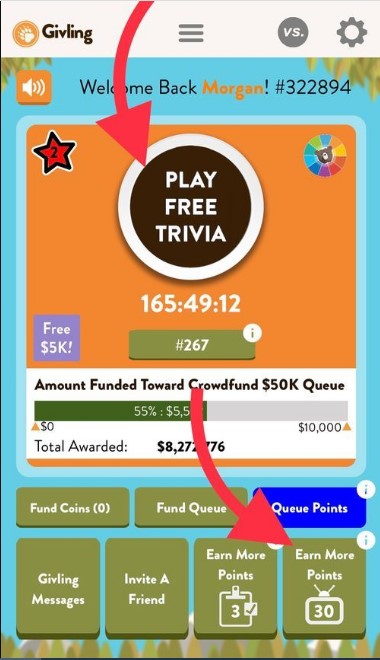 Each day, you can watch up to three video ads. For each ad you watch, you earn 2 Givling Queue Points. While this may be a small amount, it provides an additional source of points to increase your overall earnings.
You must note that you can only watch one video ad per hour. This means you can't watch all three videos back-to-back. You must watch the videos at least an hour apart to earn the reward. This restriction can be inconvenient, requiring you to log back into the app after a few hours to watch another video.
To maximize the Givling Queue Points you earn, it's essential to remember to watch all three videos each day. By being diligent and remembering to watch the ads, you can accumulate more points to boost your rewards within the app.
Users can supplement their points and enhance their overall Givling experience by taking advantage of the video ads feature.
3. Make money by Referral program from Givling App.
Givling App offers a referral program that allows you to earn additional Givling Queue Points. You can invite people to join the Givling app by sharing your invite code via email or SMS.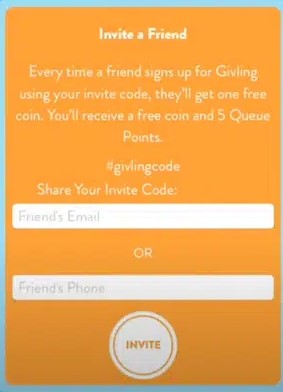 When the person you've invited registers on the app using your invite code, they become your referral.
You will receive 5 Givling Queue Points and 1 Givling coin as a reward for successful referrals. These rewards can increase your chances of earning more points by allowing you to play other trivia games.
The Givling coin you receive as a referral reward can be used to purchase more entries for playing their trivia game. This provides you with more opportunities to earn points and win prizes.
While the rewards from the referral program may not be substantial, they can still contribute to your overall accumulation of Givling Queue Points. Inviting others to join the app can enhance your chances of playing more trivia games and increase your potential earnings.
4. Make money by Buying merchandise from Givling App.
Givling offers a marketplace to purchase various merchandise, including shirts, jackets, electronic devices, and more. While this may not directly provide an earning opportunity, it is worth mentioning because buying merchandise from Givling allows you to earn Givling Queue Points.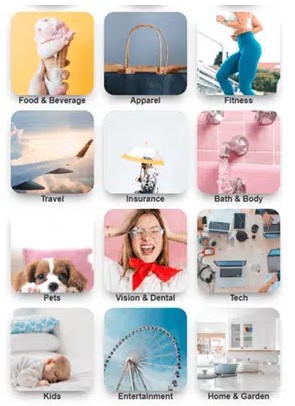 The number of Givling Queue Points you can earn depends on the price of the merchandise you purchase. Generally, the more expensive the item, the more points you will receive. It's a straightforward system where your point earnings are tied to the value of your purchase.
By participating in the Givling marketplace and buying merchandise, you get to support the app and earn additional Givling Queue Points, which can contribute to your overall progress and rewards within the app.
How do you get paid from Givling App?
Unlike typical online rewards apps, Givling App does not offer cash withdrawals or gift card conversions. Instead, Givling's primary form of currency is Givling Queue Points. These points are used to enter one of their four reward queues, which function like lotteries for funding opportunities.
The player with the highest number of Queue Points when Givling reaches the funding amount becomes the recipient. However, the funding received is not given as cash but used to pay a portion of the winner's student or mortgage loan. Each funding cycle has four winners, one for each queue, with maximum amounts of $50,000 for student loans and $25,000 for mortgage loans.
Cash prizes won from the trivia games can be used to purchase Givling coins or merchandise or applied towards loan payments. Unfortunately, cash prizes cannot be withdrawn. While Givling's reward system may seem complex and may not suit everyone's preferences, it can benefit individuals looking to reduce their student loan debt.
If you want to earn cash, explore other platforms offering payment options, such as PayPal.
FAQs
How old do I need to be to join Givling?

You must be 18 years old to register and participate in Givling.

What can I do with Givling coins?

Givling coins can be used to buy additional entries for playing trivia games. They provide extra opportunities to earn points and increase your chances of winning loan funding.

Can I withdraw the cash prizes I win from Givling?

Cash prizes won from Givling's trivia games cannot be withdrawn. However, you can use them to purchase Givling coins or merchandise or apply the amount to your student or mortgage loan.
See More:
HelpOwl Review – Earn Helping Others By Answering 100% Easy Questions
Get-Paid Website – Earn 100% Easy Money Per Click
mGamer App – Earn By Playing Featured Games With 6 Easy Ways