Introduction
Pinecone Research is a reputable market research platform that offers the opportunity to earn points and various rewards by participating in surveys.
With Pinecone Research, each survey is worth $3, which is notably higher than many other paid survey websites. The platform provides users with flexibility when redeeming their rewards, and they can expect prompt payment processing.
This platform stands out as a legitimate and convenient method to earn some additional income online, all from the comfort of your own home without the need to change out of your pajamas.
What Is Pinecone Research?
Pinecone Research is an online survey platform under the ownership of Nielsen Holdings, a global leader in market research.
The valuable opinions of PineconeResearch members play a direct role in shaping the development of future products and services. It rewarded members with points for each survey they complete, which can then be exchanged for either prizes or cash. Participating in surveys is a straightforward process, as members receive email notifications whenever a new survey becomes available.
While surveys are the primary focus, Pinecone Research occasionally offers product testing opportunities, though these opportunities are relatively rare. In addition to surveys and product testing, members also have the chance to participate in annual sweepstakes.
How Does Pinecone Research Work?
As a Pinecone Research member, you gain access to exclusive online market research surveys that can be completed at your convenience.
Survey invitations are sent directly to your email inbox, and your participation in these surveys accumulates points in your PineconeResearch account.
Once you've accumulated enough points, you have the choice to redeem them for either a traditional paper check or an online gift card.
It's important to note that signing up for PineconeResearch is entirely free. There are no recurring monthly membership fees or any hidden costs.
Pinecone's parent company, Nielsen, likely leverages the data collected from your survey responses for monetization. When a service is offered for free, it's reasonable to assume that the product is being used for revenue generation.
How to join the PineCone Research?
The process of becoming a member of PineConeResearch is atypical when compared to other survey sites.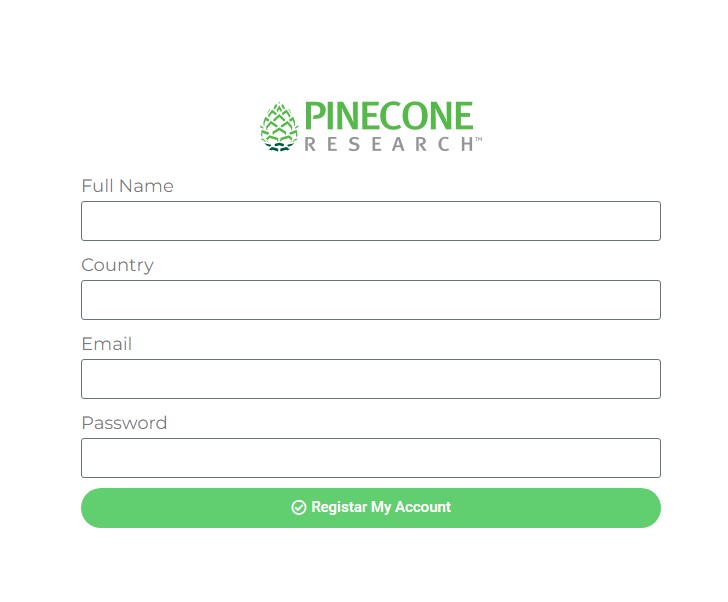 Different from most survey platforms, you cannot simply visit their website and sign up directly. In fact, the option to join is not readily visible on the website, which can be confusing for first-time visitors.
PineCone Research has established an exclusive survey panel that is accessible solely through invitation. This exclusive approach makes it one of the more challenging survey panels to become a part of, but it also ranks among the higher-paying ones.
It's important to note that PineConeResearch enforces a strict one-person-per-household policy. Attempting to register multiple individuals from the same household is likely to result in removal from the panel.
How do you make money from PineCone Research?
Let's first explore the methods through which you can earn on PineCone Research. This will give you a better understanding of what to anticipate before we delve into the payment process and earning potential.
1. Make money from PineCone Research surveys.
PineCone Research primarily operates as a survey site, making surveys the primary method for earning on the platform. The site is straightforward and user-friendly, focusing on this single earning avenue.
While PineCone Research may not offer daily survey opportunities, it does provide regular surveys. Although the frequency of surveys might be lower than some other sites, the surveys on PineCone Research are known for their substantial payout.
Members can expect a minimum payment of $3 per survey, which is notably generous in the world of online surveys.
In general, you have the flexibility to choose which surveys you want to participate in and which ones you prefer to skip. However, given that PineConeResearch is an exclusive survey panel with a limited number of members, there is a risk of being removed if you rarely engage in surveys.
Fortunately, PineCone Research follows a transparent process. If you're at risk of removal, you'll receive a notification via mail, providing you with a chance to become more active before any removal occurs.
2. Make money by Product Testing From Pinecone Research.
PineCone Research offers its members the additional opportunity to participate in product testing and feedback. Brands use this valuable input to enhance their products and marketing strategies, and you can earn more rewards with these offers because they typically require more effort.
These product testing opportunities are not continuous but happen periodically, adding an element of fun to your earnings on the platform. Beauty and grocery samples are common items for testing. PineConeResearch sends the product samples directly to your doorstep for you to try out.
After testing the product, you'll be asked to complete a follow-up product evaluation survey, sharing your experience with the item. Once you've provided your feedback, you'll receive payment for your efforts.
In most cases, you get to keep the product sample after you've submitted your responses. However, on occasion, the manufacturer may request the product's return for purposes such as durability testing or other considerations.
3. Make money by winning sweepstakes From Pinecone Research.
earning opportunity for its users. You can engage in surveys for a chance to win a range of prizes through these sweepstakes.
Pinecone Research follows a newer trend in the survey industry by incorporating sweepstakes as an additional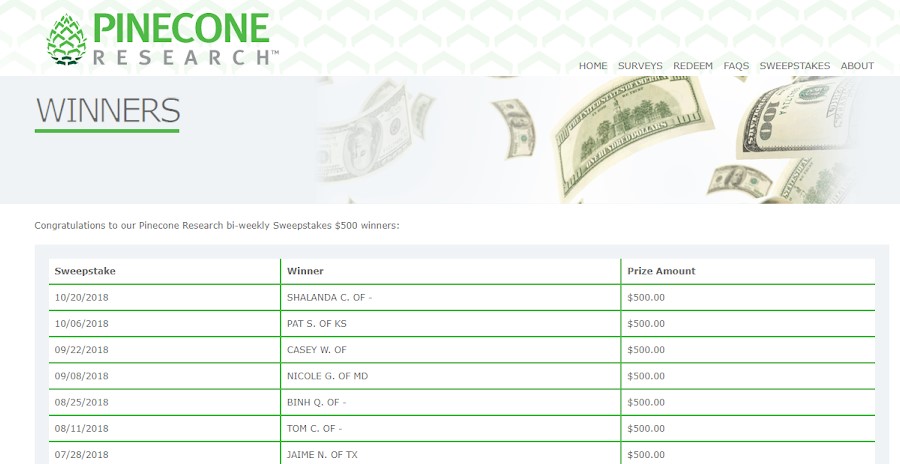 PineconeResearch hosts both bi-weekly and quarterly sweepstakes, offering substantial cash prizes that are up for grabs by participants.
It's essential to keep in mind that the terms and conditions for these sweepstakes can differ from one to another. To make informed decisions and understand the odds and entry requirements, be sure to carefully read and review the specific terms and conditions of each sweepstakes before entering.
How do you get paid From Pinecone Research?
Pinecone Research offers a low cash-out threshold of just 300 points, which can be easily reached with just one survey completion. This makes it an outstanding platform for instant payouts, especially when compared to other survey sites that often require higher balances, ranging from $5 to $15, to cash out.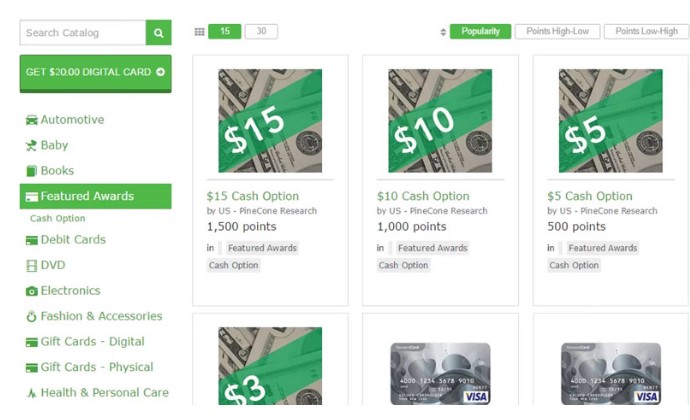 PineconeResearch provides a variety of options for redeeming your points. You can opt for direct bank transfers, prepaid VISA cards, products, or gift cards as your preferred rewards.
While PineCone Research used to offer PayPal as a payment option, they have shifted to direct bank transfers for cash payouts. This is still a very convenient method for receiving your earnings.
To redeem your rewards, simply login to your Pinecone Research account on their website. Click on the "Redeem" button to access the reward section. Under the "SHOP" tab, located next to the "HOME" tab, you can select the reward items you want to redeem. After choosing an item of interest, click the shopping cart icon to add it to your cart. Then, click the shopping cart icon on the right side of the page to complete your order.
How much can you make from Pinecone Research?
The amount of money you can earn on Pinecone Research, or any survey website for that matter, is contingent on several factors. These include the number of surveys you qualify for and complete. However, it's important to have realistic expectations and not anticipate getting rich through survey participation.
Your actual earning potential on Pinecone Research is around $50, give or take, depending on the surveys you are matched with. It's essential to keep in mind that survey participation is generally a way to make some extra cash or earn rewards, not a means of substantial income. Earnings can also vary based on your profile, location, and the availability of surveys.
Who is Pinecone Research for?
Pinecone Research is an excellent platform for individuals who like to express their opinions and thoughts while earning cash rewards. It offers a convenient way to make money online, primarily through product testing opportunities, and your valuable feedback contributes to the improvement of products and services provided by companies.
Furthermore, Pinecone Research stands out by allowing users to retain the products they've tested. This feature makes it an attractive option for those interested in receiving free products and being part of the product development process.
See More:
YouGov Review – Earn 100% Easy Money From Surveys Site
OnePoll Review – 3 Easy Ways To Earn From Online Survey Sites
Ipsos iSay Review – Earn By Surveys With 4 Easy Ways