Introduction
Toluna Influencers is a platform that rewards users for sharing their opinions through surveys. What sets it apart from similar survey sites is its flexibility, allowing you to select surveys related to your interests.
As a consumer, your thoughts, feelings, and beliefs are invaluable. They serve as crucial insights for designers and advertisers in creating and marketing profitable, enjoyable, and valuable products. Without consumers' feedback, developing products would be an immensely challenging task.
The popularity of paid survey platforms like Toluna is rising among individuals seeking to supplement their income. While it's important to note that you won't become wealthy as a Toluna Influencer, it offers a convenient and enjoyable method of earning extra money during your free time.
In this comprehensive Toluna review, we'll delve into the workings of the platform and help you determine if investing your time in this survey site is worthwhile.
What Is Toluna Influencers?
Toluna is a reputable and long-standing survey and rewards organization with a history dating back to 1994. They have a solid reputation for compensating members for participating in various tasks. On average, individuals using Toluna can earn approximately $30 by dedicating roughly an hour daily to completing surveys and engaging in other activities provided by the platform. Toluna's services are accessible in 49 countries, including prominent locations like the USA, UK, and Canada.
How To Join Toluna Influencers?
Toluna is entirely free to join, with no membership fees required. New members can sign up for free and receive a bonus of 500 points upon registration. With these welcome points, you can begin participating in surveys right away.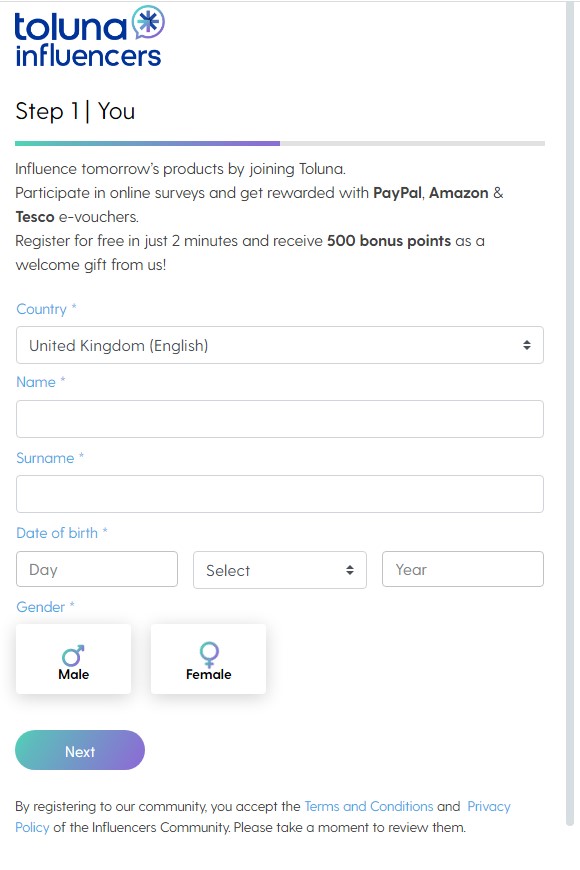 Toluna's accessibility extends to residents in countries like Canada, the United States, and numerous others. As for membership eligibility, individuals as young as 13 years old can sign up and become a part of the Toluna community.
How To Make Money From Toluna Influencers?
Toluna offers a variety of opportunities to earn money and rewards, aside from participating in surveys. Here are the different tasks you can complete on the platform.
1. Make money from Toluna Influencers surveys.
Toluna primarily relies on surveys as the main income source. The platform generally offers a substantial number of surveys, typically around 5-10 per week, although the availability may vary between countries.

One of the noteworthy aspects of Toluna is that even if you don't qualify for a survey, you'll still receive 200 points for your effort. This disqualification occurs less frequently on Toluna compared to other survey websites.
To maximize the opportunities, log in to the platform regularly and check for available surveys. Toluna rarely sends email notifications for new surveys, except for occasional extra survey invitations, which should be seized promptly due to limited slots.
Toluna's surveys offer reasonable compensation for the time invested, although the pay-to-time ratio varies by country. Before starting a survey, you can review the estimated reward and duration to decide whether it aligns with your preferences.
The platform's recent updates have introduced survey filters, making finding surveys that match your desired length easier. Completing profile surveys when you join rewards you immediately and increases your eligibility for future surveys. Filling out your profile is a valuable step to enhance your overall survey experience on Toluna.
2. Make money from Toluna Influencers Profile Surveys.
Upon logging into your account, you'll have the option to complete profile surveys. These brief surveys are intended to enhance the precision of survey matching, ensuring that you receive surveys for which you are eligible.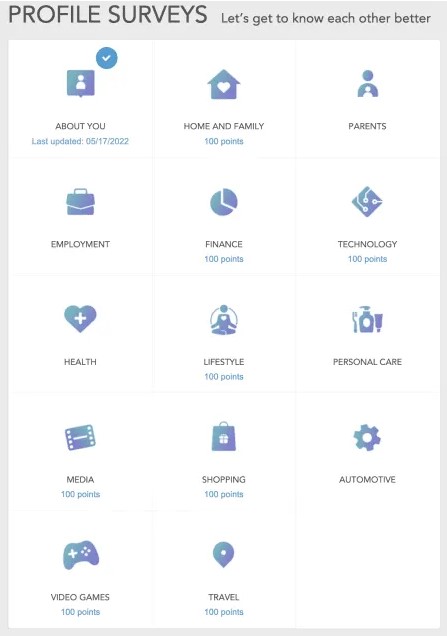 You'll earn 100 points for each profile survey completed. You can revisit and update your profile surveys every six months to earn additional points.
3. Make Money By Mobile Surveys From Toluna Influencers.
As a Toluna member, you can register your phone number on the platform. By doing so, you can receive exclusive mobile surveys via SMS.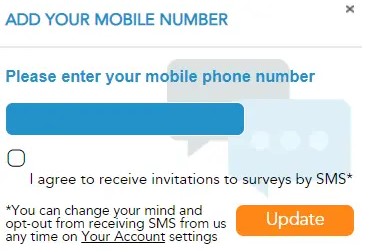 While you shouldn't expect a significant number of additional surveys through this method, occasional SMS surveys are not accessible through the regular platform. You can opt-in or out of this service at any time.
It's important to note that Toluna is a reputable and trustworthy company, and your phone number will not be misused. So, registering your mobile number is worth considering if you're looking to maximize your earning opportunities. However, it's worth mentioning that you can still access numerous surveys even without registering your phone number.
4. Make Money by Toluna Influencers Sponsored polls.
Toluna Sponsored Polls offer a convenient way to earn points with minimal effort. You receive new polls daily, which you can answer with just two clicks and earn 15 points for each one.

Typically, you can encounter around 10 of these daily polls, allowing you to accumulate 150 points by simply participating in these quick votes.
5. Make money by the Toluna Influencers Wheel.
Toluna offers a fun and rewarding feature called the "Toluna Wheel" in their game center. Every day, you can spin this wheel to win valuable prizes.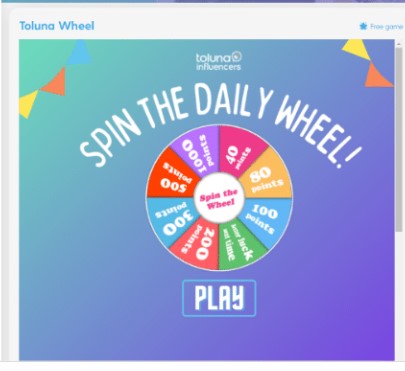 The wheel has eight different spots, each with its corresponding reward: "Better luck next time," 40 points, 80 points, 100 points, 200 points, 300 points, 500 points, and the highest prize of 1000 points. This feature provides an enjoyable way to earn free points easily and adds an element of excitement to your Toluna experience.
6. Make money by Toluna Influencers Content creation.
Toluna functions as a survey platform and aims to foster a sense of community among its members, encouraging content creation and interaction. There were opportunities to earn points through such participation in the past. However, with a recent major update, these options have been removed.
Now, Toluna offers a forum where members can share their thoughts and engage in discussions with one another. You will no longer earn points by participating in these discussions, so it's advisable to use this feature solely for interaction and community engagement.
Occasionally, Toluna may announce contests in the forum section, so it's still worth keeping an eye on it for potential contest opportunities. We'll explore more about the contest options shortly.
7. Make money by Toluna Influencers Games.
There are some basic games available on the Toluna website. They can be a fun way to pass the time and challenge friends. Play selected games on the site, and you can earn bonus points. Although the rewards are often small, many games don't give points.
8. Make money by contests From Toluna Influencers.
Toluna regularly hosts contests where you have the opportunity to win bonus points. For instance, you might participate in contests involving discovering hidden codes on the platform's social media channels. Additionally, Toluna may organize sweepstakes and trivia games, providing chances to win prizes.
Another way to increase your earnings is through Toluna's referral program. You can earn points by inviting friends to become Toluna members using your referral link. The program rewards you with 500 points for each eligible referral. These points are credited to your account once your referral verifies their email and becomes an active member.
How does Toluna Influencers Pay you?
After joining Toluna and accumulating points through surveys, games, and other point-earning activities, you can redeem your points once you've reached a minimum of 30,000 points (equivalent to $10.00).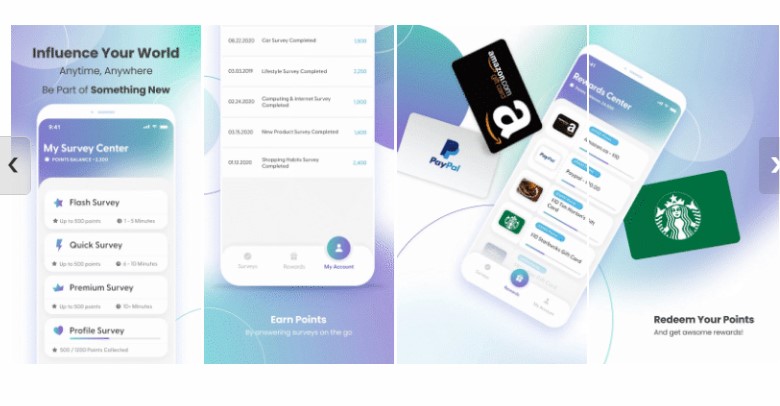 Toluna Influencers offers an extensive rewards catalog, providing members with various options. When you're ready to cash out from your Toluna Influencers account, you can do so by clicking on the "Rewards" button and selecting various choices, depending on your available points.
PayPal Payments: You can request a $20.00 PayPal cash payment once you have 65,000 points in your account.
E-Gift Cards: Toluna offers many digital gift cards, including popular options like Amazon, Boston Pizza, Apple, Starbucks, and more. These gift cards can be redeemed with as few as 30,000 points ($10.00).
Bitcoin: For 114,000 points, equivalent to USD 30, you can receive Bitcoin via mybitcards.
It's important to note that the availability of rewards may vary depending on your country of residence, so be sure to check the options available based on your location.
See More:
Highest-Paid Survey PineCone Research Review – Earn 3 Easy Ways
YouGov Review – Earn 100% Easy Money From Surveys Site
OnePoll Review – 3 Easy Ways To Earn From Online Survey Sites