Introduction
Paid Product Testing is your exclusive portal for earning opportunities within the United Kingdom. This platform offers a legitimate way to make money through surveys, product testing, and more. This review will provide insights into how PaidProductTesting.co.uk works and what you can expect from this unique earning opportunity. Whether searching for extra income or simply curious about online earning ventures, read how PaidProductTesting.co.uk can benefit you.
What is Paid Product Testing?
Paid Product Testing combines survey and product testing features into one platform, presenting a legitimate earning opportunity. However, its worthiness depends on understanding its operational mechanisms. A thorough examination of its earning prospects is essential to determine whether it's worth signing up. This approach will provide insights into the time and effort required to make money through this website.
How to Make Money from Paid Product Testing?
1. Make money by Paid Surveys from Paid Product Testing.
The primary method for earning on Paid Product Testing involves participating in paid surveys. Upon logging into the member dashboard, you'll find a list of available surveys you can complete for rewards.
Each survey specifies the amount you can earn upon successful completion. To get started, select a survey you'd like to answer. You'll be required to respond to a set of qualifying questions initially; this is standard practice to ensure that you are an appropriate candidate for the survey.
If you qualify, you'll proceed to complete the actual survey. Upon finishing the survey, you'll promptly receive your reward through points. Occasionally, there might be a delay in the reward credit, as some surveys require manual verification by the client who ordered the survey. Rest assured that you'll eventually be rewarded if you complete the survey.
You can move on to the next one if you don't qualify for a particular survey. On occasion, even if you don't qualify, you may receive a small compensation, although such instances are infrequent. It's advisable not to set high expectations for compensation when you don't qualify to avoid disappointment.
A notable advantage of Paid Product Testing is that a decent number of surveys are usually available at any given time, ensuring a consistent stream of earning opportunities. Furthermore, these surveys are relatively quick to complete, minimizing the time commitment required on the site.
2. Make money by Product Testing from Paid Product Testing.
Another avenue for earning on this platform is through product testing opportunities. Periodically, you will receive invitations to participate in product testing activities.


When you are selected for a product testing opportunity, you'll receive a notification via email. Additionally, these opportunities will be listed in the paid surveys section of the website. To stay updated, you can check your email regularly or log in to the site to see if any testing opportunities are available.
You also have the option to apply for product testing proactively. You can do this by visiting the website and clicking the "Take Part" button under the product testing opportunity that interests you. If your application is approved, the site will send you the product for testing and the necessary instructions. Please note that the product may take up to 30 days to be delivered to your doorstep, so patience is required.
Every product test will require you to provide a report or feedback based on your experience. After completing the testing, you must submit the report following instructions. The product you receive will typically include:
A return-to-sender bag.
Allowing you to send the product back to the sender at no cost.
A common practice on websites that pay you for product testing.
Once you've submitted your report or feedback, the site will review your submission, and once it's approved, the corresponding reward will be credited to your Paid Product Testing account balance.
How do you get paid from Paid Product Testing?
As previously mentioned, you will earn a designated number of points each time you complete a survey or product testing task. Once you accumulate 20,000 points, you can redeem them through PayPal, equivalent to £10. The withdrawal process typically takes ten days, and the funds will be credited to your PayPal account.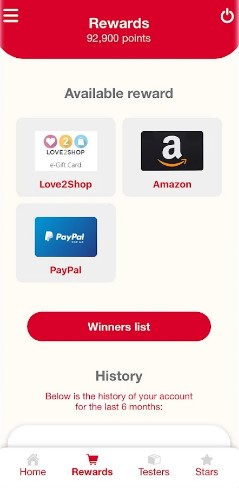 Alternatively, you can exchange your points for £10 digital vouchers that can be used at Love2Shop or Amazon.
The payment system employed by Paid Product Testing is straightforward and user-friendly. Notably, including PayPal as a payment option is advantageous, as it is widely recognized as one of the most convenient and reliable payment methods available.
How to join Paid Product Testing?
PaidProductTesting.co.uk is exclusively available in the UK, as the website's URL indicates. If you reside outside the UK, this platform may not suit you.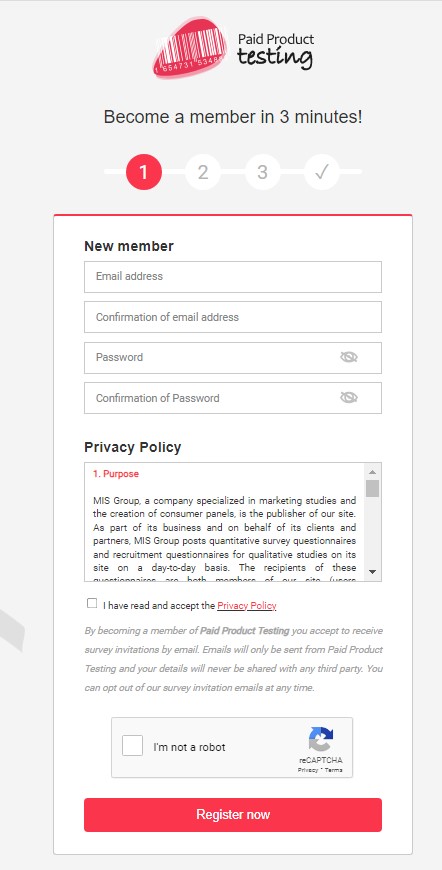 You can start by filling out the registration form to become a member. Afterward, the site will send you a confirmation email. If you don't see the email in your inbox, check your spam or junk email folder, as it might have ended up there. To continue with the registration process, click on the link in the email.
As part of the registration process, you'll also be required to provide a validation code, which will be sent to you via SMS. This step is crucial for confirming your registration.
Your registration will be complete once you've verified your email and entered the validation code received via SMS. You can then log in to the site or app and begin exploring the earning opportunities it offers.
See More:
PaidForResearch Review – Earn By Answering 100% Easy Questions
Panel Champ Review – Earn By Expressing Your Thoughts in 2024
Surveytime – Earn by Sharing Your Valuable Feedback With 2 Ways